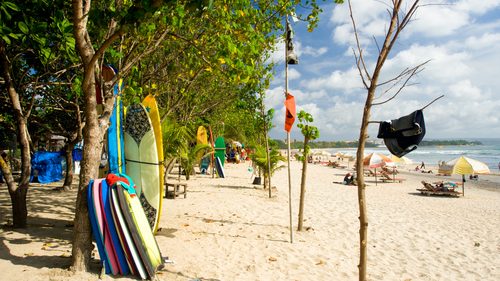 A romantic overseas getaway has turned into a nightmare for Byron Bay mother Sara Connor.
Connor is back in court in Denpasar this week, facing murder charges over the death of a Balinese policeman in August.
She is being tried separately to her boyfriend David Taylor, although both hare accused of murder, fatal assault in company and assault causing death for allegedly killing policeman Wayan Sudarsa, whose bloodied body was found on Kuta beach.
Last week, Connor's legal team asked the judges to dismiss her charges, accusing the prosecution of presenting an inaccurate, unclear and incomplete indictment – one which was not based upon the results of a police investigation.
The lawyers believe the prosecution should either have charged her with a sole count of eliminating evidence, or brought no charges at all.
The fateful incident
The prosecution alleges that on the first night of their holiday together, Connor and Taylor were on Kuta beach, drinking and canoodling at the water's edge. They left Connor's handbag further up the beach and, upon discovering it had gone missing, accused officer Wayan Sudarsa of being a "fake policeman" and stealing the bag.
A fight broke out and Sudarsa's body was found the next morning, brutally bashed with a broken beer bottle, his own binoculars and a mobile phone. He suffered 17 wounds to his head and 42 to his body.
Sudarsa's ID cards, wallet and police insignia were found by a local man dumped by the road in a white plastic bag.
It wasn't until three days later that the accused couple sought help from the Australian Consulate. They were subsequently arrested and have been behind bars ever since.
Their families back in Australia only became aware of the arrest through media reports.
Alleged admissions
Connor has steadfastly maintained her innocence, saying she tried to separate her boyfriend and the officer as they fought on the beach. She denies knowing that the officer had been killed.
But Indonesian detectives tell a very different story. They allege that during one of her police interviews, Connor confessed to hitting the officer, sitting on him and wrapping her arm around his neck during the fight. They further allege that, after the incident, the couple burned their bloodied clothing and Connor cut up the officer's ID cards and disposed of them by a road.
Boyfriend's testimony is crucial
As the trial continues this week, legal analysts say Connor's best chance at beating the charges lies in ther partner's testimony.
During the initial days of Taylor's trial last week, he told the court that he was acting alone and Connor had nothing to do with the incident.
However, a local security guard is reported to have made a statement to the effect that he watched the fight for about 15 minutes and saw a local man lying on the sand, a foreign man with dreadlocks sitting on top of him and a woman with her arm around the local man's neck.
Taylor's version of the events will be crucial when he gives evidence later this week.
Kerobokan Prison
In October, the couple were transferred to Kerobokan, Indonesia's most notorious prison, after 8 weeks of being held in holding cells at Denpasar Police Station.
Kerobokan is currently over three times its capacity, housing more than 1000 inmates when designed to cope with just 323.
Several foreigners are currently held in Kerobokan, and while conditions are said to be harsh and unhygienic, visitors are allowed to bring Ms Connor food and amenities.
David Taylor's trial will return to court next week.
Receive all of our articles weekly
Author
Sydney Criminal Lawyers
Sydney Criminal Lawyers®
is Australia's Leading Criminal Defence firm, Delivering Outstanding Results in all Criminal and Driving cases. Going to Court? Call (02) 9261 8881 for a Free Consultation.