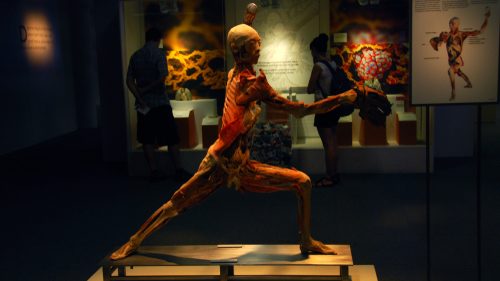 Currently, there are 20 human corpses being exhibited in Sydney. This is despite widespread calls for the exhibition to be shut down because the human bodies are on display without the confirmed consent of the deceased and they're also suspected to be of dubious origins.
Real Bodies: The Exhibition features the human cadavers, along with over 200 human organs, which were preserved through the process of plastination at a plant linked to the Dalian Medical University in China between 2000 and 2004.
But, while the university's deputy director of anatomy Sui Hongjin has suggested the bodies are sourced from the unclaimed corpses of people who have died in hospital, critics assert it's likely they're the bodies of Chinese death row inmates or murdered prisoners of conscience.
Imagine Exhibitions is presenting the exhibition. Tom Zaller, chief executive of the US-based company, has stated that the claim the corpses are those of prisoners is unfounded. However, there's no documentation to prove their identities or that prior consent was given to donate them.
Since it began back in April, health professionals, lawyers and politicians have been calling for the exhibition to be brought to an end as it's in breach of NSW laws, as well as being a violation of human rights. Yet, as it stands, the bodies will be on display until mid-October.
An unethical display
"This exhibition is the most undignified and grotesque display, which has reduced the value of a human life to a commercial commodity," said Sophia Bryskine, spokesperson for Doctors Against Forced Organ Harvesting (DAFOH).
Ms Bryskine outlined that questions have been raised directly with the NSW Health Department about allowing the display to take place, as well as with the Home Affairs Department "for clearing the cadavers through customs without essential documents of consent and donation certificates."
In an open letter to the prime minister, the home affairs minister, the NSW premier and the state health minister, Ms Bryskine's organisation, along with numerous others, detailed a list of reasons why the exhibition should be banned in this country, as it has been in other nations, such as France.
"The public display of the deceased, including what appears to be a pregnant woman and foetuses of varying gestation times, without confirmed consent is a gross violation of human rights, dignity and ethics, which should not be permitted on the grounds of 'art' or 'education,'" the letter states.
The indignity of human remains
While the politicians addressed in a number of open letters condemning the exhibition have remained silent, Ms Bryskine pointed out that NSW Greens MLC David Shoebridge has raised a motion in the NSW upper house calling for the exhibition's end.
"I have raised this in parliament because legislators should be taking a clear stance on this exhibition," Mr Shoebridge told Sydney Criminal Lawyers®. "It's exploitative and offends the basic principle of the dignity of the human body."
The Greens justice spokesperson also contacted NSW police commissioner Mick Fuller explaining that the exhibition is likely in of breach section 81C of the Crimes Act 1900, which provides that improperly interfering with a corpse is a crime liable to up to two years imprisonment.
Mr Fuller responded that to prove improper interference it would be necessary to establish whether the individual provided consent to the scientific use of their body in the jurisdiction where they died. And that there's no NSW legislation the stipulates that the exhibitors must prove consent.
Prior consent is necessary
However, the Royal Australasian College of Physicians (RACP), which represents 24,500 doctors, doesn't agree with the police commissioner on this one. In a recent letter to the relevant ministers, it stated that the lack of consent documentation was in breach of the Anatomy Act 1997.
Section 8A of the Anatomy Act stipulates that if a body of a deceased person is obtained outside of a NSW hospital or forensic institution, it can only be used for medical or scientific purposes if the deceased person gave written consent prior to their death.
The RACP has also condemned the exhibition. "Until organisers can prove these bodies and organs have been ethically sourced and have adequate donor consent, we think the exhibition should be shut down," Professor Ian Kerridge, chair of the RACP ethics committee said in a recent statement.
Prisoners on display
Ms Bryskine stressed that the Real Bodies exhibition "is made even more unethical in the context of credible evidence that at least some of the human bodies and organs belonged to political prisoners in China, including Falun Gong practitioners."
In 2001, the international community became aware that the practice of removing the organs of executed inmates was taking place in China. But, it wasn't until 2006 that reports began emerging about the state-sanctioned practice of removing organs from living prisoners of conscience.
While claims have been made that the cadavers in the exhibition were sourced from the unclaimed bodies from hospitals, numerous professionals and academics have pointed out that those bodies are not released for 30 days, yet plastination must take place within 48 hours of death.
According to the professionals, the more likely source of the large number of bodies – in a country where there's a tradition of keeping the body intact after death – is that they're those of prisoners of conscience, who've been killed so their organs can be sold to patients, as well as death row inmates.
In a 2004 Der Spiegel article, journalists stated there was an astounding number of corpses arriving at the Dalian plastination plant between 2001 and 2004. They concluded that of 650 bodies taken to the plant, only seven were executed prisoners, leaving the vast majority of unknown origins.
Since July 1999, the Chinese government has been detaining thousands of Falun Gong practitioners in labour camps. It's been documented that the members of the group are being targeted for forced organ harvesting, and they're thought to be a probable source of the exhibited bodies.
A dreadful lesson
Earlier this year, the Presbyterian Ladies' College in Croydon cancelled their planned visit to the Real Bodies show. Mr Shoebridge commended the school on its decision and warned that children shouldn't be exposed to the "appalling" exhibition.
"We have seen already how images are being spread with children making light of the bodies they are nearby," Mr Shoebridge said. "This is a dreadful lesson for young people."
"Every single body on display is that of a real person who had family, friends and neighbours. No one should suffer this indignity," he concluded.
Receive all of our articles weekly
Author
Paul Gregoire
Paul Gregoire is a Sydney-based journalist and writer. He has a focus on human rights issues, encroachments on civil liberties, drug law reform, gender diversity and First Nations rights. Prior to Sydney Criminal Lawyers®, he wrote for VICE and was the news editor at Sydney's City Hub.