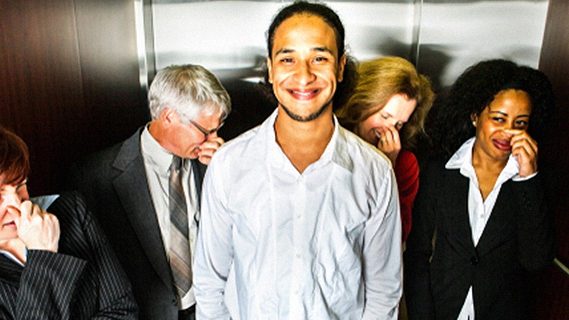 Sonia Hickey and Ugur Nedim
An employee who claims he was bullied by a flatulating fellow worker has vowed to take his former employer to the High Court of Australia.
The story so far
Melbourne engineer, David Hingst, claimed $1.8 million dollars in damages as a result of bullying at the hands of his former supervisor, who allegedly "thrusted his bum" and farted towards him several times a day.
The Supreme Court of Victoria heard the Mt Hingst moved from a communal office at the workplace of Construction Engineering to get away from the supervisor's flatulence, but the determined farter would not allow Hingst to get away that easily – repeatedly entering Hingst's new windowless office to "lift his bum and fart".
Mr Hingst, who was made redundant by the company, claimed the flatulence was part of a conspiracy to get rid of him.
The proceedings
Hingst began legal proceedings against his employer in 2017, but the case was thrown out of the Supreme Court of Victoria last year, with Justice Rita Zammit finding that even if the farting occurred, it "would not necessarily amount to bullying".
And although the judge found there was "some inappropriate behaviour in the office, including passing wind", it was "typical banter or mucking around."
Court of Appeal
Undeterred, Ms Hingst took his case to the Court of Appeal, maintaining his allegations that "flatulence was a form of bullying" and that the situation had led him to experience "severe stress".
However, that court also found against him, ruling that the conduct does not amount to bullying.
The court also ordered Hingst to pay his former employer's legal costs.
But Mr Hingst is not finished yet, vowing to take his case to the highest court in the land – the High Court of Australia.
What is workplace bullying?
Section 789FD of the Fair Work Act 2009 (the Act) is titled 'When is a worker bullied at work?' and provides that a worker is bullied at work if an individual or a group of individual repeatedly behaves unreasonably towards the worker, or a group of workers of which the worker is a member; and that behaviour creates a risk to health and safety.
Bullying behaviour can range from obvious verbal or physical assault to subtle psychological abuse. It can include:
physical or verbal abuse
yelling, screaming or offensive language
excluding or isolating employees
psychological harassment
intimidation
assigning meaningless tasks unrelated to the job
giving employees impossible jobs
deliberately changed work rosters to inconvenience particular employees
undermining work performance by deliberately withholding information vital for effective work performance.
Amendments to the Act which came into effect on 1 January 2014 set down a range of measures to deal with claims of workplace bullying, from 'reasonable management action' by employers to the powers of the Fair Work Commission (FWC).
Powers of the Fair Work Commission
A person who claims to have been bullied can make an application to stop the bullying to the FWC.
The Commission is required to look into the application within 14 days, by:
Taking steps to inform itself of the situation
Conducting a conference, or
Deciding to hold a hearing
The FWC may then:
Contact the employer or applicant,
Conduct a conference or formal hearing, and/or
Make recommendations.
If the matter proceeds to a hearing, the tribunal can make any orders it considers appropriate to stop the bullying, including:
Cessation of the conduct,
Monitoring by the employer,
Provision of support, and/or
Any review of workplace policies.
Civil remedy may be available for the breach of anti-bullying orders, as well as orders for costs.
The Federal Court, Federal Circuit Court and other eligible state and territory courts may hear breach proceedings.
Receive all of our articles weekly
Author
Sydney Criminal Lawyers
Sydney Criminal Lawyers®
is Australia's Leading Criminal Defence firm, Delivering Outstanding Results in all Criminal and Driving cases. Going to Court? Call (02) 9261 8881 for a Free Consultation.