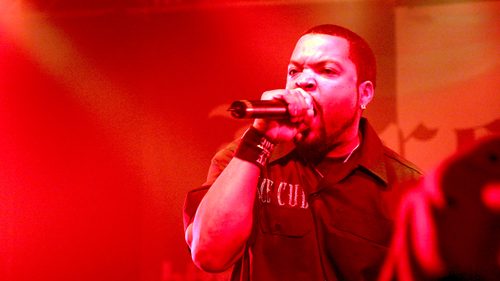 Earlier this month, a jury in the state of Michigan acquitted a man of violating a noise ordinance after he allegedly blasted the NWA song 'Fuck tha Police' when pulled over by a Sheriff's Deputy in front of a petrol station.
A witness to the incident testified that after the man was pulled over, he turned up the volume of the song to an "extremely high volume" before walking into the petrol station.
The driver was issued with a ticket for a noise violation, which he disputed in court.
During the trial, the officer claimed to have been offended by the use of the word "fuck", which is repeatedly uttered during the song.
However, the defendant's pro bono criminal defence lawyer pointed out that a video of the incident recorded the officer using the very same word towards the driver.
The lawyer submitted that the officer was more concerned about the use of profanity than the volume of the music being played, and that the use of the word 'fuck' was protected by the first amendment to the US constitution – which guarantees freedom of speech.
The jury took just nine minutes to reach a unanimous verdict of not guilty.
The case has triggered debate about the scope of laws against the use of offensive language.
The crime of using offensive language
Offensive language is an offence under section 4A Summary Offences Act 1988, which prescribes a maximum penalty of a $660 or a community correction order that is subject to a community work condition of up to 100 hours for any person who uses offensive language "in or near, or within hearing from, a public place or a school".
What is a public place?
A 'public place' is defined by section 3 of the Act as a place (whether or not covered by water), or a part of premises that is open to the public, or is used by the public whether or not on payment of money or other consideration, whether or not the place or part is ordinarily so open or used and whether or not the public to whom it is open consists only of a limited class of persons.
It is an extremely broad definition which includes public property such as parks, raods and beaches as well as privately owned premises that are frequented by the public such as shopping centres, movie theatres, shops and licensed premises.
What is offensive?
The Summary Offences Act does not contain a list of what words or terms may be considered 'offensive'.
This makes it necessary to turn to the common law to gain an understanding.
In the classic 1951 Victorian Supreme Court case of Worcester v Smith, Justice O'Bryan found that something is offensive if it is, "… calculated to wound the feelings, arouse anger or resentment or disgust in the mind of a reasonable person."
Justice Kerr confirmed and clarified this test in the 1966 ACT Supreme Court case of Ball v McIntyre, which involved a war protester with a placard that read "I will not fight in Vietnam" squatting on a statute of King George V outside Parliament House in Canberra.
According to Justice Kerr, conduct can be "hurtful or blameworthy or improper" and offend "against standards of good taste or good manners," but may still not amount to offensive under the criminal law.
His Honour explained that the hypothetical reasonable person is "reasonably contemporary" and cannot be too thin-skinned.
The case of Danny Lim
Danny Lim is a well-known Sydney activist who can often be seen around town wearing sandwich boards that express colourful political messages. On 29 August, the NSW District Court judgements quashed a conviction of offensive conduct that he'd received in the Local Court in February last year.
Mr Lim was standing near the intersection of New South Head Road and Ocean Street in Edgecliff at around 8.40am on 24 August 2015, when NSW police officers issued him with a fine $500 and a move-on order for offensive conduct.
The officers imposed the penalty and moved Mr Lim on, as he was wearing one of his signature sandwich boards with messages printed on either side, which apparently raised the ire of police.
The front of the sandwich board read:
PEACE SMILE. PEOPLE CAN CHANGE. "TONY YOU CUN'T.." LIAR, HEARTLESS, CRUEL. PEACE BE WITH YOU.
The back read:
"TRICKY LYING TONY YOU C∀N'T SCREW EDUCATION HEALTH, JOBS & THE ENVIRONMENT. CHILDREN'S CHILDREN'S FUTURE. SMILE.
The words that were deemed offensive on both sides of the board can be read as "can't" with the apostrophe. However,  the prosecution argued in court that by inverting the letter "a" on the front of the sign it was actually referring to then Australian prime minister Tony Abbott as a "cunt".
"The language used was clearly a play on words," District Court Judge Andrew Scotting reasoned during Mr Lim's appeal last week. "If the appellant's conduct was offensive, contrary to my view, in my view it was only marginally so."
In the Local Court
Despite a crowdfunding page raising his $500 fine in only 56 minutes back in 2015, Mr Lim elected to challenge the fine in the Local Court.
He appeared in Waverley Local Court early last year and pleaded not guilty to one count of behave in an offensive manner in a public place contrary to section 4(1)section 4(1) of the Summary Offences Act 1988.
The section provides that "a person must not use offensive language in or near, or within hearing from, a public place or a school." The maximum penalty is a fine of up to $660 and/or 3 months imprisonment.
Magistrate Lisa Stapleton found it a "straightforward case." Her Honour accepted the impugned word was a play on words. She concluded that any reasonable person would find it offensive to use this word in reference to the prime minister, and found Mr Lim guilty of the offence on 9 February last year.
However, Her Honour did not explain why a reasonable person would be offended and seemed to assume the word was offensive in and of itself. Due to this, Judge Scotting found the magistrate was in error.
In the District Court
Mr Lim's lawyers argued in the District Court that their client only used offensive language and that the words did not amount to offensive conduct. They further submitted that the political nature of their client's communication was a reasonable excuse to have used the language.
Judge Scotting pointed out that under section 4(2) of the Summary Offences Act provides that "a person does not conduct himself or herself in an offensive manner as referred to in subsection (1) merely by using offensive language."
Subsection (3) provides that it is a defence to the charge where a person has a "reasonable excuse" for conducting himself or herself in such a manner.
Meaning of "offensive"
Relying on previous authorities, His Honour noted that for conduct to be offensive, it "must be likely to provoke reactions such as anger, disgust, resentment or outrage" – it "must arouse a significant emotional reaction."
This reaction must be provoked in a "hypothetical reasonable person," who, according to case-law, "is reasonably tolerant and understanding and reasonably contemporary in his or her reactions."
He found that "[t]he use of an offensive word will not be prima facie offensive. Whether or not the language is offensive will depend on the application of an evaluatory standard after due consideration of the circumstances and the context".
His Honour found that offensiveness should be limited to "the high end of the range that could be considered 'offensive,'" as the purpose of section 4 is to protect members of the public from such disturbances, especially around schools.
The impugned word
If Mr Lim's sandwich board had actually used the word "can't" in place of the impugned word, it wouldn't have been offensive, the judge remarked. He explained that it was really only the use of can't with an upside down "u" on the front of the board that had the potential to cause offence.
In accordance with the case-law, His Honour found that the use of the word "cunt" is not always offensive, even when said in public. The judge explained that the word is often used as a derogatory expletive to describe a person of any gender, and when it is used in that sense, it's not being used for "its literal significance."
"The impugned word is now more prevalent in everyday language than it has previously been," His Honour continued. He outlined that it has an ancient English origin and even appears in Shakespeare's Hamlet.
And in Australia, this word is less offensive than in some other English-speaking countries, including the United States.
The judge also remarked that it's an accepted part of a democracy that politicians and their views are criticised. "That criticism can often extend to personal denigration or perhaps even ridicule." He continued that there is no reason why the PM should not be treated like others in office.
"The front of the sandwich board is capable of being construed as being clever or light-hearted and thereby removing or reducing the force of the impugned word," the judge stated. For these reasons, His Honour was not satisfied beyond a reasonable doubt that a reasonable person would be offended.
Freedom of political communication
Judge Scotting found that even if Mr Lim's conduct was found to be offensive, an argument could be made that his right to freedom of political communication formed a "reasonable excuse".
He noted that whilst expressing a political comment, Mr Lim "published a play on words that was capable of being construed offensive."
The judge said that he was not satisfied beyond a reasonable doubt that Mr Lim had committed any offence under section 4 of the Act, and that it was therefore "inappropriate to decide on the issue" [of a reasonable excuse].
Mr Lim's appeal against conviction was allowed.
Statutory defence
It is important to note that section 4A(2) of the Act contains the following statutory defence to a charge of using offensive language:
"It is a sufficient defence to a prosecution for an offence under this section if the defendant satisfies the court that the defendant had a reasonable excuse for conducting himself or herself in the manner alleged in the information for the offence".
This has been found to encompass impulsive utterances of profanity – such as following "a heavy implement falling on one's foot" – but not remarks that are other than instantaneous and instinctive.
Last updated on
Receive all of our articles weekly
Author
Sydney Criminal Lawyers
Sydney Criminal Lawyers®
is Australia's Leading Criminal Defence firm, Delivering Outstanding Results in all Criminal and Traffic Law cases. Going to Court? Call (02) 9261 8881 for a Free Consultation.