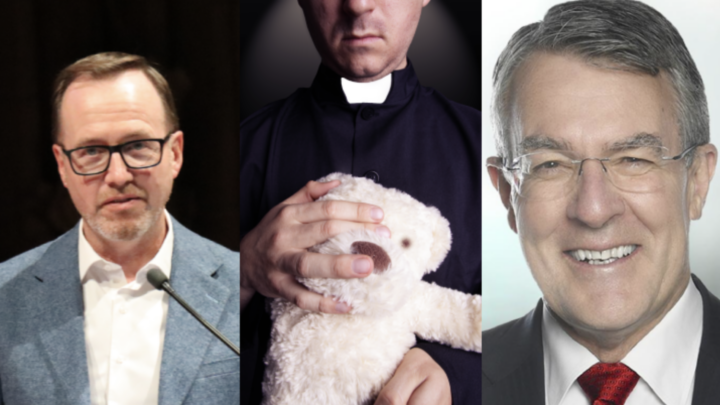 "This is a very disturbing case of history repeating," declared Senator David Shoebridge, in relation to Christian institutions once again employing legal thuggery to avoid paying victims of historical sexual abuse perpetrated by their own clergy. "And it's the worst of history repeating," he added.
The Greens Senator raised this with the Attorney General's Department during budget estimates on 24 May, as the issue was supposed to have been solved via state responses to the findings of The Royal Commission into Institutional Responses to Child Sexual Abuse almost a decade ago now.
Shoebridge quizzed staff from the office of attorney general Mark Dreyfus about what's being done at the federal level to prevent the new practice of church legal teams making permanent stay applications which, if successful, stop cases in their tracks to threaten abuse survivors to drop their cases. Yet, their response was not much at all is being done.
The nation's chief lawmaker does, however, have his eye on a case before the High Court this Thursday, GLJ versus The Trustees of the Roman Catholic Church for the Diocese of Lismore, which is a key example of how the church is further harming its victims of child sexual abuse via legal means.
But as Shoebridge puts it, Dreyfus playing the passive observer to an ongoing pattern of legal abuse nationwide, which mirrors the GLJ case, isn't good enough, especially when the federal government intervened to launch the Royal Commission to counter the previous iteration of this issue.
Church abuses its victims further
"After a decade of law reform, I thought we'd finally re-established a far balance, so that survivors of historical child sexual abuse could actually sue the institutions that permitted that abuse to occur in open court," Shoebridge told Sydney Criminal Lawyers.
"We solved the problem with the abuse of extension-of-time defences. But now that same pattern is being repeated by these institutions using the permanent stay process," he added. "It's the worst arguments before the commission, with the same secondary abusive outcomes for survivors."
Prior to the commission, a victim of historical child sexual abuse had to apply for an extension-of-time, as a three-year limitation on pursuing civil claims after a personal injury incident had applied in most states. And churches were then blocking these extension applications via various arguments.
These limitations were later revoked specifically in relation to child abuse in all jurisdictions across the nation in response to a Royal Commission recommendation made in its September 2015-released Redress and Civil Litigation report.
Indeed, it was Shoebridge, then a NSW MLC, who tabled a private members bill, days after the report release, which sought to insert section 6A into the Limitation Act 1969 (NSW), removing the limitation, and after it was reviewed, the state government passed its own version of his law in 2016.
"Now the exact same reasons that were being used to prevent the extension-of-time applications from being granted, are being used to grant permanent stays: that the abuser is dead, that key witnesses are dead, that they failed to record the evidence," the senator underscored.
Dirty old men in robes
As church institutions can no longer block adults who were once molested by their own priests via time restrictions, they're now applying for permanent stays of proceedings which, whilst rare, are granted in cases when it is shown it's impossible for a case to legitimately proceed due to exceptional reasons.
"Survivors are being told by their lawyers that they may lose their case, it may get thrown out, or they may not be able to bring their evidence before a judge, because of this permanent stay application the institution is threatening to bring," Shoebridge explained.
So, as in the past, instead of the crimes of the church being aired in open court, and the victim-survivor being compensated by one or two million dollars for actions resulting in "lifelong permanent damage", they're being advised to settle out of court for $50,000 to $100,000.
The GLJ case before the High Court on 8 June is a prime example of the way these institutions, which present as the chief upholders of morality in our society and have knowingly turned the other cheek to abusive clergy members, are further then protecting their bank balances when it comes to light.
GLJ launched civil proceedings against the Catholic Church in Lismore in 2020, as she alleges Father Clarence Anderson sexually assaulted her in 1968, when she was 14 years old. She also claims the local clergy likely knew he was an abuser: a scenario that the Royal Commission found was common.
The church trustees sought a permanent stay on proceedings, under section 67 of the Civil Procedure Act 2005 (NSW), on the grounds that Anderson died in 1996, and many of other of his fellow clergy members had also passed, so there was no chance of a fair trial.
Justice Stephen Campbell refused the stay in 2021, ruling the trustees had shown no valid reason for it. Yet, in June 2022, the NSW Court of Appeal imposed the permanent stay, on various grounds, including that the trust may have to later deal with four other complaints against the father.
GLJ is now petitioning the High Court to overturn the permanent stay on proceedings, so she can then run the case she's warranted.
Maintaining the sacred coffers
"A handful of institutions are not using it and credit to them," Shoebridge maintained. "But whether it is the Scouts or the Catholic Church or the Anglican Church or a raft of other institutions, they are now routinely threatening permanent stays against survivors of abuse."
The senator has been working with the survivors of historic child sexual abuse by the clergy for over a decade, and he says he continues to be shocked by the "brutality" of the legal maneuverers the various institutions pull against the children amongst their congregations that they failed to protect.
The Greens justice spokesperson advises that he's written to the federal and state attorneys general calling on them to step in immediately to prevent this further abuse of victim-survivors, but they've all stated they're waiting on the GLJ ruling, which could take months to be delivered.
"For decades now, we've seen certain Christian churches putting their assets and their wealth ahead of the needs of survivors and ahead of any kind of genuine compliance with Christian doctrine," Senator Shoebridge said in conclusion.
"You cannot, on the one hand, pretend to believe in the universal values within the Bible and, on the other hand, instruct lawyers to inflict this secondary abuse on survivors, but they do – but they do."
Receive all of our articles weekly