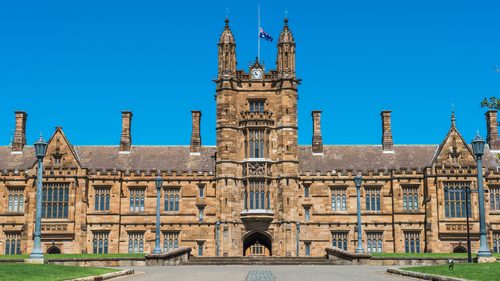 At 7.15 am on October 29 1977, Annette Louise Morgan set off down inner city Sydney's Glebe Point Road to meet a friend at the notorious St Paul's College at Sydney University. Less than two hours later, her body was found dumped on a pile of rubble in a gully by the college oval.
The 18-year-old Royal Newcastle Hospital nursing student had been brutally raped, beaten and then strangled to death. At the time, NSW police detectives said Ms Morgan had most likely been followed through the university grounds and the killer had used only his fist and hands as weapons.
The Canberra Times reported on November 1 that following the murder an elderly witness had seen a man aged between 35 and 40 crossing the City Road pedestrian bridge with bloodstained trousers. The solidly built man was around 173 centimetres tall, with sandy hair and a prominent broken nose.
NSW police subsequently released an identikit image of another man, who was reportedly seen on the grounds of the university on the morning of the murder. This man was described as being aged 20 to 25, with a slender build, dark complexion and shoulder-length brown hair.
In 1985, a $50,000 reward was offered for information leading to the capture of Ms Morgan's killer. But, since that time, NSW police have reported that most of the forensic evidence relating to the murder has gone missing and the case has gone cold.
College culture raises questions
A former Sydney journalist recalls "the tragic horror of the crime." And although he'd already finished his studies at the university by the time of the murder, he remembers questioning why more wasn't done about it.
"Now that the culture of university colleges is being examined and criticised," the ex-reporter explained, "there is a new wave of concern about the unsolved murder of Annette Morgan."
On February 28 this year, the organisation End Rape on Campus Australia released the Red Zone report, which was an investigation into sexual violence and hazing – initiation rituals involving harassment – at Australian university residential colleges.
St Paul's was one of several Sydney University colleges found to have a culture that encourages misogynistic and degrading behaviour. While in 2009, a number of the college's students were linked to a pro-rape Facebook group.
Cold cases need reopening
But, it's not just Ms Morgan's murder that warrants being placed on the NSW police Rewards Offered list. According to the former journo, the 2001 disappearance of Wayne Cooke is another cold case that should be reopened.
"I knew Cookey: a shy, unworldly farmer," he told Sydney Criminal Lawyers®. "My brother sometimes worked for him at shearing time. And there are many people in Koorawatha who still hope there'll be some justice for him."
A question of suicide
During the weekend of October 6 and 7 2001, Bernard Wayne Cooke disappeared from his farm in Koorawatha near the NSW central west town of Cowra. And although his death has subsequently been deemed a suicide, many of those who knew him believe it was foul play.
It was well-known that Mr Cooke had reason to be depressed at the time of his disappearance. Over recent months, his wife had left him, his mother had died and the farmhouse where his family had lived since the 1940s had burnt to the ground.
However, two years on, his body still hadn't been found and questions were raised about the circumstances. Cooke lived for his sheep, and his friends couldn't believe he'd take his life during shearing time. And if he was that distressed, why go to so much trouble to hide his own body?
In 2006, then state coroner John Abernethy found that Mr Cooke had committed suicide because of his depressed state. But, the case was reopened in 2010, after Cooke's remains were found on land close to his former property on July 25 that year, almost nine years after he went missing.
Suspicious circumstances
At the new inquest, then deputy state coroner Hugh Dillon heard a number mysterious details about the remains. The bullet wound was at the back of Cooke's head. The rifle used was wedged between rocks 20 metres away from the body. And the spent cartridge had been ejected from the rifle.
Detective sergeant Damian Nott explained at the time that Mr Cooke must have shot himself, but stayed alive long enough to pull back the rifle bolt to eject the used shell and then wedge the firearm between the rocks. He further said a murderer wouldn't have left the weapon behind.
Mr Dillon stated that although suicide was the likely explanation, he couldn't make a formal finding due to some of the strange circumstances surrounding the case that led to questions regarding whether the wound was self-inflicted or not.
Making it onto the rewards list
NSW police minister Troy Grant was unavailable for questioning regarding the specifics of Ms Morgan's murder and Mr Cooke's disappearance. However, the police minister's office did provide some information about the Rewards Offered list.
For a case to be listed, investigators must submit a government rewards application via their commander for consideration by the NSW Police Force Rewards Evaluation Advisory Committee (REAC).
REAC evaluates applications using an established set of criteria that's "objective and appropriate to investigative strategies." Following consideration of a range of factors, including the status of the investigation, REAC then makes recommendations to the police minister for approval.
Criticism of cold case investigations
Back in February 2007, investigations into unsolved true crime cases in NSW came under scrutiny, as Fairfax Media revealed that the Unsolved Homicide Team had been ordered not to actively investigate any of the 400 cases on their books.
Instead, the officers were told to pursue cold cases based on their likely solvability. The nine officers in the team were advised that those cases with the greatest likelihood of success should be prioritised.
It was found that one of the cases the homicide squad had neglected to pursue was the vicious murder of Annette Louise Morgan. Sources close to the original investigation said that the case hadn't attracted any police attention for more than a decade.
Receive all of our articles weekly