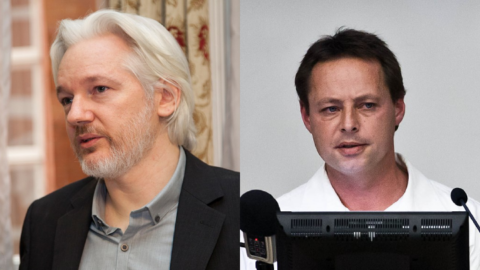 US ambassador Caroline Kennedy told SMH on Monday that a plea deal could be on the cards in regard to Australian journalist Julian Assange, who's been held in a UK maximum-security prison at the behest of the White House in prolonged isolation for more than four years now.
Kennedy said that as the US justice department is dealing with the case, "it's not really a diplomatic issue" but "there absolutely could be a resolution", although she did note US state secretary Anthony Blinken's recent curt words as to the "very serious harm" the WikiLeaks founder had posed.
Townsville-born Assange published thousands of classified US military files regarding US-led wars in Iraq and Afghanistan, leaked to him by US army soldier Chelsea Manning, in 2010. Having redacted these documents first, Assange then exposed the war crimes and lies of the US empire to the globe.
The potential deal has been likened to a "David Hicks-style plea bargain". Hicks was an Australian man detained by the US at Guantanamo Bay detention camp for over five years ending in 2007, due to his having visited an al-Qaeda training camp, and our government did nothing to assist him.
Assange's brother, Gabriel Shipton asserts that Kennedy's flagging the deal reveals that the Biden administration want Julian's case "off their plate", and with an escape route laid out in the raising of the Hick's solution, this development may bode well for the long-tortured Australian citizen.
The AUKUS pact
Shipton was further reported as explaining that if the plea deal requires Assange to front up in a US court on US soil, it was a "nonstarter", as his brother's physical and mental health has deteriorated to such a point that ending up in the US under any circumstances could prove fatal.
Assange has been charged with 17 espionage offences contained in the US Espionage Act of 1917, along with one charge of computer hacking, under a June 2020 indictment issued by the US Eastern District of Virginia Court, which together carry up to 175 years prison time.
As Assange's life hangs in the balance, so too do global press freedoms, as Washington has claimed the ability to reach out across international borders to arrest a foreign national, on trumped-up charges usually only applied to a country's own citizen, for acts allegedly carried out on foreign soil.
The UK has approved extradition via its courts and at the political level, with former home secretary Priti Patel signing off on it in June 2022. Indeed, the UK's Home Department has been considering its own laws to enable it to prosecute foreign journalists for publishing classified British information.
For the first three years of his UK incarceration, Assange received no real support from the Australian government, with then prime minister Scott Morrison underscoring that the local son would receive no special treatment from the Coalition.
Since it came to power, federal Labor has raised the issue with its US and UK counterparts behind closed doors. But there has been contention over whether the Albanese government has attempted to see him released from UK custody or rather have him returned after the extradition process.
A quite feeble policy has been built around PM Anthony Albanese's catchphrase "enough is enough" in terms of the drawn-out legal process, however foreign minister Penny Wong has put it to the press on a number of occasions that her government has exhausted its power in this regard.
The war on terror
In the early days of the war on terror, the US Bush administration took Australian citizen David Hicks into its custody over his having visited an al-Qaeda camp in Afghanistan, and the Coalition government of the day, headed by John Howard, is notorious for having nodded along in agreement.
Sent to Guantanamo in 2002, Hicks was one of the first detainees at the US concentration camp. And with the White House, as usual, making up the terms of the international rules-based order on the spot, convicted him of providing material support for terrorism in 2007, an offence created in 2006.
Despite the obvious legal discrepancies regarding the alleged criminal offence, Hicks was convicted under the terms of an Alford plea, which means that he didn't admit guilt, but agreed that the prosecution had enough evidence to find him guilty.
Assange Campaign legal advisor Greg Barns has repeatedly called out the US claim to extraterritoriality in relation to the WikiLeaks founder, as well as called upon both the Morrison and Albanese governments to take more determined action to see the Australian man freed.
The barrister also happens to have been a chief supporter of Hicks and critic of the US case against him, along with our government's response to it. He wrote in 2013, that Hicks "was a pawn in the cruelty of the war on terror" and questioned whether Canberra might be liable regarding his ordeal.
After having spent years on remand inside the US military installation on the island of Cuba, Hicks was permitted to return to Australia in the wake of his conviction to serve out the remaining months of a seven-year sentence in a local correctional facility.
The US court of appeal went on to rule the conviction was unlawful in 2012, due to its retrospective application. And in 2015, the US government admitted in court that it understood that Hicks was innocent and his conviction was unfounded.
A global solution
The illegalities and the irregularities in the Assange case are stark. And to doubt Kennedy's assertion that "resolution" in sight is understandable. Yet, after Hicks had endured five years of torture at Guantanamo, many doubted that he would ever see Australian soils again.
In terms of Assange's locality at the time of negotiating a plea deal, ANU international law expert Don Rothwell told SMH that while it's unusual, such a deal can be struck when the subject of proceedings is not in the same jurisdiction in "exceptional circumstances".
While Shipton has further suggested that with the 2024 US election looming, the Biden administration doesn't want the case playing out during its campaigning, and Barns has made clear that Albanese ought to put this issue front and centre when he visits the US in October.
A key aspect to the deal that wasn't necessarily apparent when the news of it broke was that Julian doesn't have to admit his guilt, and whilst a conviction may temper global press freedoms, the convoluted manner in which it was established could serve to sully a complete silencing of dissent.
Receive all of our articles weekly