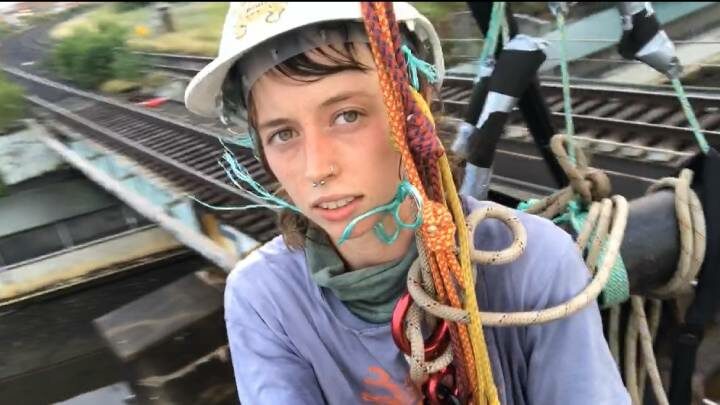 Blockade Australia has just completed its second major mobilisation, which, this time, entailed disrupting Sydney's Port Botany over five days ending last Saturday. This involved eight disruptive actions that saw access points to the port shut down and nine climate defenders arrested.
The actions so upset the authorities that by day three NSW police had launched Strike Force Guard to intercept activists pre-protest, while NSW metropolitan roads minister Natalia Ward amended a law so that disrupting bridges and tunnels now carries 2 years imprisonment and/or a $22,000.
On Monday, 26-year-old Blockade Australia activist Max Curmi – who'd scaled a 60-metre crane last Friday and prevented a ship from being loaded – was sentenced to 4 months prison by Waverly Local Council.
Blockade's first mobilisation last November saw the climate group disrupt Newcastle Coal Port in a similar manner, and again an activist was sentenced to time in gaol.
So, the equation seems to be that as the climate crisis gains momentum and the government response remains non-existent, climate activists are upping the stakes with their mobilisations and the authorities are simply going to increase penalties rather than engage with the issue.
"Strategic and targeted"
"The crackdown was indicative of how effective the actions were in disrupting the Port of Botany," said Blockade Australia spokesperson Emma. "It's a relatively weak piece of infrastructure, with a handful of chokepoints that can be easily disrupted."
The activist last Thursday was suspended by a bipod to the side of a Port Botany freight rail bridge. As she hung there, Emma explained over social media that the area is significant as it's where British invasion began, and she underscored that the system isn't broken, rather it's acting to plan.
Emma further set out that the actions Blockade Australia carried out at the world's largest coal port in Newcastle, and now at the nation's biggest container port in Botany, are proving highly effective in "impacting the flow of wealth".
"The reason why the reaction didn't stop Blockade Australia is because we knew repression was a possibility of our actions," she told Sydney Criminal Lawyers. "And we're taking this action because the system of Australia, as it stands, is killing us all and leaving us with no hope of a future."
Grassroots solutions
Australia is continuing to experience months-long extreme rainfall, just two years after the eastern seaboard was swamped by megafires.
The IPCC has long been warning that the temperature needs to be kept below 1.5°C or 2°C on pre-industrial levels, yet a post-COP26 report found we're already on track for a 2.4°C rise.
The Perrottet government further set out last week that it plans to draft new legislation so the obstruction of bridges law can be extended to apply to roads, and industrial and transport facilities.
"It shows that the government has no intention of taking the climate crisis seriously," Emma explained, adding that means the people need to change the system themselves.
So, over the week commencing 27 June through to the 2 July, Blockade Australia will be back in Sydney conducting more "strategic and targeted actions".
"We are definitely not deterred by this response," Emma said in conclusion. "The climate crisis is not just being ignored, it's being actively blocked by the system and that is why this response is necessary."
Receive all of our articles weekly