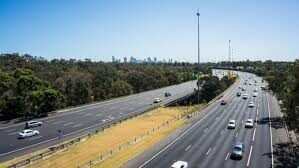 The Porsche driver who filmed a dying police officer on the side of the highway last year has been released after spending 10 months behind bars.
At the same time, he has been banned by the Australian Securities and Investments Commission from providing financial services, because after the organisation found he has "no regard for the law."
Richard Pusey, a former mortgage broker, has also been prohibited from providing financial services for a period of 10 years.
The regulator conducted an investigation into the broker which found that he provided false statements over several years, concluding that he "lacks the attributes of good character, honesty and judgment" for a person engaged in financial services.
Filmed dying police officers
Richard Pusey sparked national outrage last year when, in April, he filmed the final moments of four police officers who had been hit by a truck after they had pulled him over on Melbourne's Eastern Freeway for driving at speeds of up to 149km/h..
The truck, which was driven by Mohinder Singh, ploughed into the emergency lane where the officers were standing and killed them all.
Mr Singh was sleep-deprived and affected by illicit drugs at the time.
The 42-year old Richard Pusey escaped injury because he was urinating off the side of the freeway.
The truck driver was sentenced to a full term of 22 years in prison for dangerous driving causing the deaths of senior constables Lynette Taylor and Kevin King, as well as constables Glen Humphris and Josh Prestney.
Richard Pusey was sentenced to 10 months behind bars for possessing a drug of dependence, reckless conduct endangering serious injury and outraging public decency by using his mobile phone to film Senior Constable Lynette Taylor while she lay dying rather than trying to help her.
Outraging public decency is a charge that is rarely brought in Australia. Mr Pusey's criminal defence lawyers went back and forth with prosecutors for weeks, Mr Pusey decided to plead guilty to the charge.
In the video evidence, Mr Pusey can be heard saying: "There you go, amazing, absolutely amazing. All I wanted to do was go home and have some sushi and now you fucked my fucking car."
He also says: "Look at that, man. You cunts, you fucking cunts. I guess I'll be getting an Uber home."
Violent conduct
Mr Pusey left the scene and, while he did not post the footage to social media, he sent it to several other people.
In separate incidents in 2019, Mr Pusey abused two motorists in road rage incidents, stealing the car keys belonging to one man and intentionally damaging another man's motorbike.
He also used social media to find out information about the family of a Westpac bank manager, with whom he had a dispute over a credit card bill, and then used those details in harassing emails.
In December 2020, while released into the community on bail over the Eastern Freeway incident, Mr Pusey was accused of assaulting a woman at his Fitzroy apartment.
It's been alleged that Pusey dragged the woman up two flights of stairs and showed her a noose made of thick rope that he had had hung from the roof.
During sentencing proceedings, Magistrate Hayley Bate remarked that Mr Pusey had displayed a "clear pattern" of abusive behaviour over the years.
"Mr Pusey reacted to common interactions with members of the community with outrage, disdain, immaturity and no regard for the law," the Magistrate stated..
Safety concerns
Mr Pusey has been ordered to undertake a mental health treatment plan for a period of two years.
His defence lawyers say their client now fears for his safety in the community, given the backlash over his filming of the police officers.
Receive all of our articles weekly