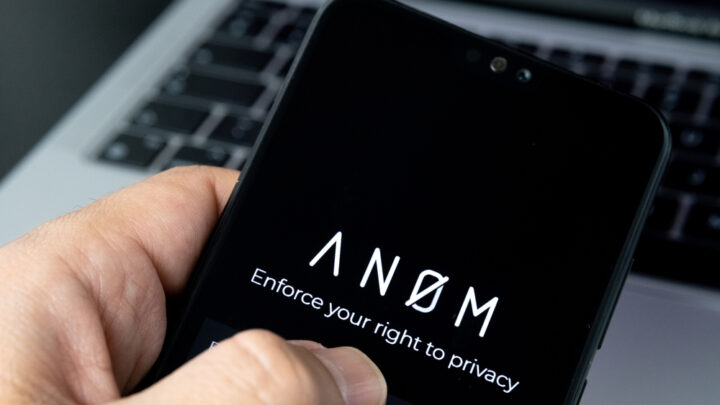 Charges continue to be laid against those arrested in relation to the nation's "most significant" drug racket investigation, Operation Ironside.
More than 250 arrests have been made, six drug labs were shut down, over 3.7 tonnes of illicit drugs were seized and 21 attempted killings were foiled.
Known internationally as Trojan Shield, the transnational criminal investigation that saw over 800 arrests globally is notable not only in its scope, but also because it saw the FBI team up with the AFP in utilising a sham encrypted messaging app known as Anom.
Indeed, it was our nation's legal capacity to get around privacy protections provided by encryption, via 2018-passed TOLA Act laws, that necessitated Australian involvement in the crime sting, which also saw no arrests of US citizens, due to the strength of the privacy laws over there.
Prime minister Scott Morrison took the opportunity afforded to him by the 8 June Ironside press conference to roll out some war on drugs rhetoric in suggesting that all Australians have a role to play in combating the illicit drug trade by just saying no.
But as a former Victoria police senior sergeant has stepped up to say, drug bust operations, like Ironside, may sound significant when authorities roll off the figures, yet, in reality, they're more about being seen to be doing something, than making any substantial impact on the black market.
The "sting of the century"
"For many in the community, the details of the plots that have been uncovered would have caused significant alarm, and rightly so," said former Victoria police senior sergeant Greg Denham.
"However, the extent and complexity of this network has raised a few questions about the effectiveness of drug law enforcement and their ability to stay ahead of the drug trade," the ex-police officer told Sydney Criminal Lawyers.
Denham spent fifteen years working as a Victoria police officer and prior to that, he spent two years as an officer on the Queensland force.
However, since leaving law enforcement, Denham has become a prominent drug law reformist both on the domestic and the international scene.
Denham is the Australian representative for US-based agency Law Enforcement Action Partnership (LEAP), which is an international group of former and standing police officers, as well as other members of the criminal justice system, who advocate for an end to drug prohibition.
"Let's be clear," Denham continued, "while some have hailed this event as a watershed moment for international cooperation between law enforcement agencies, the international illicit drug trade will continue to expand and adapt."
A momentary dent
As an ex-police officer, Denham is not alone in calling for a move away from the heavy-handed law enforcement approach to illegal drugs, as there's a growing list of former police who assert that they became aware that drug busts weren't affecting the illicit market whilst they were on the job.
Former AFP commissioner Mick Palmer is another prominent drug law reformist. He explained back in 2018 that "regardless of how effective police were" in terms of drug busts and arrests, "the reality was we made no difference".
The NSW Crime Commission Annual Report 2015-16 outlines that while "commendable law enforcement efforts around the country have resulted in larger seizures and more arrests," these busts "have had little, if any, effect on the quantities of prohibited drugs available".
According to Denham, the effect of Ironside will be that on the street there will be a hike in the price of drugs and a decrease in purity, which will mean that those with drug dependency will buy more, and this in turn will result in an increase in demand.
"Police and politicians will continue to justify the massive investment in law enforcement despite little impact on drug availability," Denham made clear. "Arrests, seized drugs and asset confiscation should not be seen as measurements of effectiveness in reducing drug harms."
Low-hanging fruit
Despite Ironside being transnational in its scope and involving the interception of large quantities of illicit substances in transit, Denham questions the actual criminals caught during the operation.
"There were no 'Mr Bigs' arrested in the recent raids," he said, "only low-level minions."
The hundreds of arrests around the nation have involved local suburban drug distributors, who, whilst dealing in large quantities of drugs and money, weren't running operations.
The FBI's Trojan Shield hitlist contained seventeen leading underworld figures, including seven Australian citizens, most of whom are living overseas, and haven't been arrested.
"This cycle of boom and bust will continue unabated," Denham stressed. "The reality is that drug prohibition is not just making the situation worse, it's actually making the situation better for those 'Mr Bigs'."
The 2011 Global Commission on Drug Policy report outlined that one of the key outcomes of the war on drugs has been the growth of "a huge criminal black market".
Drug decriminalisation works
As a better approach to dealing with those substances currently classed as illegal in Australia, Denham points to drug policy models that are proving effective in other parts of the world, especially the two-decades-old system of drug decriminalisation in Portugal.
In 2001, the Portuguese decriminalised the personal possession of all illegal drugs. These days, those found with such substances appear before a panel to assess whether they need counselling or treatment. And the rates of harms-related to illicit drug use have dropped dramatically.
"The money they saved by not locking people up has been directed to education, health and social services programs that have benefited the whole community," Denham explained. "Drug misuse has been trending downwards ever since."
The ex-police officer turned drug law reformist further points out that Oregon has recently adopted the Portuguese model, while down in Canberra a bill is currently before ACT parliament, which aims to decriminalise the personal possession and use of illicit drugs in our nation's capital.
"It takes tremendous courage to admit that the war on drugs has failed and that unless new approaches are adopted the situation will get progressively worse," Denham concluded.
However, as the backslapping over Ironside in Canberra continues, "it's unlikely many will have the courage to have those conversations".
Receive all of our articles weekly