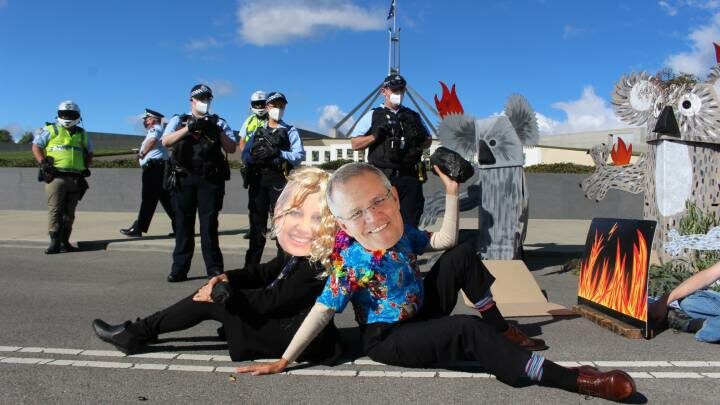 The Liberal prime minister and the Nationals deputy prime minister are currently in a political skirmish over how to reach a policy with a target of net zero greenhouse gas emissions by 2050, after the pair have blatantly resisted taking climate action for most of the last decade.
Scott Morrison notoriously paraded into parliament brandishing a lump of coal in 2017. The then treasurer stated that the nation should not "be afraid" of the fossil fuel, whilst Barnaby Joyce acted as the comic sidekick during the performance.
But, truth be told, we should all be very afraid of coal.
The PM is pushing for net zero by 2050 ahead of his appearing at the COP26, which is the global climate conference being heralded as the last chance for humanity to prevent climate collapse. Yet, Morrison has been reluctant to even turn up.
Making up the minor party in the government's coalition, the Nationals have been holding out all week on whether they'll commit to a net zero by 2050 policy. And the party has even flagged a $250 billion loan to underwrite the mining sector in exchange for its support.
Either way, these Liberal National deliberations don't even attempt to tackle the focus of the international climate meeting set to take place in Glasgow at the end of this month, as heads of state are meeting to unveil stronger emission cuts by 2030.
So, a group of Extinction Rebellion (XR) protesters returned to the lawns of parliament on Tuesday to draw attention to the fact that our PM's attempt at a climate policy won't only fall short of COP26 expectations, but it will also ensure that the accelerating climate crisis will deepen even further.
"Code red for humanity"
"The IPCC has called a 'code red for humanity'," said XR activist Violet Coco, "and if we don't zero out on emissions and hold biodiversity aloft in the next three to four years, we're going to see the collapse of our habitable planet."
"Currently, the discourse from parliament is discussing the target of net zero by 2050, which is just too little too late," she told Sydney Criminal Lawyers. "It's committing death to billions and children will suffer so much."
Tuesday's protest consisted of Coco dressed as Morrison accompanied by another activist wearing a mask portraying environment minister Sussan Ley.
The pair cavorted about with a lump of coal, as they raised temperatures to such a point that several attending koalas died in climate-related circumstances.
The nonviolent direct action was in response to the government's deplorable attempts at making targets for COP26, as well as to mark the second day of Ley's appeal against a landmark court decision that found environment ministers have a duty of care when approving coal projects.
Coco and several other XR activists were arrested and spent the night in custody for their efforts.
"We told the story of how Scott Morrison doesn't care about Australia," Coco added. "When our country was on fire, he was in Hawaii."
"Hell on Earth"
However, Tuesday's action wasn't the first time ACT policing had taken Coco into custody this week, as, on the day prior, the activist jumped out in front of the PM's car dressed as Pikachu. And this caused the vehicle to swerve on its way towards climate deliberations at federal parliament.
Coco said that whilst her action was risky, it far outweighs the risk that our nation – the world's third largest exporter of carbon emitting fossil fuels – continues to place the entire globe under with its startling lack of climate action, which has left Australia with a pariah status in this regard.
According to ANU Earth Science Professor Will Steffen, the goal of keeping rising temperatures to below "1.5°C above the pre-industrial level" is now unlikely. And it was his testimony that led the Federal Court to find that the environment minister has a duty of care when fossil fuels are involved.
Justice Mordecai Bromberg on 8 July formally declared that the federal environment minister has a responsibility "to avoid causing personal injury or death" to children, ordinarily residing in Australia, when considering the approval of fossil fuel projects.
Yet, as Coco points out, Ley is not only appealing to have this declaration voided, but she's also been having a greenlighting fossil fuel project field day, with four coal projects approved last month, including the Vickery extension, which was the project that led the court to issue the duty of care.
System change, not climate change
"We need strong leadership. We need people who care about our future generations," Coco continued. "I'm so devastated that our politicians – especially Scott Morrison – are refusing to engage with the science or the global turn towards climate action."
Extinction Rebellion is calling for the establishment of citizens' assemblies, which, as Coco notes, are bodies made up of civilians that assess climate issues and advise parliament on how to act. Working in the same way as a jury, these bodies would work to ensure ethical decision-making.
"It means that the people making these decisions are not going to financially benefit from pandering to the fossil lobbyists," the activist made clear.
And one only has to watch the 2019 Greenpeace documentary Dirty Power to see the revolving door between the Coalition government and the mining industry, as well as how this is all propped up via Canberra's connection to the long-term climate denying Murdoch press.
The XR citizen assembly proposal moves beyond relying on the goodwill of government ministers, whom, the globe over, tend to have conflicting interests when it comes to climate and fossil fuels.
Indeed, this includes the heads of state about to meet at COP26: the annual UN climate change conference.
"We have known that this is a problem for a very long time. This is the 26th COP and we still have emissions continuing to rise," said Coco. Although she added that it's better that our PM and the other global leaders do engage with the issue and are present at the Glasgow climate meeting.
"But do I think COP26 is going to save us? No," Coco said in conclusion.
"We are going to have a huge year ahead of engaging our politicians in this issue with our bodies on the street."
All images supplied by Extinction Rebellion
Receive all of our articles weekly