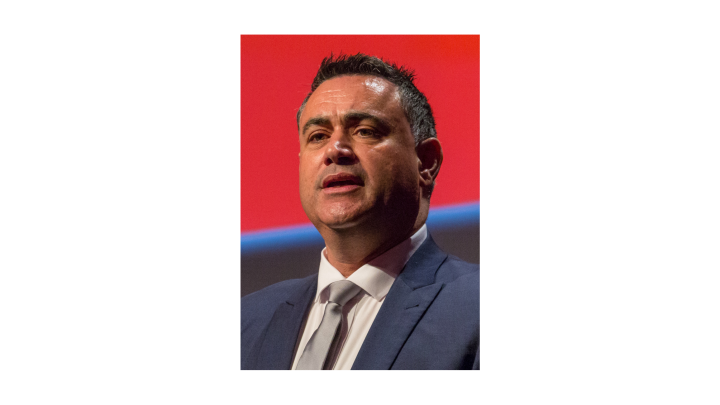 Police are investigating an incident involving former Deputy Premier John Barilaro after video footage emerged showing that he and his girlfriend launched themselves at media cameramen outside a Sydney bar. 
It's reported that a Channel Seven reporter approached Mr Barilaro to ask questions about the fact that his appointment to a lucrative trade job in New York is currently being investigated.
In response, the former NSW Nationals leader initially dismissed questions, saying: 'It's a night out mate, it's all good', before the incident allegedly turned violent.
Violent reaction
Mr Barilaro is reported is seen to repeatedly swiped at two cameramen before his new girlfriend, Jennifer Lugsdin, attempts to grab the expensive equipment. 
Some have criticised journalists for trying to get a story on a Saturday night, while others say the former Deputy Premier's own treatment of others and his position as a public figure, as well as questions surrounding his appointment, justify the approach and that a violent reaction is never justified.
Police investigating
The New South Wales Police Force has confirmed it is investigating the incident, but provided no further details. 
The confrontation occurred last Saturday night outside a bar in Manly. 
Mr Barilaro then appeared on radio 2GB on Monday morning claiming the 'microphone and camera' were shoved in his face. 
'The reality is people are now piling on, harassing, intruding, not allowing me to get on with my life, I'm a private citizen,' he added. 
History of media disputes 
It's not the first time Mr Barilaro has taken umbrage at being asked questions.
In fact, he commenced defamation proceedings against political satirist  Jordan Shanks of the Friendlyjordies, over videos published in 2020 which asserted that Mr Barilaro was a corrupt politician, that he corruptly granted $3.5 million to a beef company, that he corruptly voted against a Royal Commission into water theft, that he blackmailed councillors for financial benefit and committed the offence of perjury. The former Deputy Premier won the case, with Mr Shanks being ordered by the Federal Court of Australia to pay $715,000 in damages.
He also used his political clout to see Friendlyjordies producer, Kristo Langker, arrested by the NSW Police Fixated Persons Investigations Unit and charged with stalking when Mr Lanker tried to interview him about his intent to sue Jordan Shanks. 
Those charges were ultimately withdrawn due to insufficient evidence, and Mr Langker is currently considering commencing civil proceedings against the New South Wales Police Force over what he believes was a baseless and malicious prosecution.
Mr Barilaro then also sued Google for failing to remove the videos from its YouTube platform after the politician's lawyers made repeated requests for it to do so – he won that case and has received hundreds of thousands of dollars in compensation from the media giant. 
Despite his protests that he is a 'private citizen' Mr Barilaro is currently at the centre of an issue of great interest to the New South Wales public.
While he may have officially resigned from political life, many would argue that he still has a degree of responsibility to answer questions whether they're from a member of the public or a member of the media, particularly in light of the fact that he also told radio 2GB that he was happy to speak to the current Parliamentary Inquiry underway into how lucrative overseas trade roles are filled.  
Intense scrutiny around New York posting 
To summarise the situation: Mr Barilaro stood down from a $500,000 a year posting in New York last month following backlash over his appointment. It was then rescinded after a government decision to change the recruitment process.
A Parliamentary Inquiry has heard that former Deputy Premier John Barilaro fast-tracked a cabinet submission to turn the senior trade jobs into ministerial appointments, instructing a staff member to get it done "ASAP" prior to being given the role in New York. 
Many believe that there are broader questions that should be raised  by the inquiry into Jennifer Lugsdin, Barilaro's former media adviser (and now partner), who was appointed to a senior role at Investment NSW at the time the agency was processing the appointment of the apparently successful candidate  for the New York Trade Commission role, Jenny West. Her appointment was rescinded, following which Mr Barilario gained the posting. 
More questions than answers 
The fact that Ms Lugsdin was employed by Investment NSW is common knowledge but has so far not been raised in the inquiry. 
While there may be no connection with her role and Mr Barilaro's appointment, the general public deserves to have all questions answered, particularly given that the current political culture is one where some politicians have a tendency to use public funds and personal favours for political gain, without public consultation, with minimal transparency or accountability. 
The NSW upper house inquiry, run by the public accountability committee revealed some weeks ago that the cost of outfitting Mr Barilaro's office in New York was $900,000 – and now it remains empty. 
The entire saga has posed more questions than answers so far, although the public accountability committee has said its investigations to date remain hampered by a failure of the government to produce key documents in relation to Mr Barilaro's appointment to New York.   
Receive all of our articles weekly
Author
Sonia Hickey
Sonia Hickey
is a freelance writer, magazine journalist, and owner of 'Woman with Words'. She has a strong interest in social justice and is a member of the
Sydney Criminal Lawyers®
content team. Sonia is the winner of the Mondaq Thought Leadership Awards, Spring 2022.