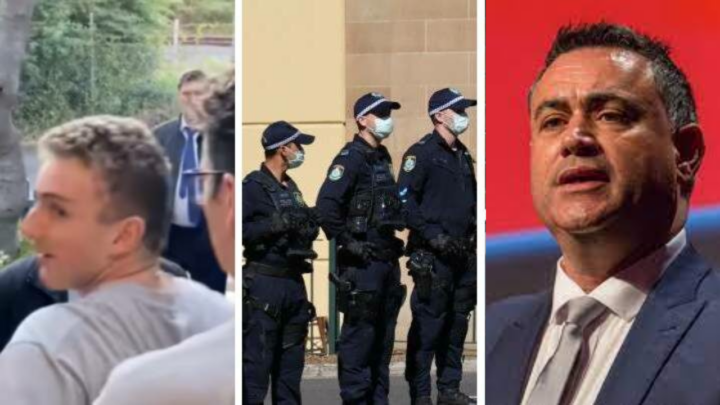 Friendlyjordies producer Kristo Langker is considering civil proceedings against the New South Wales Police Force, after all charges were dropped against him over allegations he stalked or intimidated former deputy premier John Barilaro.
Mr Langkar was arrested in June 2021 and charged with four counts of stalking or intimidation with intent to cause fear or physical or mental harm, which is an offence under section 13 of the Crimes (Domestic and Personal Violence) Act 2007 carrying a maximum penalty of five years in prison.
The story so far
The charges arose from complaints by Mr Barilaro to the NSW Police Force's Fixated Persons Unit that the political commentators intimidated or stalked him on two separate occasions.
The apparently 'thin-skinned' politician, who evidently held sway with the police force at the time, was incensed by Friendlyjordies presenter, Jordan Shanks, dressing in a Super Mario costume and Langker pretending to be his lawyer while approaching Barilaro at a pub late at night. 
The second incident involved Langker approaching Barilaro in the street.
Both tongue-in-cheek encounters were filmed by the commentators for posting to their social media channels.
The top brass of the NSW Police Force remarked at the time to the effect that the incidents were so serious as to warrant the four criminal charges.
But last week, police prosecutors abruptly withdrew all charges against Mr Langker last week, with Downing Centre Local Court Magistrate Susan McIntyre ordering police to pay legal costs in the amount of $12,000 – a sum which will ultimately be paid by the state's taxpayers.
Calls for an LECC inquiry
There are now calls for an inquiry to be commenced by the Law Enforcement Conduct Commission) LECC into the "frivolous" and potentially "malicious" nature of the prosecution. 
New South Wales Attorney General Mark Speakman said he will wait to see what the "private citizens involved" do, before deciding whether to contact the LECC personally.
The Fixated Person's Unit has been widely criticised for commencing prosecutions against those who criticise or even mock political figures
The unit was established to monitor potential terrorists in the wake of the Lindt cafe siege and to prevent acts of violence, but has morphed into somewhat of an "attack dog" for New South Wales politicians.
Silencing dissent
Given the many dozen laws passed in recent years designed to silence those who expose crime and corruption in government, or even criticise those in power, there are concerns that our nation has degenerated into an authoritarian state whereby potential dissenters are surveilled, targeted and criminally prosecuted using mechanisms of power – including the NSW Police Force's Fixated Persons Unit.
Commentators have noted that, just a decade ago, the ABC's Chasers greeted Former Prime Minister John Howard on a morning walk with a large fake axe, without police being involved.
But times, as well as laws, have changed and it seems police are at the beck and call of government – raiding media premises, arresting those who expose the truth and subjecting them to criminal prosecutions with the prospect of years in prison. 
Defamation case
Politicians can also have significant wealth at their disposal when it comes to pursuing legal proceedings.
A case in point is that of former Federal Attorney-General Christian Porter, whose legal fees were funded through a "bling trust" – the contributors to which remain unknown.
For his part, Mr Baralio commenced defamation proceedings against Friendlyjordies podcaster Jordan Shanks over material published on the commentator's YouTube site in 2020. 
These proceedings can be extremely expensive, with legal costs often running into the hundreds of thousands of dollars.
The case was eventually settled with Mr Shanks issuing an apology in November 2021 and paying Mr Barilaro's legal costs until that time.
Undermining democracy
A country that claims to be a 'western democracy' where the highest court in the land has implied a limited freedom of political communication into the nation's constitution is in a sad state when those in positions of power are, for all intents and purposes, able to pass and use laws as well as create and direct enforcers to silence political commentary and dissent.
Are we really still a democracy?
Receive all of our articles weekly
Authors
Sonia Hickey
Sonia Hickey
is a freelance writer, magazine journalist, and owner of 'Woman with Words'. She has a strong interest in social justice and is a member of the
Sydney Criminal Lawyers®
content team. Sonia is the winner of the Mondaq Thought Leadership Awards, Spring 2022.