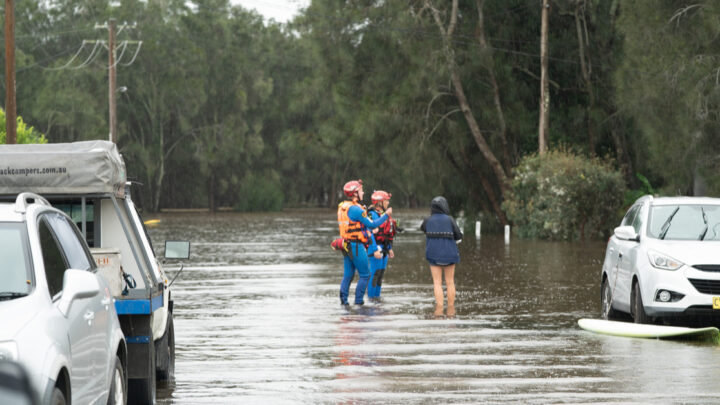 There's hope for Northern Rivers flood victims from a perhaps unexpected source – those who are spending time behind bars. 
Inmates at both Cessnock and Goulburn Correctional Centres have taken it upon themselves to build module design homes for flood victims whose homes have been decimated.
Housing crisis exacerbated by floods
The Northern Rivers housing crisis was already escalating out of control prior to the floods in March this year, as a result of steady population growth in the region because of affordable housing, and the desire to escape the cities that grew during the Covid pandemic and extended lockdowns in Sydney and Melbourne.  
Now, hundreds more people are looking for a place to live while they rebuild their homes or wait for government assistance, which has been tied up in bureaucracy and trickling in at a snail's pace.
Inmates lend a helping hand
In the meantime, New South Wales prison inmates are taking single level dwellings which were allocated from the NSW Department of Education and remodelling them into functioning homes with two bedrooms, a kitchen, bathroom, laundry and air-conditioning. 
The first batch of 40 will arrive in the Northern Rivers in the coming days. The project has been described as a "great match" between meeting a vital social need and also meeting the NSW Corrective Services Department's goal to reduce reoffending. 
The tiny homes form part of a $350 million investment by the NSW Government into temporary housing for flood-affected communities. 
And the timing couldn't be better – almost two months on from the initial devastation people are still desperate – many are turning to significantly damaged homes because they have nowhere else to go … and areas away from the coast – such as Lismore, Wardell and Mullumbimby – will soon feel the chill of winter. 
Other initiatives such as 16 weeks of rental support, mobile motor homes and accommodation in recreation camps are still much-needed. 
Bureaucratic failings 
But  the news that the dwellings are on their way will also go some way towards deflecting the criticism being levelled at the State and Federal Governments for their slow and inadequate response to the housing crisis and the other social problems created by the floods – not just in the initial aftermath, but now too, weeks later, as the crisis continues. 
But March 2022 is not necessarily where the bureaucratic bungle began. In November last year it was discovered that Lismore was omitted from a list of 'top priority' areas earmarked for natural disaster resilience funding of up to $10 million, despite a historic record of 130 floods in 150 years of official records.
Lismore was left off the list while nearby shires including Ballina and Byron Bay, were included which is completely ludicrous. While both areas are also prone to flood, Lismore has an entrenched reputation for it.  
It was also recently reported that only one in ten applications have for the 'back-to-home- grants have been approved. 
People are facing red tape around the grants and insurance policies too – with some being told that their insurers have to first deny their claim before they can apply for funds. Anyone who has previously claimed the Disaster Relief Grant will not be eligible for the payment. 
Of course, $20,000 won't go far for many of the homeowners whose premises have suffered significant structural damage, and that is also a problem because more than 2000 of them were 'deemed uninhabitable' in assessments after the floods. 
The housing crisis is set to continue, so the Government may well have to wake up to some real facts in the coming months, including the very real possibility that these 'temporary living arrangements' may end up being permanent for those people who simply cannot afford to rebuild. 
While there's a perception that the Northern Rivers is a "wealthy region" it is not entirely true. It's more of a "tale of two cities – there are the mega wealthy who have acres of land and homesteads in the hills, and beachfront mansions in Byron Bay, but there are many, many more people who live modestly, and a significant number who live close to the poverty line. 
Planning is desperately needed
Most who live in areas like Mullumbimby, Lismore and Wardell, which are at risk of flood, are school teachers, nurses, baristas, social workers – people on average wages who cannot afford to rent or buy homes close to the beach or the tourist areas like Byron and Lennox and Kingscliff. 
There is also a huge population of elderly people who live 'in the home they were born in' and while the value of the home may have increased in the NSW property boom, many of these are pensioners, simply unable to afford the mammoth cost of flood insurance. 
It would be criminal not to ensure there is not also a long-term plan to back up the 'temporary' one so that these people don't have to put everything they own at risk time and again. 
Receive all of our articles weekly