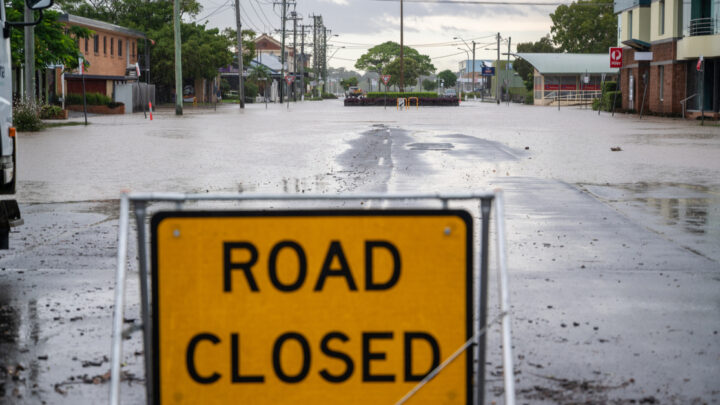 The Northern Rivers flood victims face a long wait for financial help, as politicians busy themselves with upcoming federal election and other priorities they see as more important for their own promotion and self-preservation. 
When you talk to the locals, you can't help but feel their frustration, anger and sadness. It's been almost two months since never-before-seen flood levels completely decimated Mullumbimby and Lismore. Two weeks later, the region was hammered again by severe weather, which did more harm than good, particularly as the clean-up effort was well underway. 
Now, despite promises from the Federal Government and the State Government, victims who've lost everything are moving back into damaged homes and business premises, simply because they have no other choice. 
Government help is painfully slow 
The Northern Rivers Region's housing crisis was already beyond crisis point before the floods. Since then, it has become much, much worse. And the stories are heartbreaking. 
One couple have received just $3,000 raised through a crowdfunding initiative started by friends and family. The same couple is currently still paying the mortgage on their damaged home, and rent to live elsewhere. The cost of rebuilding the home is significant, but with power and running water back on (and a baby) they're desperate enough to make it work.
Only one in ten flood applications have been granted 
Victims of flooded homes and businesses were promised grants by the State Government, yet it was revealed last week that only 125 of 5900 back-to-home grants had been processed. Premier Dominic Perrottet ­also admitted that only one in 10 applications for help from flood victims has been granted.
The Premier has blamed the federal government for the backlog of applications because the recovery and rebuild programmes are jointly funded with the Commonwealth.  
For the young couple with the baby, relining their home is estimated to be more than half of the $20,000 on offer, without the cost of labour included. 
So, not only are the grants slow to come, they're woefully inadequate. 
They also don't solve the much much bigger question about Lismore in particular, and whether or not it should be rebuilt in its existing location. It's not an easy question to answer, because it involves land swaps and other red tape and complications, but without any kind of government guidance, people are tired of being in limbo and taking matters into their own hands. 
They want to get on with their lives – so back they go to their damaged homes and businesses all situated in a very well-known flood risk zone. 
The housing crisis – nowhere to go 
Building assessors have condemned many properties, so for some, major restructural work needs to be undertaken, or the dwellings will have to be completely rebuilt. 
Insurance assessors have already warned many home and business owners in the area that they will simply not be insurable in the future unless they undertake expensive mitigation works. 
Some homeowners who have insurance haven't even applied for the grants – many are waiting on decisions from insurers and can only apply for government grants once insurers have decided they will not be paying up. 
Original numbers quoted in the days after the flood suggested that more than 70 per cent of  people didn't have flood insurance because it's simply unaffordable. For some homes it was estimated to be around $10,000 per annum, for businesses around $50,000. 
It seems short-sighted to consider allowing people to rebuild knowing that if there's a future disaster of the same kind, then government emergency and natural disaster funding will again have to pick up the bulk of the tab. While both are absolutely necessary, relying on them time and time again. Particularly in the face of climate change, is simply not sustainable economics. 
The State Government has also promised an 'oversight' committee for the region  to ensure that money provided from its purse is spent wisely and strategically – which is sensible – but decisions around flood mitigation and future viability need careful consideration and will take time  – and this doesn't solve the immediate need for people to have safe roofs over their heads. 
Government inefficiency 
There are dozens and dozens of stories – people living in sheds, living in caravans, couch surfing or moving back into the shell of their homes, hoping that they might eventually have the funds to repair them. 
It's another glaring example of the inefficient bureaucracy of government and the ways in which  it completely under-serves the people who pay for it.  
It is untenable that promised government grants are taking so long to get to the people who need them. Especially when it seems perfectly good enough for our politicians to turn a blind eye to accountability, transparency and 'the rules' when it comes to pork barrelling. 
Right now, the government needs to understand very clearly that every individual circumstance is different and not every situation can fit into a neat square box on an application form.  
The NSW Premier has admitted that the processing times are "not good enough" and that more "flexibility" is needed at a Commonwealth level – something he has raised with the Prime Minister. 
That's all good and well. But the problem is that there's a federal election coming up and Scomo is rather busy trying to win it. 
Receive all of our articles weekly