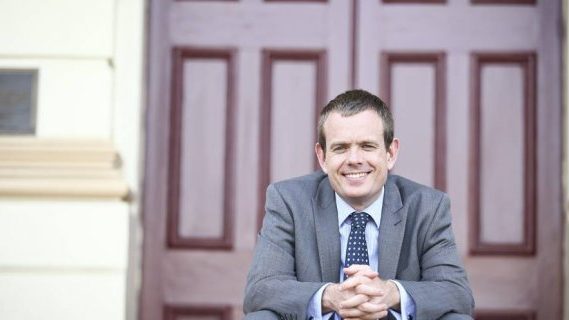 Sydney barrister Stephen Lawrence has had an illustrious career in law. The 41-year-old, who originally hails from the New South Wales town of Griffith, studied law at the Australian National University, before being admitted as a solicitor in 2002.
Since then, his work has taken him around the world. At times, this has included into conflict zones, such as Afghanistan and the Palestinian Territories.
Called to the Bar in 2015, Mr Lawrence now practices as a barrister at Sydney's Sir Owen Dixon Chambers, where works on administrative and criminal cases.
At the Aboriginal Legal Service
From 2010 to 2015, Lawrence worked for the Aboriginal Legal Service (ALS) NSW/ACT.
There, he held the position of Principal Legal Officer in the Western Region and worked on cases that included the 2013 William Bugmy case that went to the High Court of Australia.
Lawrence has singled out this case – which involved accounting for Aboriginal disadvantage in sentencing in the Australian legal system – as one of the most important he's worked on during his career.
His work throughout the world
Between 2004 and 2007, Lawrence worked as a public defender in the Solomon Islands for trials that arose due to the civil unrest that broke out in the country between 1998 and 2003.
This conflict involved warring militants and resulted in the torture and killing of large numbers of Solomon Islanders.
As part of the International Legal Foundation, Lawrence travelled to the Palestinian Territories in 2011 to establish a public defence office in Ramallah.
And in August 2013, Lawrence was deployed to Bagram in Afghanistan, with the Australian Civilian Corps. There he worked in the capacity of an Australian Justice Advisor. He assisted Afghan lawyers defending people captured by coalition forces and charged with terrorism and related offences at the Justice Centre in Parwan.
The 2015 state election
Just prior to becoming a barrister, Lawrence ran for Labor in the seat of Dubbo in the March 2015 NSW state election. He came in second to his political rival NSW deputy premier Troy Grant.
Sydney Criminal Lawyers® spoke with Stephen Lawrence about his career, which has definitely taken him to the frontline of justice.
You began practising as a solicitor in 2002. What led you into a career in law? And what were your first days like practising?
As a young person, I was really interested in how society is organised and interested in social justice issues. This led me to being interested in studying law, because I hoped I could make a difference in some way.
My early years in law were very intense. I loved it straight away, particularly court work. I couldn't believe that I got paid to have so much fun and I used to regularly work 12 hour days. And in those early years, I just wanted to absorb as much information and knowledge about the law as I could.
You worked for the Aboriginal Legal Service for many years. From 2012, you held the position of Principal Legal Officer in the Western Region. What did that position entail?
That position involved the management of a team of criminal lawyers working across western NSW. I had a select sort of court practice myself, involving trials and appeals. But I also did a lot of management, training, recruitment, media and policy work.
How important is the role of the ALS in the community?
Look it's really important. The ALS represents the most disadvantaged members of the Australian community. I think our criminal justice system has a tendency to punish the weakest the hardest.
Therefore, it's really important to have a strong systemic voice in the court system for our most vulnerable citizens.
In August this year, Rebecca Maher, a 36-year-old Wiradjuri woman, died in custody at Maitland police station. The police failed to contact the Custody Notification Service at the ALS. What do you think about this breach of legal protocol?
In fact, there is no legal obligation on the police to notify the ALS when a person is taken into custody as an intoxicated person. As I understand the tragic situation of that lady, she was not arrested by the police in the strict legal sense of that word, rather she was taken into custody as an intoxicated person.
So my understanding is that there was in fact no breach of the law. Though it does raise the question of whether law reform might be needed to the provisions of the Law Enforcement Powers and Responsibilities Regulations.
In the mid-2000s, you were a public defender in the Solomon Islands. What was that experience like?
Incredible. The work that I did involved representing former leaders of militant groups, former and serving members of parliament and also representing ordinary Solomon Islanders, who didn't have the money to pay for lawyers to represent them in all sorts of cases.
So through doing that work I got a really unique insight into that country and its people. And a unique insight into the causes of the conflict there.
To come face to face with those issues at that time in my career, and to get the opportunity to run murder trials and do other sorts of complex work in that environment, I feel so fortunate to have had that opportunity.
In 2011, you worked in the Palestinian Territories, as part of the International Legal Foundation to establish a public defence office in Ramallah. Just how dire did you find the situation of the Palestinian people?
The one thing that I learned from living and working in the occupied Palestinian Territories is that a lot of what we read in the mainstream media about there being a conflict between two opposing sides based on ancient hatreds is a complete lie.
The situation, as I observed it, is that Israel well and truly has its foot on the neck of the Palestinians and is slowly chocking the Palestinian nation, trying to destroy it. They're trying to ensure the Palestinians never have a country and that they cannot continue as a nation in those territories.
When you travel through the occupied Palestinian Territories, you see the slow and increasing spread of settlements, you see the militarisation of those territories by the Israeli army and you see that Israel is well and truly in control of those territories.
You also worked in Afghanistan in 2013, as an Australian Justice Advisor, assisting Afghan lawyers in trials of people captured by coalition forces. What was it like helping to defend so-called "terrorists" against western forces?
It was a very fraught and tense environment. The Afghan lawyers themselves were under constant threat from insurgents. We lived in Bagram Army Base. Bagram regularly came under attack from rockets and mortars.
So it was a very unusual place to practice law or to be involved in legal cases.
The one thing that I will always remember about Afghanistan is the incredible hospitality and warmth of the Afghan people.
Just before you were called to the Bar, you ran for Labor in the March 2015 NSW state election against NSW deputy premier Troy Grant in the electorate of Dubbo. What was he like as a political rival?
He was very pleasant when I met him on the campaign trail, but Troy has a glass jaw politically.
Whenever I would raise issues based on policy, he would generally respond by calling me a liar or otherwise engage in personal attacks.
He took the opportunity on occasion to attack me about my work as a criminal lawyer. And to attack me for particular cases that I've done.
So while he's a pleasant enough bloke, and he's a lot smarter than most people think, I found him as a political opponent pretty average, to be honest.
And what about his time in office?
In terms of his time in office, I struggle to think of one positive policy that can be attributed to Troy Grant. I think he has very little to offer on a policy level.
You've pointed to the 2013 William Bugmy case that went to the High Court of Australia, as the one case that stands out to you the most? Why?
That's the case which has reinforced the principle that Aboriginal disadvantage has to be taken into account as an important factor in criminal sentencing.
It provoked a real discussion in the court system about the need to closely consider the moral culpability of criminal offenders. And to consider the link between childhood disadvantage and subsequent criminal offending.
These sorts of principles are no answer to the problems we have in society, but cases such as Bugmy's are an important weapon for lawyers and judicial officers to use to better ensure true equality before the law in the criminal justice system.
As I said earlier, the criminal justice system has a real tendency to punish the weakest the hardest and that's something that we particularly see in the summary jurisdiction and local court jurisdiction.
I feel through the Bugmy case that the team of lawyers involved have made some small contribution to arming lawyers, who appear for the weakest and the most vulnerable, with a case that can be used to better ensure equality before the law for those people.
And lastly, do you foresee a day when you might take the bench?
No probably not. I don't think the particular role that I want to play in the legal system is one that I can play from the bench, even if someone saw fit to offer me that opportunity, which I think is pretty unlikely.
Well thanks for speaking with us today Stephen. It sounds like you've had a very interesting career.
Thanks mate. It's been my pleasure.
Image Credit: dailyliberal.com.au
Receive all of our articles weekly
Author
Sydney Criminal Lawyers
Sydney Criminal Lawyers®
is Australia's Leading Criminal Defence firm, Delivering Outstanding Results in all Criminal and Driving cases. Going to Court? Call (02) 9261 8881 for a Free Consultation.