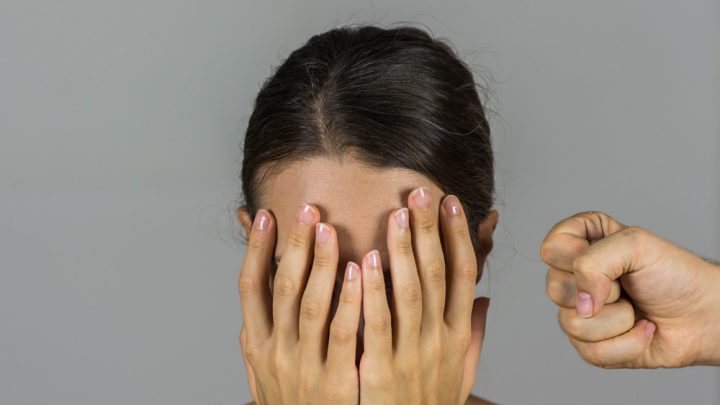 In legal terms the answer is yes, as long as the man is acting in self-defence.
A Magistrate has found that a young man who punched a woman unconscious outside a nightclub in the Newcastle CBD on Boxing Day, acted in self-defence.
Shaun Rudder broke down in tears outside the court after being acquitted of all charges relating to the incident, having already spent 8 months behind bars waiting for the case to be decided.
The fight between Shaun Rudder and Brittany Merrick, and her best friend, Brittany Norris, ironically occurred on Boxing Day 2015, making international headlines when Ms Merrick posted graphic images of her bruised and swollen face on social media.
Ms Merrick received an outpouring of support including messages saying: "I hope you recovery quickly brittany [sic]. I couldn't imagine the pain, struggle, confusion, disbelief and every other emotion your feeling right now!". Another person posted: "Physically makes me sick".
At the time, Ms Merrick claimed she had been attacked after shoving a man who had spat on her in Finnegan's nightclub.
But after hearing all of the evidence, Magistrate Andrew Eckhold found there was a reasonable possibility Mr Rudder had acted in self-defence.
A plea of self-defence
Police alleged Mr Rudder stalked both women after having an earlier fight with them in the Newcastle club, warning Ms Norris by SMS that he was "behind her" just moments before punching her in the back of the head.
Both women accused Mr Rudder of punching Ms Merrick as she stepped in to help Ms Norris, punching her several times in the face until she fell unconscious to the pavement, face-first.
But Mr Rudder's criminal lawyer laid out a very different version of events, insisting his client was acting in self-defence after Ms Merrick "stormed" towards him.
Mr Rudder testified that he punched Ms Merrick only once in the face, causing her to fall to the pavement.
CCTV shows Ms Merrick "taking Mr Rudder down"
CCTV footage from the club earlier in the evening showed Mr Rudder and Ms Merrick in a violent, physical confrontation, which was sparked by the former calling the latter "a psycho".
The footage shows Merrick lash out at Rudder, grabbing him by the throat and pushing him to the ground. Rudder admitted to then spitting in Merrick's face, prompting both of them to be thrown out of the club. Moments later, the altercation continued on the street, ending with Merrick lying unconscious and bleeding from a cut to her head. Rudder then fled the scene.
In handing down his decision, the Magistrate said the case was difficult to adjudicate because of the conflicting, inconsistent versions from the two women and also the "most extraordinary" CCTV footage of Merrick "taking Rudder down" in the club.
"It shows an extraordinary level of physical capacity by Ms Merrick, I've got to say … which really does confuse things," the Magistrate said. He added that while there was a social expectation that a man does not hit a woman, the law does not discriminate when it comes to self-defence.
The Magistrate continued: "Given that he had been taken to the ground inside Finnegans, and that she punched him effectively a number of times inside Finnegans… then it is a matter where he would have ultimately been justified in landing a blow upon her — just a single blow as he says he did — in self-defence".
Undoubtedly, it will be regarded by many as a highly contentious verdict given the extent of the injuries suffered by Ms Merrick.
For information about defences to assault charges, watch our video:

Receive all of our articles weekly
Author
Sydney Criminal Lawyers
Sydney Criminal Lawyers®
is Australia's Leading Criminal Defence firm, Delivering Outstanding Results in all Criminal and Driving cases. Going to Court? Call (02) 9261 8881 for a Free Consultation.