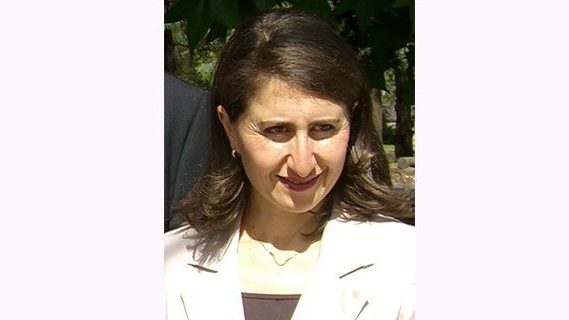 The Premier of New South Wales, Gladys Berejiklian, was in Brunswick Heads, a popular tourist spot on the state's North Coast, when a local journalist attempted to make his way towards her to ask questions.
Instead of getting anywhere near the Premier, the journalist was manhandled by her minders and taken in the opposite direction.
Witnesses reported that National's candidate Ben Franklin saw the incident as funny, standing offside and laughing as the journalist was accosted by the Premier's staff.
The incident
Ms Berejiklian was at the Brunswick Heads Surf Club to announce $3.8 million in funding for new club facilities, when journalist Jim Beatson, who identified himself as a reporter for Bay FM, made his way towards the her.
Mr Beatson approached the Premier shouting, "Can I ask you a question?"
Despite being prompted to ask his question, the journalist was then grabbed by the security staff and shoved to a nearby room.
Veteran journalist
73-year old Beatson currently works for a local radio station as a news reporter, and the local paper as a freelance writer, but has had a lengthy career in media.
He co-founded Brisbane youth radio station 4ZZZ in 1975 before embarking on a lengthy career in print media, working for The Guardian, Time Magazine, The Washington Post and the Australian Financial Review. Notably, he held an appointment which covered the Bougainville conflict in Papua New Guinea.
Mr Beatson, who is also an enthusiastic supporter of the environment, and was at one time the local candidate for the Greens, says he was at the event in a professional capacity, and identified himself as such.
He posted a lengthy explanation in his own defence on his Facebook page after the story hit national media. He explained that because opportunities to interview the New South Wales Premier are rare for regional journalists, he wanted to take the chance to ask her about her commitment to saving koalas and their local habitats.
He adds that he also wanted to seek clarification from local National Party Candidate Ben Franklin about a $627,000 grant awarded to the Brunswick Picture House.
In a press release from Mr Franklin's office, the Picture House was described as a non-profit organisation, when in fact, Mr Beatson says it is in fact a proprietary limited company with shareholders based in Melbourne.
Berejiklian and Beatson, Round Two
This is not the first time Mr Beatson has found himself in conflict with the Premier.
News archives from Bay FM have stored sound footage from 2018, during which Mr Beatson again raises the Koala issue with the Premier.
According to Beatson, the most recent incident is a denial of journalistic access to our elected representatives. He says that while the Premier is happy to pose for photos, she is not prepared to answer questions about contentious issues.
New South Wales Police have confirmed that a specialist officer intervened at the event, but no arrests have been made.
The incident left Mr Beatson with cuts and bruises to his wrists and bruising on his back. He has filed reports of assault with the police and also the Media Entertainment Arts Alliance – which is the equivalent of the journalists' union.
It is understood Mr Beatson and his employer are considering whether to take further action over the incident.
Access to Berejiklian
But Mr Beatson's peers are divided on how he approached the Premier, with many defending Berejiklian by contending she is normally happy to answer their questions.
But other local journalists have backed Mr Beatson, saying the Premier is often dismissive of local media.
Many in the community have been vocal about the fact that with an election only months away, it is difficult to fathom that the Premier and other political candidates would not take every opportunity to speak at length to media about issues of importance in local electorates.
Receive all of our articles weekly