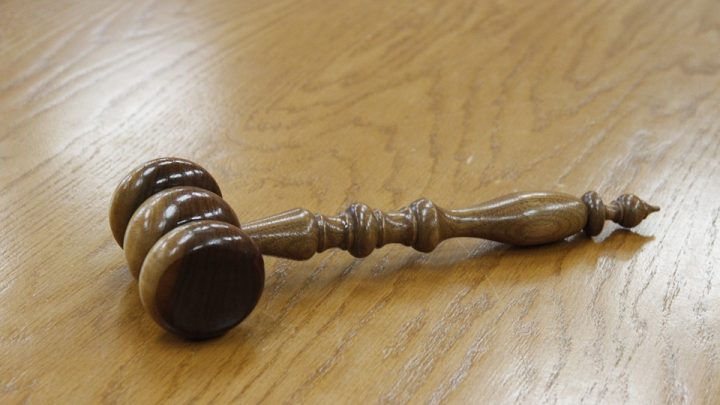 Transcripts from a Victorian courtroom detailing a heated exchange between a lawyer and judge have been at the centre of an appeal by Michael Cook, who appealed his armed robbery conviction due to the behaviour of the judge.
Mr Cook said the judge "interjected on too many occasions, descended to the arena and donned the mantle of the prosecution", and was biased against him, during his trial and began appeal proceedings earlier this year.
Based on this, the Court of Appeal examined the transcripts from the original trial which recorded extraordinary clashes between Victorian County Court Judge Mark Dean and defence counsel Benjamin Lindner.
Transcripts record the judge repeatedly calling the lawyer "incompetent" and "stupid", and describing his questions as "incredibly stupid". The judge goes on to accuse the lawyer of failing to give his client a fair trial.
The story so far
Michael Calvert Cook was convicted of two counts of armed robbery after using a gun to hold up two gaming venues in Mentone in 2012. He was sentenced in March 2015. His co-accused, Katherine Nanopoulos, pleaded guilty and was sentenced in June 2013.
During the trial, the prosecution sought to adduce evidence that Cook's co-accused had burnt some clothes two or three days after the robbery. Judge Dean ruled that the evidence was inadmissible, meaning the prosecution could not present it to the jury, thereby weakening its case.
However, in a bizarre move, the defence lawyer decided to cross examine Nanopoulos about the clothes, meaning it then became admissible, to the detriment of his client.
This led to the judge's outburst:
Judge Dean: "What do you propose to ask her?"
Mr Lindner: "Whether she said anything about burning clothes in her statement of 30 April."
Judge Dean: "So you want to open up all the evidence that I've ruled is inadmissible."
Mr Lindner: "No, no. This goes to her credit."
Judge Dean: "[Defence counsel], you are unbelievable. Unbelievable. I will use my description that I used yesterday. You are stupid. I ruled."
Mr Lindner: "I've got my role. You've got your role."
Judge Dean: "Yes. But my role — no. But, [defence lawyer], you are sailing very close to your ethical responsibilities to this court. You have a primary responsibility to behave in an appropriate manner and to ensure that this process and proceeding is conducted according to law."
Mr Lindner: "Absolutely."
Later in the trial…
Judge Dean: "I am getting very close to reporting you. Your behaviour in this trial is completely unacceptable. This case has been going for 11 days."
Mr Lindner: "Yes."
Judge Dean: "It is an embarrassment. Your conduct of this trial, and the ridiculous submissions you make, and points that have no substance, are a serious breach of your duties to this court."
The judge proceeded to remark that the defence lawyer had "a very unfortunate habit of asking a whole lot of unnecessary questions".
When Mr Lindner asked Nanopoulos whether she had enjoyed prison, the judge called it an "incredibly stupid" question, and perhaps justifiably so.
His Honour went on to say:
"I have become exasperated with [the defence lawyer's] incompetence, and I don't think Mr Cook is getting a fair trial because of that…"
"I cannot believe what has happened in this trial, some of the decisions that have been made by the defence. It is beyond me, absolutely beyond me."
"In 35 years as a criminal lawyer, 10 years as a silk, I have never seen such incompetence by introducing evidence in a trial which is evidence of the accused man's guilt. And I, for the life of me, have no idea what his defence is."
The judge played a very active role during the trial, repeatedly interrupting the prosecution and defence to ask witnesses his own questions.
Court of Appeal decides
In handing down its decision, the Court of Appeal described Judge Dean's behaviour as "needlessly argumentative and rude", going on to state:
"No matter what view a judge has of the manner in which counsel is running the case, to insult and demean counsel, even in the absence of the jury, is not only likely to offend and embarrass counsel but also to risk impeding counsel in conducting the trial and thus risk giving rise to a miscarriage of justice".
However, the Court ultimately found that the judge's conduct did not amount to a 'miscarriage of justice' and went on to dismiss Mr Cook's appeal.
Receive all of our articles weekly
Author
Sydney Criminal Lawyers
Sydney Criminal Lawyers®
is Australia's Leading Criminal Defence firm, Delivering Outstanding Results in all Criminal and Driving cases. Going to Court? Call (02) 9261 8881 for a Free Consultation.