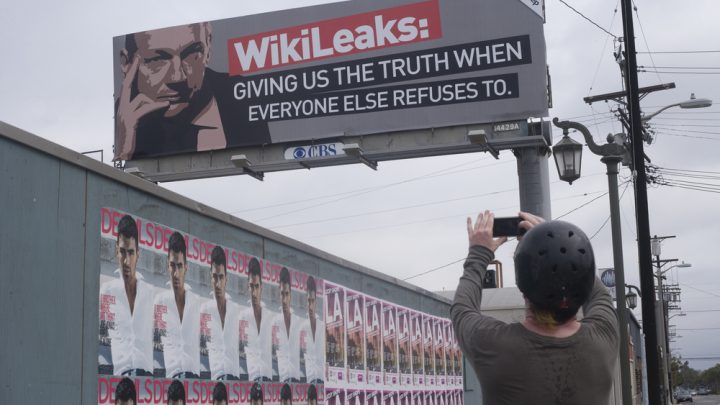 WikiLeaks founder Julian Assange has been found guilty in a British Court of breaching his bail and faces a battle against extradition to the United States.
Mr Assange was arrested by British police after the new Ecuadorian President decided to end his asylum status revoke his Ecuadorian citizenship.
Asylum status revoked
Relations between Mr Assange and his Ecuadorian hosts went from bad to worse in recent months, after Ecuador accused Assange of leaking information about President Lenín Moreno's personal life.
As part of the agreement to allow British authorities into the Ecuadorian embassy, the country's President Moreno received an assurance the United Kingdom would not extradite him to a country where he could face torture or the death penalty.
British police entered he embassy and forcibly arrested Assange, before carrying him out to a waiting van. He faced Westminster Magistrates' Court just hours later, to determine whether he was in breach of bail.
Mr Assange's defence lawyers submitted that their client was not in breach, as he could not expect to receive a fair trial in Britain. They argued the process in Britain was merely a means to deliver Assange to the United States, and their client was therefore within his rights not to appear. Indeed, the charges for which Assange was on bail have long since been withdrawn.
However, Justice Michael Snow disagreed, finding that "[h]is assertion that he has not had a fair hearing is laughable".
The judge found Assange guilty and remanded him in custody. The case has been listed for sentencing and Assange faces a maximum penalty of 12 months in prison.
The US government has already laid charges
The United States Justice Department has already brought charges against Mr Assange for allegedly leaking a mass of confidential US government documents, which were uploaded to WikiLeaks in 2010.
The files included damning video of US forces killing civilians and journalists in a mistaken attack in Iraq, and thousands of secret US diplomatic cables that were highly critical of world leaders, from Russian President Vladimir Putin to members of the Saudi royal family.
The US Government has issued a statement to the effect that in 2010, Mr Assange engaged in a conspiracy with Chelsea Manning, who has served seven years in a military prison for leaking classified data.
For that alleged conduct, Assange faces charges of conspiracy to commit computer intrusion, which carry a maximum penalty of five years in prison.
Sexual assault allegations in Sweden
Mr Assange was previously faced with sexual assault allegations in Sweden, dating back to 2012.
Fearing that Sweden would extradite him to the US, Assange failed to appear to face charges, and when his legal options ran out, he was given asylum by the Ecuadorian Embassy.
While those charges were dropped some time ago, there are calls for Swedish police to re-open the case. Swedish media has reported that the legal team representing one of the women who accused Assange of rape has submitted a request to the Swedish prosecutor's office to resume a preliminary investigation.
Fears for health
Assange supporters fear for his health after seeing him emerge from the Embassy looking dishevelled and wearing a beard.
He has been under intense scrutiny for years, with his every move monitored by security cameras, and authorities ready to pounce on a moment's notice.
Australian consular assistance
As an Australian, Mr Assange is entitled to consular support from the Australian Government, and the Foreign Affairs Minister Marise Payne has confirmed that officials will visit him in Britain, and do as they would for any other Australian who has found themselves in trouble with the law while overseas.
Receive all of our articles weekly