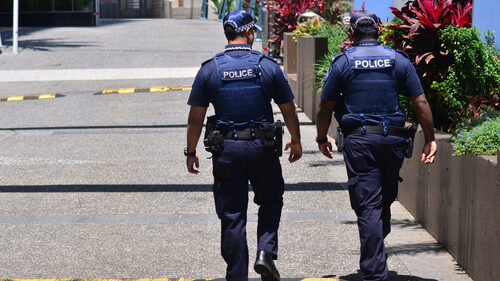 Queensland Police have come under fire for their treatment of a man who had a medical episode while in handcuffs.
Police officers arrested the man in the Brisbane Botanical Gardens for not wearing a mask.
Video footage taken by a woman who was accompanying the man at the time, shows him collapse to the ground, his body shaking uncontrollably.
Video goes viral
In the video, the man can be heard telling police that the handcuffs are hurting him, to which the officer replies: "I'm not confident that you're going to comply with our directions".
The woman can be heard saying "absolutely disgraceful" as the officers start to lead the man out of the gardens.
Then, the video cuts to the man lying face down on the ground yelling and having what appears to be a seizure.
The man's son posted the footage to social media site Instagram saying that his father and his father's partner were exercising in the gardens when they were stopped by police.
"My father answered all these questions. He was here for exercise. He doesn't need to wear a mask as he was exercising and he is exempt from wearing a mask," he wrote.
"He suffers from heart problems, struggles to breathe. He carries medication with him at all times. He did not do anything illegal. He did not retaliate in a violent manner. He was conducting himself in a peaceful manner. Not looking for trouble."
Police defend their conduct
Police admitted the man collapsed during arrest and that the Queensland Ambulance Service was called to transport to hospital, but say paramedics did not identify a "medical issue" after their arrival.
The Queensland Police Service (QPS) has defended the conduct of the officers, saying the arrest was 'discontinued' after the man collapsed.
The QPS added that all of the events surrounding the arrest will be internally investigated.
It's hardly a surprise that the footage has since gone viral.
With hoards of police officers on the streets in Sydney, backed by the military, and an increasing number of arrests across areas in lockdown, many Australians are beginning to wonder if the country is turning into a police state as authorities enforce 'public health orders'.
Police have been heavily criticised since the start of the pandemic for using excessive force, and showing little discretion, understanding or compassion for members of the community they are meant to serve.
Increased police powers in NSW
Just before the Berejiklian government closed down parliament last year during the first wave of Covid-19, an emergency powers bill was passed which, along with a suite of other new pandemic laws, provided NSW police officers with the power to enforce public health orders.
The new section 71A of the Public Health 2010, for example, empowers police officers to arrest an individual suspected of breaching a COVID-19 public health order.
And officers can then return a person to the place where they're isolating or, in the case of a public health detainee, return them to their place of detention.
This has led to a sharp influx in the number of arrests during the pandemic over breaches such as not wearing a mask.
Other jurisdictions
Similar changes have been passed across the nation, including in Queensland.
Last year, Victorian police arrested a pregnant woman in her home, in front of her children, for posting about a freedom rally on Facebook.
Similarly, we have seen harsh images of police brutality including police ramming a mentally ill man with their car because he was obstructing traffic, and a young woman being choked in the street by a male officer for not complying with mask requirements, despite her having a note from the doctor stating she couldn't wear one. She was subsequently charged with assaulting police.
Despite their increased powers during the pandemic, many believe that police officers continue to have a responsibility to work with the community and use discretion, as well as common sense.
Receive all of our articles weekly
Author
Sonia Hickey
Sonia Hickey is a freelance writer, magazine journalist and owner of 'Woman with Words'. She has a strong interest in social justice, and is a member of the Sydney Criminal Lawyers® content team.