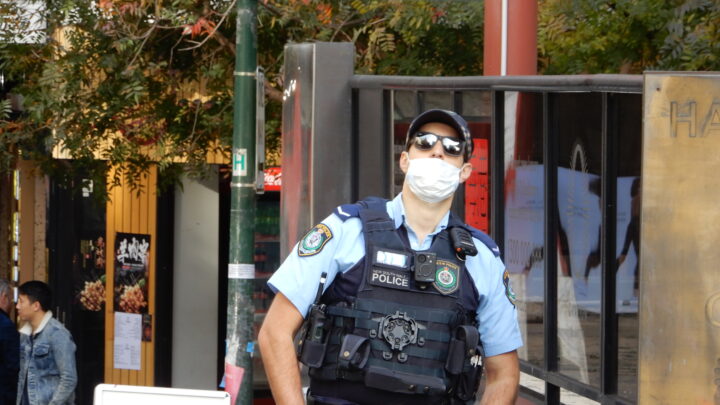 As COVID-19 delta strain spread its way out to Sydney's southwest, NSW police deployed 100 extra officers to the area as of 9 July with the aim of patrolling the streets to ensure the largely migrant population is abiding by lockdown restrictions, such as having a reasonable excuse to be out.
The lower social economic and multicultural makeup of the communities in Fairfield, Canterbury-Bankstown and Liverpool local government areas have been repeatedly cited as posing an enhanced risk to keeping the virus under control.
Yet, at the same time the police are on the beat checking excuses, the NSW government is refusing to define what are "essential" reasons to be out shopping or working, with citizens told to use their "common sense".
The pandemic southwest police blitz has been labelled prejudicial for the very obvious reason that the weekend prior to its launch, the initial main site of the COVID outbreak – the wealthy Eastern Suburbs and surrounds – was subject to a soft lockdown with stark police presence.
Law enforcement has the primary function of preventing crime. Handing over what is chiefly a health crisis to police and criminalising certain behaviours is likely to drive those potentially infected into the shadows. And in its most extreme forms, it's led to police brutality.
Prejudicial policing
"There is no evidence that the aggressive policing of the southwest was being driven by the public health imperative," NSW Greens MLC David Shoebridge told Sydney Criminal Lawyers.
"The obvious comparison between the minimalist policing in the affluent east and the aggressive policing in southwest Sydney was plain," he maintained. "This was again the police being used as a coercive tool against multicultural Australia."
For its part, NSW police asserts there's nothing prejudicial about the blatant disparities. Assistant police commissioner Tony Cooke told the ABC the police were targeting the COVID-19 outbreak and not migrant communities, adding "the virus doesn't discriminate and nor do we".
But it's well understood NSW police is an organisation born out of early settler colonial policing institutions that specifically took differing law enforcement approaches to Anglo populations and those of First Nations people. And it's further been established that this continues on to this day.
The overpolicing of communities in Sydney's west has also been documented. Incidents of the prejudicial policing of Middle Eastern people have been investigated by the state police watchdog. And questions were raised over the racist policing of Vietnamese communities back in the 1980s.
A health issue, not a crime
NSW premier Gladys Berejiklian placed police commissioner Mick Fuller in charge of the state's response to the COVID-19 pandemic, when she appointed him to the position of NSW emergency operations controller in late March 2020.
This coincided with the enhanced presence of officers on the street, with the aim of handing out $1,000 fines to those breaching restrictions. And the focus shifted from those not following the rules jeopardising their own health to them committing a crime they could potentially get away with.
Shoebridge publicly criticised the prioritising of the NSW police by government at the time Fuller was appointed to his dual role. And he made clear back in early 2020 that in dealing with a crisis involving a deadly virus, the obvious agency to turn to should be NSW Health.
"If you look anywhere around the world, there is no evidence that police are an effective lead agency for dealing with the pandemic," the Greens justice spokesperson said on Tuesday. "This is a public health crisis, and the response should be led by public health officials."
The response in the east
A correlation was drawn between the NSW police response to the outbreak of the virus within migrant communities of Sydney's southwest, and the approach Victoria police took to an outbreak that occurred within public housing towers in North Melbourne and Flemington in July last year.
Nine public housing towers were placed under extreme lockdown with no prior notice, as 500 Victoria police officers were deployed to ensure that none of the 3,000 mainly migrant and refugee residents from lower socioeconomic circumstances left their flats.
At first glance, a similar approach has been adopted at an apartment block in Sydney's Bondi Junction this week, as it was placed under a hard lockdown due to eight cases of the virus having been detected amongst the 29 flats within the building.
But, according to Shoebridge, this isn't the case. "There is a distinction between the Sydney approach and the Melbourne approach. The Sydney approach has been clearly headed up by NSW Health, and appears to have a public health case behind it."
So, again, NSW authorities can be seen taking a differing pandemic approach to communities in the city's west and the east, as in Bondi Junction "it wasn't a program that was aggressively headed up by police but was being led by health".
There's got to be a better way
Health experts and governments globally were expecting a major pandemic to occur. With emerging diseases on the rise – such as the bird flu, SARS and the swine flu – it was understood that at some point in the future disease X would break out, and it appears that it's upon us now.
Indeed, the Public Health Act 2010 (NSW) contains overriding emergency powers that permit the NSW health minister to make orders during a public health crisis, and similar laws were invoked by the federal health minister at the onset of COVID-19 under the Biosecurity Act 2015 (Cth).
Yet, despite this understanding and the laws having been set in place, NSW police has become the chief player in handling the public's health in a time of crisis. And Shoebridge puts this down to "other critical agencies being caught relatively unprepared".
"We don't have a national quarantine service. We don't have an extended public service that can provide key links with quarantine, such as transport," he outlined. "In the absence of other public resources being available, we've seen this repeated unhelpful and damaging reliance upon police."
"If you think about it," Shoebridge concluded, "this is no real surprise because we've had four decades of aggressive privatisation and dismantling of public agencies by both the Coalition and Labor and now, we're seeing it's effects."
Receive all of our articles weekly
Author
Paul Gregoire
Paul Gregoire is a Sydney-based journalist and writer. He has a focus on human rights issues, encroachments on civil liberties, drug law reform, gender diversity and First Nations rights. Prior to Sydney Criminal Lawyers®, he wrote for VICE and was the news editor at Sydney's City Hub.