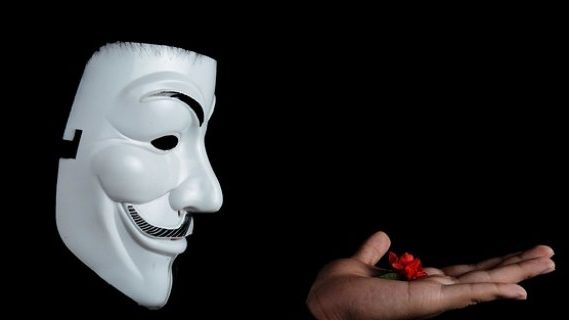 Tens of thousands of concerned individuals are expected to attend 'Million Mask Marches' in more than 700 locations across the globe on November the 5th, and major Australian cities are no exception.
The marches are being planned and promoted by activist group 'Anonymous' through its website and via social media.
Anonymous
Anonymous is a global movement that seeks to highlight injustice in society.
It was formed in 2003 as a way of providing a collective voice to many smaller community groups – both online and offline – who are concerned about inequality, misuse of power, oppression and injustices around the world.
According one Facebook page, Anonymous is not an organised group. Rather, it is the name that a range of people and groups can use to stand up and fight against concerns. The page says Anonymous is not a club with "official leaders, club headquarters or even pages. Anonymous is a collective of like-minded individuals."
Another Anonymous page says that it had 400,000 'likes' until Facebook unpublished its page due to repeated violations, citing one of those breaches as the 'Guy Fawkes profile picture'. The image represents the masks that protesters wear when conducting activities.
Reports of links to global cyber attacks
There are reports linking Anonymous to cyber-attacks against child pornography websites, sites created to bully fellow school students and work colleagues, multi-national corporations such as PayPal, Visa and the Church of Scientology, and even the CIA.
An opportunity to express dissent
Ahead of this year's marches, Anonymous posted a message saying the events are an opportunity for people to say:
"F*CK YOU VERY MUCH" to our worlds corrupt governments, corrupt politicians, greedy bankers, big business, big pharma, selfish and evil Elite."
The message goes on to say:
"Adding to the list this year we include Oil, Fracking and Gas companies for the damage they are doing to our environment, for the civil wars they have created to get their resources and for stealing land from their owners."
"We would also add to the above all of the injustice that has occurred to many this year, "No Justice, No Peace"!
"Our Million Mask March is our day to keep our world's elite and powerful on their toes."
"Those wishing to join us on this day in your local city, please bring your signs (This page will have some suggestions on signs soon) to show the world what your concerns are or what your personal situation has been"."
The Sydney march
In New South Wales, the march will be held at Martin Place, in the Sydney CBD, between 12 and 8pm on Saturday the 5th of November.
Marchers are invited to wear Guy Fawkes masks, which will be available for free on the day. Organisers have advised people to prepare for the largest gathering of Anonymous activists in Australian history.
"The internet has awoken a generation, and now we must act together to defend our rights! The NSW Anons are gathering! Expect us!" the page says.
Those who are intending to march  say there so many things wrong with the world, the list too long to publish.
This year's Sydney event will be styled in an 'open mic' format, so that anyone can speak about their concerns, including the direction in which our society is heading.
Receive all of our articles weekly