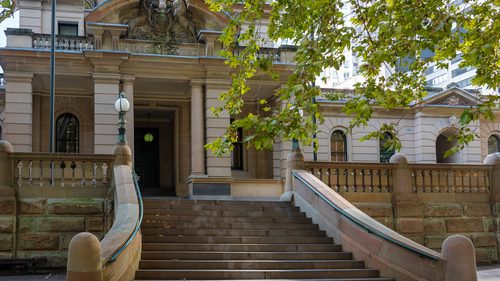 Police have charged one of Australia's most notorious biker club members with possessing child abuse material, after detectives allegedly found explicit images on his hard drive.
It has been reported that 41-year old Erkan Keskin's computer was seized along with a mobile phone and prohibited drugs as part of Strike Force Estop investigations into the 2016 murder of alleged drug supplier Mehmet Yilmaz. Detectives claim to have found 12 images of child pornography during a forensic examination of the computer.
Police allege that Mr Keskin is a senior member of the Lone Wolf motorcycle club. He gained notoriety and the nickname 'the naked bikie' when he ran naked down a Sydney street and into a stranger's home naked in 2015, brandishing a firearm.
Officers from Strikeforce Estop along with the Public Order and Riot Squad arrested Mr Keskin at his Millers Point unit.
His criminal defence barrister applied for bail this morning in Central Local Court and strict conditional bail was granted.
The "worst charge"
Police say that in Mr Keskin's world, child sexual offences are "the worst charge that anyone could face" and could make him a target both within and outside the prison system. They expressed concerns about "gang retribution" from within the motorcycle club and members of of rival clubs.
However, Mr Keskin's barrister submitted in court that the images were "typical family album photos" and there was nothing sinister or perverted about them at all.
"This is not child pornography, these were shots of their kids that are usual in family albums," the barrister told the court. "And there is nothing to indicate he was the person who took the photos and even knew the photos were there".
Mr Keskin formally entered pleas of not guilty and the matter will return to court after police service their brief of evidence.
Child abuse material charges
Section 91H of the Crimes Act 1900 (NSW) contains the offence of production, dissemination or possession of child abuse material.
The maximum penalty for the offence is 10 years' imprisonment in the District Court, or two years if the case remains in the Local Court. The DPP or defendant can elect to take the matter to the District Court. If no such election is made, it will remain in the Local Court.
'Child abuse material' is defined by section 91FB as that which depicts or describes, in a way that reasonable persons would regard as being, in all the circumstances, offensive:
a person who is, appears to be or is implied to be, a child as a victim of torture, cruelty or physical abuse, or
a person who is, appears to be or is implied to be, a child engaged in or apparently engaged in a sexual pose or sexual activity (whether or not in the presence of other persons), or
person who is, appears to be or is implied to be, a child in the presence of another person who is engaged or apparently engaged in a sexual pose or sexual activity, or
the private parts of a person who is, appears to be or is implied to be, a child.
Under subsection (2) the matters to be taken into account in deciding whether reasonable persons would regard particular material as being offensive, include:
(a) the standards of morality, decency and propriety generally accepted by reasonable adults, and
(b) the literary, artistic or educational merit of the material, and
(c) the journalistic merit of the material, being the merit of the material as a record or report of a matter of public interest, and
(d) the general character of the material, including whether it is of a medical, legal or scientific character.
'Private parts' are defined by subsection (4) as a person's genital area or anal area, or the breasts of a female person.
Defences to child abuse material charges
To be found guilty of a child abuse material offence, the prosecution must prove the 'essential elements' of the offence beyond reasonable doubt; in order words, that the defendant in fact:
Produced, disseminated, or possessed,
Child abuse material,
Knowing the material was child abuse material.
If it cannot be established to the required standard that it was the defendant and not someone else who was in possession of the material, or if the material in question does not fall under the definition of 'child abuse material', or if the defendant did not know the material was child abuse material, then he or she must be acquitted.
In addition to requiring proof of the essential elements, a number of statutory defences to the offence of child abuse material are contained in section 91HA of the Crimes Act. These are:
Innocent production, dissemination or possession
This is where the defendant did not know, and could not reasonably be expected to have known, that he or she produced, disseminated or possessed child abuse material, or in the case of possession, where the material came into the defendant's possession unsolicited and he or she took reasonable steps to get rid of it immediately upon becoming aware of its nature.
In the case of Clark v Regina (2008) 185 A Crim R 1, it was found that the existence of material recovered on a defendant's hard drive after deletion was not enough, by itself, to prove the requisite knowledge of the existence of those materials.
This is where the conduct was of public benefit and did not extend beyond that benefit.
Conduct is only considered to be of public benefit if it is necessary for:
– enforcing or administering a law,
– monitoring compliance with, or investigating a contravention of, a law, or
– the administration of justice.
This is where a law enforcement officer is acting in the course of his or her duties.
This is where the material has been given a classification – whether before or after the alleged offence – for example, an MA or R rating.
This is where the conduct was necessary to conduct or assist in scientific, medical or educational research approved by the Attorney General in writing, and did not go beyind the scope of that approval.
Receive all of our articles weekly
Author
Sydney Criminal Lawyers
Sydney Criminal Lawyers®
is Australia's Leading Criminal Defence firm, Delivering Outstanding Results in all Criminal and Driving cases. Going to Court? Call (02) 9261 8881 for a Free Consultation.