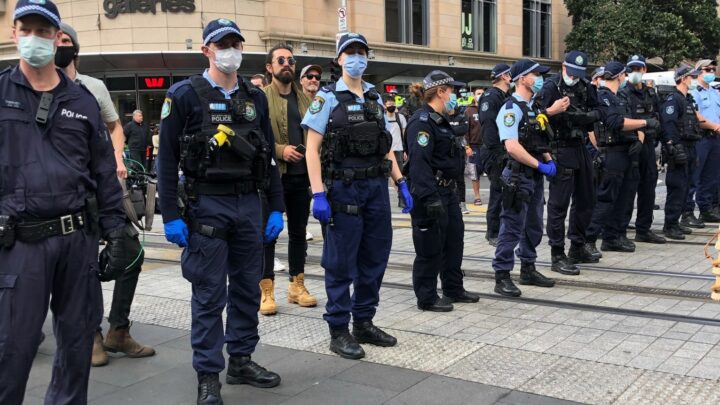 NSW police have been given extra powers and the military has been called in to assist police enforce new public health orders in New South Wales.
In recent days, the fine for not wearing a mask in New South Wales has more than doubled to $500 (up from $200) and police have been given additional powers to close down businesses, construction sites and other premises not complying with health public orders which include ensuring patrons use QR check-ins and physically distance.
Military personnel join the police effort
Thousands more police officers will be on the streets, and 300 military personnel are undergoing special training for deployment across the city on Monday, ostensibly to ensure people are complying with public health orders.
The involvement of the military has been called "extreme" and a "concerning use" of the army in a liberal democracy", as the role of defence force is traditionally to protect citizens against foreign forces, not to enforce rules against its own people.
The police commissioner and premier have said that military personnel will be engaged in door-knocking – to ensure that people are complying with lockdowns.
Police requested the help of the Australian Defence Force this week after thousands of Sydney-siders took to the streets of the CBD last Saturday to protest for freedom of speech, movement, choice, assembly.
New taskforce
During the week, police also launched Taskforce Seasoned to track down as many people as possible involved in last weekend's protests, which authorities say amounted to an unlawful assembly under the law.
It has been reported that police received more than 5,000 tip-offs from people happy to inform on their friends, neighbours, co-workers and acquaintances.
More than twenty detectives have been assigned to the taskforce which will continue for "as long as needed". So far, more than 200 people have been fined and more than 60 arrested after the protest. Police say more  fines and arrests are to be expected.
NSW Health authorities have also confirmed they are investigating allegations that a number of staff attended the rallies.
New powers for police
When rumours began to circulate that protestors would assemble again this weekend police put exclusion zones in place around the city to stop people from entering without legitimate reason.
Thousands of officers were deployed to conduct vehicle checks and to stop anyone who intended to rally. Taxi and rideshare companies were warned by police that they would face $500,000 fines for doing so. Individuals could be fined up to $100,000 for taking passengers into the CBD.
Lockdowns in the Greater Sydney region have been extended until August 28, and under new rules, residents in the eight Local Government Areas (LGAs) which have been deemed "areas of high concern" wearing a mask is mandatory at all times when you are outside your home, no matter where you are. In other areas of NSW masks are mandatory in all indoor public venues (except at home) and outside where social distancing is not possible.
Police Minister David Elliot has said that the use of military and the increased powers for police are not intended to be permanent. The official spin is that more police and greater law enforcement will be critical in bringing case numbers down and ending lockdowns sooner.
Covid case numbers tell a different story
But strict lockdowns, and a heavy police presence, certainly in south-Western Sydney, have been in place for several weeks, and case numbers of the Delta strain continue to rise.
Many people are questioning the Berejiklian government's strategy, which is crippling the economy, causing mental health issues and dividing the community. The premier, for her part, claims that numbers would have been much higher if the lockdowns weren't implemented.
On Friday July 30, New South Wales Health tweeted:
"There are currently 187 COVID-19 cases admitted to hospital, with 58 people in intensive care, 24 of whom require ventilation. There were 95,446 COVID-19 tests reported to 8pm last night, compared with the previous day's record high of 110,962."
Responses were mixed, but there is a growing concern that the NSW Government's continued response to abating the pandemic is overtly authoritarian.
Indeed, there is a growing view that the government is using the virus as a means to enhance control via restrictions on movement and increased public surveillance – and that many restrictions will remain in place even after the threat of the virus has subsided – ushering in a "new normal" of strict government control at the expense of freedom.
Receive all of our articles weekly