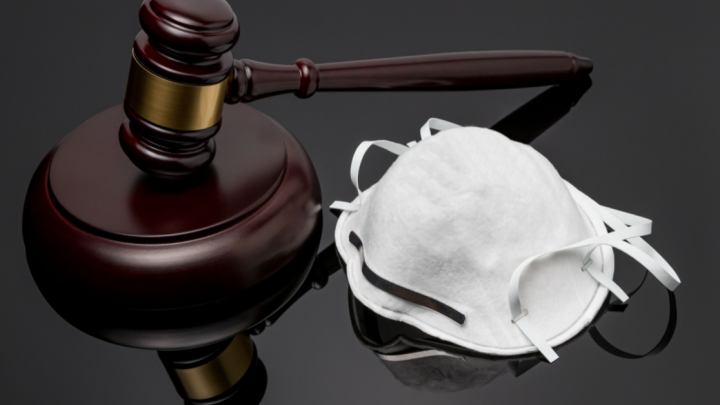 A Supreme Court challenge to the validity of penalty notices issued for alleged contraventions of COVID-19 rules has the potential to invalidate thousands of fines. 
30-year old Rohan Pank and two other plaintiffs commenced civil proceedings in the Supreme Court of New South Wales against the NSW Police Commissioner and the Commissioner of Fines Administration after the authorities refused to withdraw fines they received for supposedly breaching Public Health Orders.
The story so far
Police officers issued Mr Pank with the penalty notice for sitting on a bench in a park just a kilometre from his home in August 2021, while Sydney was in a period of lockdown. 
The alleged basis for the fine was that Mr Pank was not 'actively exercising', as supposedly required by the Public Health Order in place at the time.
The relevant Order stipulated that persons were only permitted to engage in outdoor exercise or recreation if they were by themselves or with one other person and within 10 kilometres of their home.
Later that month, NSW Health clarified that 'sitting, relaxing' was considered to be within the scope of the rule.
Reviews, appeal and withdrawal of fine
Mr Pank requested two separate reviews of the fine, both of which were rejected by Revenue NSW.
He then filed and served his Supreme Court papers, shortly after which his fine was withdrawn by the defendants without explanation. 
Remaining plaintiffs
However, the case will continue with two other plaintiffs – one of whom received a $1000 fine and one a $3000 fine. 
Both have based their legal action on the fact that inadequate detail has been provided within the penalty notices, as required under the Fines Act (NSW) 1996, making them unlawful as they do not sufficiently identify conduct amounting to a specific offence.
If the challenges proceed to hearing before the Supreme Court and are upheld, this could set a precedent that invalidates many thousands of other fines.
Police Commissioner directs issuance of fines
Former New South Wales Police Commissioner, Mick Fuller, was emphatic in his directive that officers take a 'heavy handed approach' to the issuance of fines, whether or not conduct clearly amounted to a breach of Public Health Orders.
This was despite the vagueness and uncertainty of the ever-changing rules, their discriminatory application (with many instances those in poorer suburbs being fined for conduct which those in wealthy suburbs 'got away with') and their draconian nature.
The orders were criticised by many legal experts, leading to numerous legal challenges, but authorities pushed ahead with their punitive approach regardless. 
Fines for trivial conduct, challenges and court backlogs
Throughout lockdown periods, fines were issued for the most obscure reasons, some without sufficient explanation. 
Court elections and challenges have added to backlogs within the criminal justice system, because people unhappy with the outcome of a Revenue NSW review have the opportunity to then challenge their fines in court. 
Police were heavily criticised for their 'over-zealous' response to handing out fines, rather than providing the opportunity to educate and inform the general public, and offering a warning before handing out a hefty financial penalty. 
Confusion, frustration and anger
As has been said before there as not specific 'text book' that outlined the best response for Governments during the peak of COVID-19, but many jurisdictions around Australia simply ended up creating confusion, frustration and anger, and penalised innocent Australians, many of whom were doing it exceptionally tough through lockdowns with no work, limited opportunities to socialise and heavily restricted opportunities to be outside in nature, getting fresh air and sunshine, which can be hugely beneficial for lowering stress levels and boosting mental and emotional wellbeing. 
As we have seen in recent months with the continual outbreaks of various strains of Covid
COVID-19, which experts predict will peak again next month, the autocratic response of our Governments to the pandemic in 2020 and 2021 was not particularly effective overall in stopping the spread of the virus which continues to run rampant throughout communities across the nation. 
Democracy versus authoritarianism
What many can also see in hindsight is that actions taken by our Governments and the State's Police Forces really did blur the boundaries between democratic leadership and authoritarian control. 
However, if they were hoping to reap millions of dollars in yet-to-be-paid fines, they may be disappointed. The Supreme Court challenge by the remaining plaintiffs will be one to watch. 
Hope for those with unpaid fines
In any case the decision in Mr Pank's case should encourage those who believe they were unfairly fined to seek legal advice. They too, may have a solid case for having fines waived when the law is applied correctly. 
There are currently more than 45,000 unpaid COVID-19 fines in New South Wales and many could well be invalid. 
The New South Wales justice system is not the only one mopping up the messes made by COVID-19. In Queensland, Premier Anna Palaszczuk has been referred to the Human Rights Commission over her inconsistent border rules during the pandemic. 
In Victoria, legal groups have been pressuring the Victorian Government to waive all fines issued under coronavirus public health orders following reports that some of those recruited to issue the fines were not properly authorised to do so. 
The Victorian Government did promise last year to review fines issued under the Public Health and Wellbeing Act to ensure they passed the 'common sense' test, which resulted in hundreds of fines being challenged in the Magistrates Court. 
But many lawyers are demanding that all fines issued since 2020 be dismissed, not just because they disproportionately affected marginalised communities but, in many cases, were unclear, unfair, without legal basis and indeed issued to people who were acting in accordance with the law.
Receive all of our articles weekly
Author
Sonia Hickey
Sonia Hickey
is a freelance writer, magazine journalist, and owner of 'Woman with Words'. She has a strong interest in social justice and is a member of the
Sydney Criminal Lawyers®
content team. Sonia is the winner of the Mondaq Thought Leadership Awards, Spring 2022.