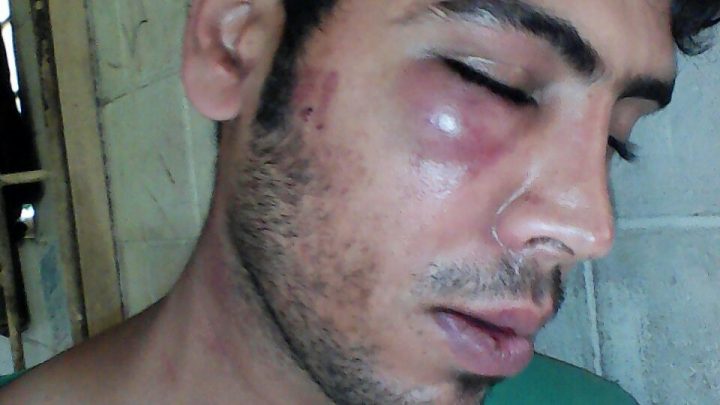 Two Iranian asylum seekers were beaten by up to 10 Papua New Guinea (PNG) police and immigration officers on New Year's Eve. The pair were then taken to the Lorengau police station on Manus Island, where they were held in custody for 36 hours with no access to food, water or medical attention.
The Refugee Action Coalition has released photos that show the two men badly beaten, with bruised and swollen faces. The images include a shot of a large mark across one of the refugee's back.
Police and immigration officer brutality
The two men, 26-year-old Mehdi and 28-year-old Mohammad, were on their way to join New Year's celebrations, when they were stopped by PNG immigration officers. The officers told the men they had no right to be outside of the island's immigration detention centre.
Then the officials, along with some local police, then set upon the men.
The refugees' arrest
Local PNG officials have claimed that the Iranian pair were drunk and causing a public nuisance, and for this reason they were arrested. Both men were charged with one count of being drunk and disorderly and one count of resisting arrest.
The men have denied the charges and are expected to plead not guilty when they face Lorengau District Court on Tuesday afternoon.
Friends of the men said the charges are trumped up. They state that the two men were the victims of an unprovoked assault by drunken immigration officials.
Iranian Kurdish journalist Behrouz Boochani – who's also a detainee on Manus Island – reported that two drunk PNG immigration officials were the first to attack the men.
They told the two asylum seekers that they shouldn't have been outside of the detention centre at that time. And then a few minutes later the officials began beating the men.
Released on bail
Mehdi and Mohammad were released from the Lorengau lock-up on Monday morning after another detainee Benham Satah paid the 200 kina ($A85) bail for each of the men.
Mr Satah told the ABC that one of the men had a broken nose and was urinating blood, while the other believed that his jaw had been broken. He also said that the two men claimed they were innocent and that they'd requested to undertake a blood test to prove they hadn't been drinking.
Australian Border Force officers attended the Lorengau police station on Monday morning and offered to take the refugees to the Manus detention centre to receive medical treatment from health provider, International Health and Medical Services (IHMS).
After the men were released from custody, they were taken to the detention centre where they have been receiving treatment.
Australian officials say it's PNG's concern
A spokesperson for Australia's Department of Immigration and Border Protection said the men are "being assessed by medical staff and will receive follow-up treatment as required." The spokesperson added that any questions regarding the incident should be directed towards PNG authorities.
Ian Rintoul, spokesperson for the Refugee Action Coalition said in a press statement, "The human rights of the Manus refugees have been systemically abused since they were placed in the illegal detention prison in August 2013."
According to Rintoul, it's the Australian government's responsibility to look after these asylum seekers who have been put in harm's way. "The human rights of those who seek asylum cannot be suspended on the basis of a dubious US resettlement deal that is months away if it ever happens."
Rintoul added that it's high time the asylum seekers were brought to Australia.
However, Australian immigration minister Peter Dutton told radio station 2GB that refugee advocates may be using the incident to attack the government's immigration policy, and added that he needed to hear from PNG police before commenting any further.
They got what they deserved
Manus Island MP Ronny Knight has gone so far as to say that the two asylum seekers "deserved what they got."He told Fairfax Media that they were treated like any other local who caused a public nuisance. "This is Papua New Guinea," the minister said. "This is not Australia."
While David Yapu, a local police commander, said police had used "reasonable force" when arresting the men, after receiving a complaint from Mr Knight about their behaviour.
Australia neglects its international obligations
But with statements like these being made by a PNG MP and a local police commander it does seem that the Australian government is shirking their "duty of care" obligations under international law.
Australia has a range of specific obligations under the various international human rights treaties that includes the treatment of refugees and asylum seekers.
Article 7 of the Convention against Torture and Other Cruel, Inhuman or Degrading Treatment or Punishment (CAT) provides an absolute prohibition against torture, as well as cruel, inhuman or degrading treatment or punishment under any circumstances.
Surely sending asylum seekers to an international jurisdiction that according to local MPs permits authorities to beat individuals in the street is subjecting these people to what would qualify as cruel, inhuman or degrading treatment or punishment.
The Australian government is further neglecting its responsibilities towards these two men by claiming that they're not answerable for what has occurred while these people are being detained on a foreign island in a centre that they own.
And this is to say nothing about the prolonged indefinite detention without charge of all the detainees on Manus Island already being in violation of the CAT.
The death of another Manus Island detainee
The New Year's Eve incident on Manus Island comes a little over a week after a 27-year-old Sudanese asylum seeker, Faisal Ishak Ahmed, died in a Brisbane hospital after falling, hitting his head and suffering a seizure at the detention centre.
Mr Ahmed had suffered numerous blackouts and collapses over recent months. And had filed several complaints to IHMS about the lack of treatment he'd received for his medical condition.
The PNG Supreme Court ruled that the Manus Island detention centre was illegal in April last year. Minister Dutton announced last August that it would be closed, but no date has been set.
In November, Australia and the US reached an agreement for a one-off refugee resettlement program for those asylum seekers being held on Manus Island and Nauru.
Receive all of our articles weekly