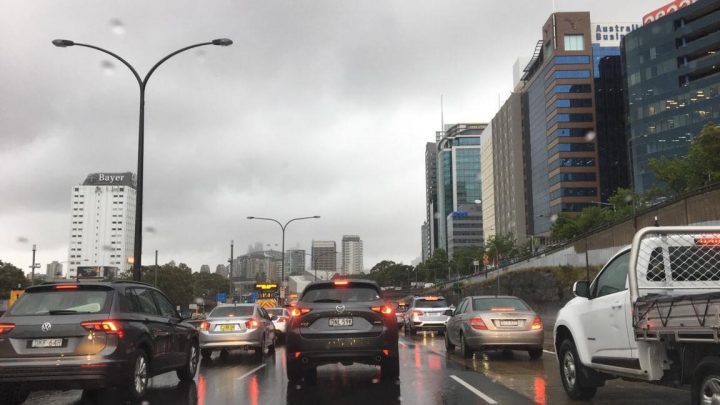 In just few hours this morning, a month's worth of rain fell across Sydney, causing traffic congestion, flooding and property damage.
From 5.30am to 9.00am, more than a 100mm of rain poured over the Sydney metropolitan are, creating transport delays and flight cancellations at both the domestic and international airport.
A roof collapsed at Town Hall Station, and frustrated commuters reported being unable to attend work on time due to flooding and collapsed trees – one of which is reported to have fallen and injured a police officer.
The state emergency services has been inundated with calls for assistance, as property owners reported damage to their homes and businesses.
The horrendous conditions have led police to renew calls for motorists to refrain from engaging in conduct which increases the likelihood of collisions – including negligent and reckless driving, and distractions such as illegally using mobile phones.
Penalties for Illegal Phone Use
Driver distraction is one of the biggest causes of accidents on our roads, with mobile phone use being a major cause of inattention.
The risks have led to new laws being introduced in September which increase the demerit points that apply for NSW drivers, making our state's penalties the toughest in Australia.
Drivers caught illegally using a mobile phone while driving face five demerit points and a $337 fine.
The demerit points double over upcoming holiday period taking – potentially causing a loss of licence in one hit.
Unrestricted licence holders are allowed up to 13 points within a three-year period.
Provisional licence holders are allowed seven points if they are on a P2 licence, and four points on a P1 licence.
Learner drivers are only allowed four points before their licence will be suspended.
NSW Police have warned there will be a strong police presence on our roads over the holidays, targeting all driving offences, hoping to avoid a repeat of last year's Christmas holiday period, described as one of the worst ever on our roads, with 28 people killed.
Tackling the top factors in road crashes
A total 392 people lost their lives on our roads last year, an increase of 12 more on the previous year. Speed remains the biggest killer, with 168 deaths attributed to excessive speed – more than 40% of the road toll.
Fatigue and distraction and drink driving are also major killers, and the statistics keep showing that mobile phone use, in particular texting, is one of the biggest dangers on our roads.
Research suggests that if you text while driving, your risk of a collision increases 23-fold – simply because you've taken your eyes (and your mind) off the road for too long.
In fact, a survey conducted by the NRMA earlier this year also suggested that it's also our biggest fear. Almost three-quarters (72 percent) of drivers ranked illegal phone use as their biggest concern, overtaking fears over drink drivers (56 percent) and motorists who speed (55 percent).
Illegal mobile phone use remains prevalient
Almost 850 people a week are caught using their mobiles while driving, with 15 percent of drivers not making a conscious effort to limit use, simply because they don't think they'll get caught.
In the last financial year, there was an increase of 20 percent in the amount of people caught using their phones illegally, where nearly 42,000 fines were issued by police.
One in ten fatalities caused by phone use
However, despite the numbers, most Australians have been slow to get the message: one in 10 fatalities on Australia's roads involve illegal mobile phone use and the number of people caught using their phones while driving has risen 18 percent since 2014-15.
While new camera surveillance technology is being trialled in New South Wales to monitor mobile phone use, in recent weeks Victorian Police have gone to more extreme measures, with officers posing as window washers at intersections to catch drivers who are illegally using their phones behind the wheel.
In Eastern Victoria, Police issued 38 infringement notices in just one hour, which shows the extent of the problem on our roads.
If you're planning on taking a road trip, it's worthwhile remembering that driving while using a mobile phone is prohibited around the country. Fines and demerits state by state are:
Victoria: Four demerit points and a $476 fine
Queensland: Three demerit points and a $391 fine
South Australia: Three demerit points and a $334 fine
Western Australia: Three demerit points and a $400 fine
Tasmania: Three demerit points and a $300 fine
Australian Capital Territory: Four demerit points and a $548 fine
Northern Territory: Three demerit points and a $250 fine
If you wish to seek advice regarding a traffic offence, call us anytime on (02) 9261 8881 to arrange a conference at one of our many offices across the Sydney metropolitan area and beyond.
We have traffic and criminal lawyers in Liverpool, the Sydney CBD, Parramatta, Bankstown, Penrith, Blacktown and Chatswood, as well as in Newcastle and Wollongong.
Receive all of our articles weekly