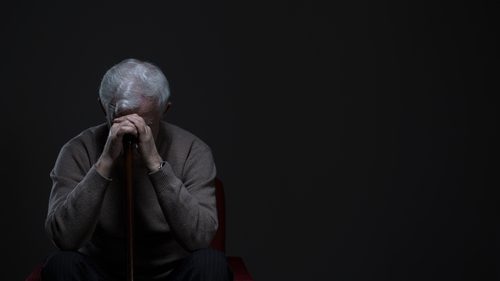 A pensioner who sold crystal methamphetamine and heroin to his neighbours has been sentenced to a minimum term of three-and-a-half years in prison for drug supply.
Mr Elefterios 'Terry' Skoumbourdis is an unemployed cancer survivor who set up a drug business from his public housing unit in Wollongong, which involved five men helping him source drugs and clients.
Police detectives say they had the man under surveillance for several months, secretly filming his alleged activities.
Court documents outline that Mr Skoumbourdis carried out dozens of small small-scale drug supplies, sometimes several in a day, using the proceeds to become a high roller at Star Casino.
A police investigation revealed Skoumbourdis was spending up to $30,000 a month at the casino.
Strike Force Blume
Skoumbourdis was arrested in December 2016 as result of Strike Force Blume – a joint operation between Wollongong police, Lake Illawarra police, the Australian Border Force and the NSW Crime Commission.
He was refused bail and has remained behind bars ever since.
Also arrested were two of his neighbours and two other men, each of whom were charged with supplying illicit drugs on multiple occasions throughout the 2016.
Collectively, the men originally faced more than 160 charges in relation to drug-related offences.
Mr Skoumbourdis, who is in his late 60s, faced 122 separate charges, including drug supply, ongoing drug supply, drug possession, dealing with proceeds of crime, knowingly directing activities of a criminal group and knowingly participating in a criminal group.
He suffers from a range of medical conditions including heart problems, hypertension and reflux disease that would make his time behind bars more onerous.
The judge nevertheless sentenced him to serve a minimum term of three-and-a-half years behind bars.
Taking into account time already served, Skoumbourdis will be eligible for release on parole in June 2020.
The offence of ongoing drug supply
Section 25A of the Drug Misuse and Trafficking Act 1985 (NSW) prescribes a maximum penalty of 20 years' imprisonment and/or a $385,000 fine for anyone who supplies a prohibited drug on an ongoing basis – which means supplying a prohibited drug (other than cannabis) for financial or material reward on three or more separate occasions during any period of 30 consecutive days.
It is a 'strictly indictable' offence, which means it cannot be finalised in the Local Court but must be committed to a higher court such as the District Court.
The drugs that are supplied do not have to be the same – for instance, a person who supplies 'ecstacy' on one occasion, cocaine on another, and heroin on a third occasion within a 30 day period can be liable for the offence.
However, the prosecution must prove beyond reasonable doubt that the supply was for material reward or financial advantage – which is not a requirement of a regular 'supply' charge.
If you are going to court for a drug offence, call us anytime on (02) 9261 888 to arrange a free first conference with an experienced criminal defence lawyer at one of our many offices across the Sydney metropolitan area, or in Wollongong or Newcastle.
Our team has an outstanding track record of having serious drug offences dropped at an early stage, and achieving 'not guilty' verdicts where cases proceed to jury trials.
Receive all of our articles weekly