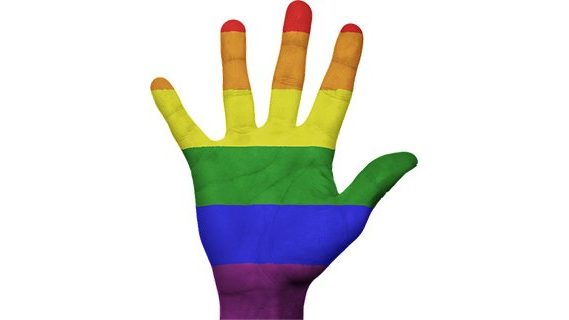 With the annual Gay and Lesbian Mardi Gras on later today, several companies have rolled out promotional campaigns getting into the festive spirit.
One of those companies is ANZ Bank, which has attracted attention in recent years for its GAYTMs – which are ATMs decked out in colourful patterns, disco-ball designs, and funky graphics.
ANZ has unveiled a number of vibrant GAYTMs across Australia and New Zealand.
The bank has also donated fees charged to non-ANZ cardholders to Twenty10, a charity which supports members of the LGBTQI community by providing safe spaces, counselling services and support groups.
But while most have applauded the bank's efforts to appeal to the gay and lesbian community, others have been less than impressed.
It has been reported that several New Zealand GAYTMs have been vandalised in recent weeks, with vandals covering GAYTMs and ANZ branches with pink paint.
While the attacks were initially billed as a homophobic demonstration, gay activist group 'Queers Against Injustice' has since claimed responsibility, stating that it was an example of 'pinkwashing.'
Pinkwashing is a form of political and social activism whereby members of the LGBTQI community seek to reject the promotion of 'gay-friendly' products or campaigns by large corporate entities.
The phrase was initially coined by activists who protested against companies claiming to raise awareness of breast cancer whilst attempting to profit from cancer sufferers.
Queers Against Injustice has criticised ANZ's promotional campaign as a poorly disguised attempt to capitalise on 'pink dollars' – a term which refers to the purchasing power of the gay and lesbian community.
However, the bank has hit back by stating that "while we respect people have different views on the GAYTMs, we're very disappointed that some have resorted to vandalism to make their point."
In New South Wales, vandalism is an offence under section 4 of the Graffiti Control Act 2008 (NSW), which states that it is against the law to intentionally mark someone else's premises or property without consent.
The maximum penalty for vandalism is a fine of $440 – however, higher penalties apply if the offence is committed in 'aggravating circumstances.'
There are two aggravating circumstances listed under the Graffiti Control Act for vandalism.
The first is where a person is alleged to have used a 'graffiti implement' to intentionally mark the premises or property. A graffiti implement refers to spray paint, marker pens and any other implement which produces a mark that is not readily removable by wiping or using water or detergent.
The second refers to the intentional marking of premises or property in a manner whereby the graffiti or vandalism is not readily removable by wiping or using water or detergent.
Aggravated vandalism carries a maximum penalty of $2,200 and/or 12 months imprisonment.
However, this is the absolute maximum penalty and will only be imposed in the most serious cases. In fact, the law says that a magistrate is not allowed to impose a term of imprisonment unless satisfied that the person has previously committed vandalism offences and that they are a 'serious and persistent' offender who is likely to commit further graffiti offences.
It is not yet known who the individuals behind the GAYTM attacks are, or indeed whether anyone will be charged in relation to the vandalism.
Sydney's Gay and Lesbian Mardi Gras: A Colourful History
While the Gay and Lesbian Mardi Gras is seen as a positive celebration of the dynamic LGBTQI community, the event has had a somewhat tumultuous history.
Indeed, Sydney's Mardi Gras was borne out of an attempt to highlight the rampant discrimination faced by LGBTQI people during the 1970s – a time when homosexuality was still a criminal offence.
On 24 June 1978, more than 500 people marched along Sydney's Oxford Street to raise awareness of the discrimination faced by members of the LGBTQI community – particularly in the areas of housing and employment – as well as to protest against the widespread harassment of LGBTQI people by police.
53 people were arrested during the rally, and their names were subsequently published by the Sydney Morning Herald.
This resulted in many being prematurely outed to their friends and family, and even losing their jobs and homes.
In the end, only 2 of the 53 people arrested at the march were fined, with all other charges being dismissed.
The event was a catalyst for law reform, and the following year marked the first Mardi Gras parade, which sought to recognise the impact of the protest.
The inaugural parade drew 3,000 people and prompted law reform to prevent similar arrests, however it was not until 1984 that the government decriminalised homosexuality.
It took a further two decades for the government to reduce the age of consent for gay and lesbian couples from 18 to 16 years of age, bringing it in line with the age of consent for heterosexual couples.
While recent years have seen the event transform into a celebration of gay rights and diversity, many have criticised the commercialisation of the parade and called for the march to be returned to its grassroots approach.
Despite this, the event has continued to attract strong crowds and corporate sponsorship, with over 50 business partners listed on the Mardi Gras website.
And although the event has certainly helped to repair the LGBTQI community's relationship with police, recent marches have been marred by a resurgence in police brutality.
In 2013, a viral video was circulated showing a slightly-built young man being handcuffed and violently thrown to the ground by a heavily-built police officer.
The incident reignited calls for an end to police brutality, and sparked disciplinary proceedings against the officer involved.
From the team at Sydney Criminal Lawyers® – Have a Safe and Fun Mardi Gras weekend!
Receive all of our articles weekly