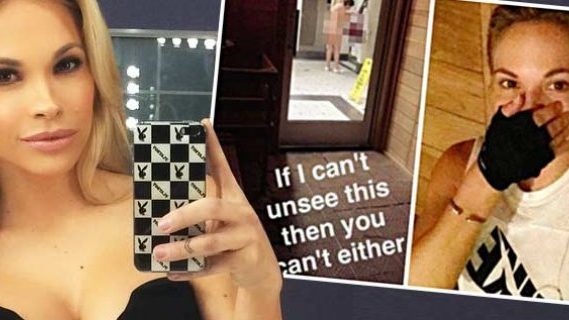 What do Playboy Playmate of the Year 2015 Dani Mathers and Kim Kardashian have in common?
They both post nude pics on social media.
But there's one important difference – while Kim Kardashian posts pics of herself, Dani Mathers posted one of another woman.
And that other woman was a 70-year old taking a shower at the gym, completely oblivious that she was being snapped, let alone that the image was about to go viral.
And while Mathers has apologised for the 'body shaming' incident, she has copped a battering on social media, has been banned from the gym where the photo was snapped and lost her job on a popular LA radio station. But the worst may not be over yet.
Mathers is now facing criminal charges and could spend time in prison.
Criminal Charges
Los Angeles City Attorney Mike Feuer filed criminal charges against Mathers last week.
She faces a single misdemeanour charge of invasion of privacy and, if convicted, could spend up to six months in prison cop and a $US1000 fine. Her arraignment is scheduled for late November in Los Angeles Superior Court.
"Body shaming is humiliating, with often painful, long-term consequences," Feuer said. "While body-shaming, in itself, is not a crime, there are circumstances in which invading one's privacy to accomplish it can be. And we shouldn't tolerate that."
Prosecutors accuse Mathers of surreptitiously taking the photo in the gym's shower area. They allege the lewd photograph of the naked woman was then uploaded to Mathers' Snapchat account.
The photo shows the woman in the background, clearly naked in the shower. Mathers is in the foreground, covering her mouth in false shock, with an almost 'sniggering' facial expression.  There's the caption:  "If I can't unsee this then you can't either."
Illegal act
The California penal code decrees that it is a misdemeanour to look "with the intent to invade the privacy of a person" into places like a changing room, where a person has "a reasonable expectation of privacy".
The section is said to encompass taking photos.
Fitness Centre notified police
In addition to banning Ms Mathers over the incident, LA Fitness also notified the police.
"Her behaviour is appalling and puts every member at risk of losing their privacy," said a spokesperson for the centre. "Our written rules are very clear: Cellphone usage and photography are prohibited in the locker rooms."
Mathers apologised after the incident, then retreated from social media, deleting her Twitter, Instagram and Snapchat accounts. But before she did, she recorded a Snapchat video in which she claimed not to realise the photo was not part of a private conversation she was having with a friend.
Closer to home
In NSW, there are specific laws which make it a crime for a person to take a picture or video in the following situations:
When a person is engaged in a private act (like using the toilet, showering or engaging in a sexual activity not ordinarily done in public).
When a person reasonably expects that their private parts could not be filmed, and their private parts are bare or covered by underwear.
The punishment for filming a person without their permission in these circumstances can be up to two years in prison.  If the person being filmed is under 16, then the penalty is higher.
It is also a crime to send around a photo or video of a person doing something private.
With the proliferation of social media, the law is changing to address the harm that can result from online behaviour, and there are new laws governing sexting and also revenge porn.
Depending on the circumstances, defamation laws may also apply if material has been distributed without consent.
In the case of the 30-year old Playboy Playmate, a split second decision to 'share' her thoughts online has already cost her a great deal.
Her experience should be a warning to us all to think twice before posting online.
Receive all of our articles weekly