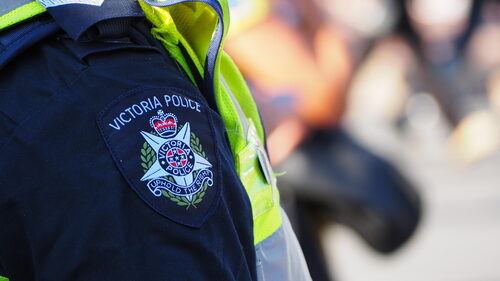 Victoria Police has been ordered to pay the legal costs of an alleged kidnapper and his two co-accused, after the prosecution's star witness failed to turn up to court. 
The witness, who was the complainant in the case, had been subpoenaed to attend Melbourne Magistrates' Court earlier this week to testify in person during a two-day committal hearing; which is a lower court hearing to determine whether there is enough evidence to refer the case to a higher court.
But the prosecution informed the court on the first of the hearing that its star witness wished to attend court by way of audio-visual like, rather than in person, and that this had not been communicated to the defence or the court at an earlier time.
'We don't know where he is' 
The prosecution then admitted in court that while the witness was believed to be interstate, his whereabouts were 'unknown' and he was not able to be found.
The three men on trial, underworld figure Mick Gatto's nephew Daniel Gatto and two other men Joseph Mandaliti, and George Daoud face charges including kidnapping, assault, theft, unlawful imprisonment and intentionally causing injury.
They allegedly forced the victim into a car and held him against his will during a dispute over the purchase of a $3500 luxury Louis Vuitton handbag. 
The court previously heard that Daniel Gatto then allegedly kneed the victim in the head, before he and his two associates bundled the man into their car and drove him for about an hour to an ATM to withdraw money. 
Police ordered to pay legal costs 
Given that the star witness failed to attend court, and could not be located, the Magistrate ordered the Chief Commissioner of Victoria Police to cover the legal costs for the three accused men for that day. The matter has been adjourned to June 2022. 
It's just another example of police bungles– and they continue to rack up, without any accountability. And the amount of taxpayer money that is spent is staggering. 
In recent weeks Victoria Police has also been fighting an ongoing court battle against convicted drug trafficker Tony Mokbel. 
Victoria Police is arguing that some information in their case should be kept secret from Mr Mokbel whose defence lawyer described the delays in the case as "now operating in a way which is … undermining the authority of the court." 
Lawyer X has already cost more than $100m 
The case relates to the mess created by Victoria Police's use of Lawyer X as a police informant. Mr Mokbel argues that his case was tainted, and that his conviction should be overturned because he was represented by Nicola Gobbo (Lawyer X) while she was a police informant. 
The Mokbel conviction is only one of more than 1,000 cases that have had to be re-examined by the Victorian Justice system because Ms Gobbo breached client confidentiality. 
The cost of the Lawyer X debacle continues to rise with leaked news this week that the cost of 'hiding' Nicola Gobbo in Australia is costing the Victoria Police Force millions of dollars, which Victoria Police has neither confirmed nor denied. 
In 2020 it was reported that the cost of theLawyer X Royal Commission has already been tallied at more than $100 million.
Victoria Police has spent around $64 million from its budget — $22 million in salary and wages for Victoria Police employees working on the royal commission and about $42 million on legal fees.
It is unclear whether the total includes the cost of a subsequent investigation, as a result of findings of  the Royal Commission, which is still underway to determine whether any criminal charges should be laid against police officers, some of who are still serving, who were involved the decision to use Nicola Gobbo, and the management of her, and the information she provided while acting as a police informant. 
There will undoubtedly be more costs as a result of civil litigation – the cost of which is simply unpredictable. Nicola Gobbo herself is reportedly taking civil action against Victoria Police, but people who have had cases tained or convictions overturned could also pursue damages. 
Taxpayers will bear the cost 
In 2020, when confronted with costs to date, then newly appointed Victoria Police commissioner Shane Patton admitted it was a huge cost that would impose "significant" financial constraints.
He also said that it would be "another hurdle" to determine who picks up the bill for any ensuing civil litigation and compensation determined by the courts.
Here's a clue: It will be the taxpayers, who will at the very least want to see some serious police accountability in exchange for footing the bill, rather than hiding behind bureaucracy.  
The Lawyer X scandal aside, it's time for more police accountability across the nation, not only in terms of police misconduct when dealing with the general public, but the misconduct which delays or impedes the justice process too. 
The continued cost of mishaps and bungles, errors of judgement and unethical decision-making, corruption and other unlawful behaviour have been in many cases written off as 'the cost of doing business'. 
This just continues to erode the faith Australians have in the force's commitment to actually act in ways that 'serve and protect.' 
Receive all of our articles weekly