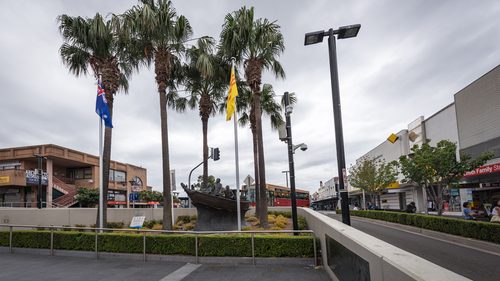 The gunman who shot 65-year old Bankstown lawyer Ho Ledinh is still on the run, and police are asking for witnesses to come forward, especially anyone with video footage of the incident, including CCTV, shop front, dash cam or mobile phone recordings.
Police now believe they are looking for a Pacific Islander, of medium build, wearing a dark-coloured cap, dark sunglasses, a high-visibility vest, dark-coloured pants and shoes, grey gloves and a raincoat that was either dark green or black.
CCTV footage shows the suspected gunman walking through the Bankstown Plaza in a high-visibility vest and taking a sip of water moments before the shooting. Police have emptied every bin in the shopping centre hoping to find the bottle and, with it, identifying evidence such as DNA or fingerprints.
Police say Ho Ledinh was targeted as he sat drinking coffee at the Happy Cup Coffee Shop on yesterday afternoon, although they don't believe his wife and children are in imminent danger.
Client files may hold a clue
Police are working through the deceased's client files for clues, as a number of his clients are suspected to be engaged in organised crime.
Mr Ledinh was one of the solicitors who represented Philip Nguyen, the man imprisoned over the killing of Sydney police constable Bill Crews in 2010 .
Mr Ledinh is not the first time criminal defence lawyer to be murdered in recent times. Joseph "Pino" Acquaro was gunned down outside his Melbourne gelato shop in 2016 – and police immediately suspected his links to the secretive crime organisation known as the 'Ndrangheta', or Calabrian mafia, as being the reason for his killing.
Gunman 'armed and dangerous'
Police have set up Strike Force Bindon to investigate Mr Ledinh's murder. In the meantime, they are warning members of the public that the killer is still on the run, and likely to be armed and dangerous.
Mr Ledinh's friends and family are still trying to come to terms with the loss. It's understood the lawyer was a prominent and well-liked member of the local community.
In an ironic twist, Mr Ledinh used to own café in which he was shot. Its location is just a few hundred metres from where crime boss Wally Ahmad was shot dead almost two years ago. The Sydney crime figure died outside the Havana Cafe in Bankstown on April 29, 2016.
Receive all of our articles weekly