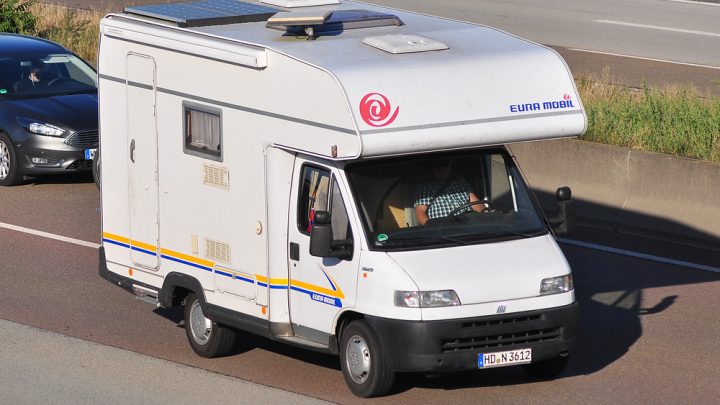 Two NSW local governments are pushing to ban 'Wicked Campers' from their roads, claiming the graffiti-style slogans are overly offensive.
The campers have caused quite a stir in recent years, displaying provocative phrases like:
'Fat girls are easier to kidnap',
'To all virgins, thanks for nothing',
'Ya mums on top of my things to do list',
'Save a whale… harpoon a Jap', and
'A wife: an attachment you screw on the bed to get the housework done'.
Byron Shire Council is moving to ban the vans from council-owned caravan parks, and one of its Councillors, Duncan Dey, wants to go a step further – lodging a motion for signs to be posted at the Shire's entry points which make it clear the campers are not welcome.
Organisers of the annual Splendour in the Grass music festival have also taken a stand, with the festival's website stating: "If you're booking a campervan, please steer clear of sexist slogans! You know who you are. It's 2016, get with the program!!"
Meanwhile, Ballina Shire Council has successfully passed a motion against the vans – authorising a letter to be written to the State and Federal governments which calls for a ban on offensive phrases on vehicles. "I want it to be clear that I see these messages as being coarse, disgusting and simply quite offensive," Ballina Deputy Mayor, Robyn Hordern, said. "They're not appropriate to have parading up and down our highways."
Others Who Support the Ban
State Member for Ballina, Tamar Smith, also supports the ban, saying the phrases are "heteronormative" and incite violence against women. "These are things that are inciting violence, condoning violence and they could be seen as vilification," she said.
Tasmanian Commissioner for Children, Mark Morrissey, has similar concerns, labelling those who drive the vans "morally and socially reprehensible."
Against the Ban
Our normally conservative NSW Premier Mike Baird has so far rejected calls for the State government to take action. "I don't think it's something that the state government should be getting involved in," he said.
Liberal Democrats Senator David Leyonhjelm believes that governments should stay out of such matters, saying the market will ultimately dictate supply and demand.
Leyonhjelm has accused Byron and Ballina councillors of forcing their conservative views on the rest of the community. "Personally, I find authoritarians disguised as hippies or feminists far more offensive than any slogan on the back of a van, but I don't seek to ban them" he said.
Action Against Wicked
The Advertising Standards Board has received eight complaints about the vans so far this year. 17 complaints were received in 2015, and 19 in 2014. 28 of the complaints were dismissed as unfounded and 61 were substantiated. However, the Board said it has no power to act, as phrases written on a person's own property fall outside its jurisdiction.
Federal Greens Senator, Larissa Waters, led a successful motion in the Senate in July 2014 to remove some of the most offensive slogans. At the time, Wicked owner John Webb indicated he would comply with the decision. But according to Senator Waters, he has not made good on his promise. "Knowing [Mr Webb's] commitment was unenforceable, over two years we keep hearing anecdotal evidence those sorts of slogans are still on the vans," Ms Waters said.
Law
Anti-discrimination law expert, Professor Beth Gaze, says the conduct falls outside the scope of existing sex discrimination legislation. She feels it would "require quite a big campaign" to extend these laws to privately rented vehicles, let alone public displays.
Current laws prohibit gender discrimination in the context of employment, accommodation, education, clubs and the administration of Commonwealth laws and programs. Professor Gaze points out that although public misogyny is a concerning social issue, it is not generally against the law.
Criminal laws against offensive language require that the words be "offensive" in the criminal law context; in other words, 'wound the feelings, arouse anger or resentment or outrage in the mind of a reasonable person'. That hypothetical person cannot be overly sensitive or easily offended. Proving "offensiveness" in the criminal context might be difficult given the vans do not contain profane language, although the statements are obviously provocative and extremely politically incorrect.
An additional obstacle for prosecutors is they would need to prove that driving a vehicle bearing a slogan amounts to "using" the language, or in the case of offensive conduct charges, "engaging" in conduct within the meaning of the criminal law.
Although it may be hard to understand why anyone would want to drive a vehicle bearing misogynist or racist phrases, it seems Wicked vans and their slogans are here to stay – for the time being at least. Some may even feel the attention has added to their desirability.
Receive all of our articles weekly