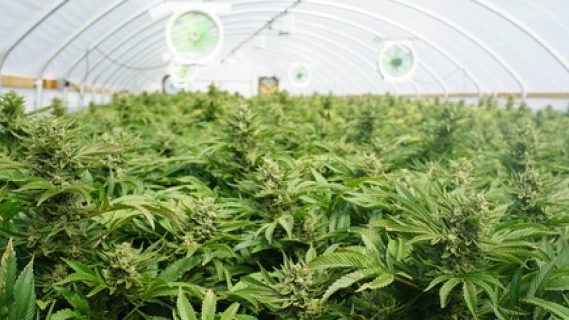 One in five US citizens now lives in a state where the use of recreational marijuana is permitted. On November 8 last year, another four US states voted in favour of marijuana legalisation, bringing the total number of states to eight, as well as the District of Columbia.
Significantly, the sixth largest economy in the world, California, was one of the states that legalised it last November. This means the entire US west coast is now an enclave for lawful recreational cannabis.
And unique to the Californian legislation is that it rolls back the sentences of thousands of people who've previously been convicted on marijuana-related charges.
In the state of Colorado, legal cannabis is now a billion dollar a year industry, generating $199 million in taxes, which is put towards public health and education. Along with Washington, Colorado was the first US jurisdiction to legalise pot on November 6 2012.
State officials in Colorado have said that the availability of the drug has had no overall adverse effects since it started being sold in retail stores in 2014. The sale of the plant is heavily regulated and marijuana products are sold in childproof containers.
There are countless studies that provide evidence that marijuana use is relatively harmless compared with other substances, such as alcohol and tobacco.
However, while there are moves to provide access to medical cannabis for sufferers in Australia, lawmakers seem reluctant to enter into a conversation about legalised recreational use.
And this is despite current moves by entire nations to legalise recreational cannabis, along with these US states that have established a profitable regulated market.
Trudeau delivers
Back in 2015, current Canadian prime minister Justin Trudeau ran on a campaign platform that included legalising recreational marijuana. Earlier this month, Trudeau delivered on his promise when he introduced legislation into parliament to do this.
If passed, the Cannabis Act "would create a strict legal framework," allowing the government "to provide regulated and restricted access to cannabis no later than July 2018." Citizens over the age of 18 would be allowed to possess 30 grams in public and grow up to four plants at home.
The legislation also creates a new offence with a penalty of up to 14 years imprisonment for trafficking cannabis to a youth. The government said that the prohibitive approach to cannabis has led organised crime to flourish and made it easier for children to purchase pot than cigarettes.
A South American pioneer
This Canadian move would make it the second country to legalise weed. Uruguay legalised it countrywide on December 10 2013. From that time, citizens have been permitted to grow up to six plants at home, as well as form private grow clubs that can produce significantly larger amounts.
As of July this year, marijuana will be available at an initial 30 pharmacies throughout the country. In order to access the product, individuals over 18 years old need to enrol at a government registry that is set to open on May 2.
Those registered will be able to buy up to 40 grams of the plant a month, at a price of US$1.30 a gram. And part of the profit will be used to establish prevention programs. The government has guaranteed the "quality and purity of the product," in order to compete against the black market.
Home use legalised in South Africa
The West Cape Division of the High Court of South Africa ruled on March 31, that the use of marijuana – or dagga as it is locally known – is legal at home. Although, the decision doesn't apply to the whole nation, its implications could be widespread.
The court found that provisions of the nation's drug and medicine control legislation were unconstitutional. And this allowed for legalising the possession, cultivation and use of dagga on private property, for private use.
The three judges of the court declared that the South African government should amend the legislation to allow for legalised marijuana at home nationwide within the next 24 months. However, South Africa's highest court, the Constitutional Court, still needs to confirm the ruling.
The Australian scene
As Dr Alex Wodak, president of the Australian Drug Law Reform Foundation, has pointed out 55 percent of the Australian community "now support regulating and taxing recreational cannabis."
And this figure is comparable to the percentage of citizens that voted for legalised marijuana in the four US states last November.
The 2013 National Drug Strategy Household Survey outlines that cannabis is the most commonly used illicit drug in Australia, with 10.2 percent of people having used it in the twelve months prior, and 35 percent of people having tried it during their lifetime.
However, despite the regular use by a large portion of the community of a substance that is widely accepted as low risk, Australian authorities have, for the most part, stayed silent on the issue of legalising marijuana.
Dr Faruqi weighs in
NSW Greens MLC Dr Mehreen Faruqi is her party's spokesperson on drugs and harm minimisation. While the doctor admits change is never easy when it comes to drug law reform, she points out that the two major parties have persisted with "failed policies of prohibition" over the last twenty years.
"It seems their minds are closed to the evidence, the opinion polling and the significant social, health and economic benefits a system of legalising and regulating cannabis could bring," Dr Faruqi said and added that globally forces from the whole political spectrum have been in support of such moves.
Dr Faruqi envisages that such a market could be modelled on those found in Oregon and Washington, "where there are systems of licensed sellers and restrictions on advertising and marketing." An independent regulatory authority could oversee the development of the market.
"I would like to see a serious parliamentary inquiry into legalising cannabis that can bring the best and most successful elements from around the world to Australia," she told Sydney Criminal Lawyers®.
On the subject of home grown, the doctor is adamant that people should be allowed to grow prescribed amounts. "We have seen the power of 'big tobacco' and 'big alcohol' so we need to ensure we don't create a monopolised 'big cannabis' either," Dr Faruqi concluded.
Receive all of our articles weekly