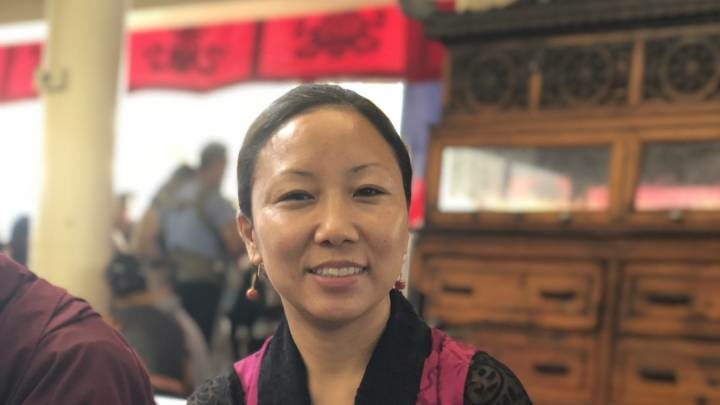 A Tibetan man set himself on fire on 4 November in a peaceful protest in the eastern Tibetan region of Ngawa. The death of 23-year-old Dorbe brings the total number of Tibetans that have self-immolated in order to draw attention to their nation's plight to 154 since February 2009.
Two days later, around 1,000 Tibetan and Uyghur demonstrators gathered outside the United Nations European headquarters in Geneva to protest against the human rights abuses that China is perpetrating in their occupied homelands.
At the time, the UN Human Rights Council was conducting its third Universal Periodic Review (UPR) of China. The UPR is a human rights performance assessment the UN undertakes with all of its members states once every five years.
Recommendations made to China during the review, included allowing international observers into Tibet, that it uphold Tibetans' rights to freedom of expression and freedom of religion, and that it release Tibetan political prisoner Tashi Wangchuk.
Sentenced to five years prison in May this year, Tashi Wangchuk was convicted of inciting separatism after appearing in a New York Times documentary in 2016. However, the Tibetan language activist was simply highlighting China's systematic erosion of his people's culture.
Denied sovereignty and identity
Soon after the People's Republic of China was proclaimed in September 1949, Chinese Communist Party (CCP) troops began marching into Kham and Amdo in eastern Tibet. By 1959, China had consolidated its control over the Himalayan nation.
On 10 March 1959, the Tibetan Uprising took place in the capital of Lhasa, when around 300,000 locals surrounded the Potala Palace. The uprising was brutally suppressed by Chinese troops, and a week later the Dalai Lama fled Tibet, which led to the mass exodus of about 85,000 Tibetans.
Today, Tibet is one of the most heavily policed and surveilled regions on the planet. Former CCP secretary to Tibet Chen Quanguo implemented a security policy in 2011 that saw hundreds of police stations rolled out, which allowed for all-pervasive grid-style monitoring of large urban areas.
And since China began its invasion, it's been carrying out a program of cultural genocide, which includes the destruction of Tibetan Buddhism, the attempted erosion of the language, the forced removals of nomads from their lands, and a program of Han Chinese migration into the region.
The most recent addition to this assault on the local culture is the demolition work that began in July 2016 at Larung Gar: the largest Tibetan Buddhist academy. The Chinese government is carrying out ongoing evictions and clearance of dwellings under the pretext of overcrowding concerns.
Asserting their independence
Established in 1970 in the Indian town of Dharamsala, the Tibetan Youth Congress (TYC) is an international non-government organisation advocating for the independence of Tibet. And TYC makes clear that it's working towards the restoration of nationhood to the formerly independent Tibet.
Over the coming week, two TYC representatives are conducting a speaking tour in Australia. Sydney Criminal Lawyers® spoke to TYC information secretary Tsewang Dolma about why the prospect of an independent Tibet is still very much on the cards.
Firstly, Tsewang, there's an estimated six million Tibetans living in their country under the rule of the Chinese government at present. What's life like on the ground for those people?
Since 1959, China has occupied Tibet. And it has become a total nightmare for every Tibetan.
I'm a third generation who was born and brought up in exile in a free country. But still, in Tibet, my brothers and sisters living under China are facing many restrictions. And there are so many political prisoners.
The situation is getting from bad to worse under Chinese occupation.
The Chinese occupation of Tibet has involved an attempt to erode Tibetan culture. Can you outline how this is being done?
Currently, China's policy is to divide Tibetan people. And it also has a policy not to preserve the Tibetan language and our traditional culture.
They're trying to demolish Tibetan cultural institutions, such as big monasteries, where the monks and nuns are no longer able to practice.
The nomadic people were pushed from their own fields by force into the big cities. And then on their land there has been mining and deforestation. And they've been taking all the precious minerals back to China.
So, this is the situation right now. And the Tibetans inside Tibet are being brave. They're trying their best to protect against the Chinese government via different means. Some are doing self-immolations. Some are writing about their feelings for Tibet. And some are signing songs for Tibet.
Whatever the means, the people within Tibet are non-violent. But, the Chinese are still arresting them and their families. Many are kept in prison. And for some of those who are kept in the prison, nobody knows where they're kept.
So, sometimes we are getting news about people who have self-immolated from those within Tibet. But, sometimes those who send this information have been taken to prison.
This is the situation. China is not allowing international media inside Tibet. Those inside Tibet are trying their best to send the information on what is happening in Tibet. And the Tibetans are not happy at all with China.
Another strategy of the CCP in tightening control over the nation of Tibet has been to implement a mass migration policy which has seen the continual movement of Han Chinese people into the region, which means a smaller percentage of the local populace is now Tibetan.
What is the population situation like in Tibet today?
The biggest problem for China is population, because China has a lot of people. And now they are saying that Tibet is part of China. So, for that reason, they are also trying to control the Tibetan population.
They are telling Tibetan couples they are not allowed to give birth to more than two children. But, for Tibetans, we need more population, because, including outside Tibet, we have about seven million Tibetan people.
So, we want more. But, on the Chinese side, there are family planning restrictions.
Since 27 February 2009, 154 Tibetans have self-immolated in an effort to draw attention to the plight of their people under Chinese rule. Many in the west would find this form of self-sacrificing demonstration hard to comprehend.
What is the general feeling amongst the Tibetan community regarding those who have given their lives for the Tibetan cause?
There have been many self-immolators inside Tibet, since 2009 until now. November 4 was the latest self-immolation inside Tibet.
Those 154 people who have self-immolated, we understand completely what condition they made the decision in. Their sacrifice is huge for their nation.
For us in exile, we consider their sacrifice, which is essentially non-violent, as the highest non-violent act. They decided to sacrifice their lives without harming anybody. Their act is the highest non-violent act.
Larung Gar is home to the largest Tibetan Buddhist institute in the world. In mid-2016, the Chinese government stated that the town had become overcrowded and authorities began tearing down peoples' homes.
By October last year, the population of Larung Gar had been reduced by around 5,000 people and close to the same number of dwellings had been destroyed.
In your opinion, why are Chinese authorities tearing down the homes in this area and evicting the residents?
This is the Chinese policy. This is our traditional culture. So, they are cutting every place by demolition or placing restrictions. So, these days, there are less numbers of monks and nuns compared to the past.
The Chinese policy is to slowly remove our traditional culture.
A decade ago, the Tibetan cause received widespread media attention. But, over recent years, there seems to have been less of a global focus on the plight of Tibetan people.
Of late, what has the support of foreign government's been like for the human rights and sovereignty of the Tibetan people?
Sometimes we feel very sad. The Tibetan issue has become like a forgotten issue, because we don't have something new to talk about. Tibet has been suffering for a long time. And it's still suffering.
Sadly, because China is very powerful and other countries have to do trade deals with China, sometimes they are forgetting the humanity.
And also, some countries do give some statements on Tibet and show solidarity. But, now it is a very hard time and words of solidarity are not enough for Tibetans.
Now, 154 people have self-immolated for Tibet to get attention from around the world. But, because of China's power some nations are afraid to talk about it.
Being a part of humanity, everybody has to talk about the truth. And we believe that someday the truth will prevail, and they will also raise the status of those who are suffering and don't have human rights.
What China is doing is unimaginable. But, hope is still there – that other nations will stand for Tibet.
So, you're currently on a speaking tour in Australia as a representative of the Tibetan Youth Council. What does that involve?
Tibetans are all over the world in different countries. So, for example, in Australia, we have many Tibetans living here. And it's very important to meet our Tibetan community, so that we can work together. This is a very hard time and unification is important.
The Tibetan Youth Congress goes to different parts of the Tibetan community and encourage them. We tell them about the situation inside Tibet.
And at the same time, the Australian government is grateful for the Tibetan refugees in Australia. So, we are also expecting to meet with some Australian political leaders to tell them about Tibet and to network with them.
And lastly, the Dalai Lama is advocating for the middle-way approach for the Tibetan people, which means genuine autonomy for Tibetans under the framework of the People's Republic of China.
Tsewang, how does what the Tibetan Youth Congress is advocating for differ from what the Dalai Lama advocates for? And do congress members foresee the day when the Chinese government no longer occupies Tibet and it will once again be in the hands of the Tibetan people?
His Holiness advocates for the middle way and the Tibetan Youth Congress totally respect this. But, we are still seeking total independence.
The Tibetan Youth Congress is one of the oldest organisations in exile. What we are fighting for – independence – is something which is our birthright. It's the truth.
In history, we can see that Tibet was an independent nation. We are fighting for something that is our right. We have to continue to fight for our independence, because there is always hope. We know that it will take time – surely, it will take time.
Also, when we look at other nations that fought for independence, it took a long time. But still, in the end, they got independence. For example, the country we are living in, India, they were under British rule for about 200 years. But still, in the end, they got independence.
During their struggle, they had a different ideology, but in the end, they were reunited and they got independence.
So, we still have the hope. And we know that we are not doing something wrong or asking for something that is not ours. This is something which is our birthright and the truth.
Receive all of our articles weekly