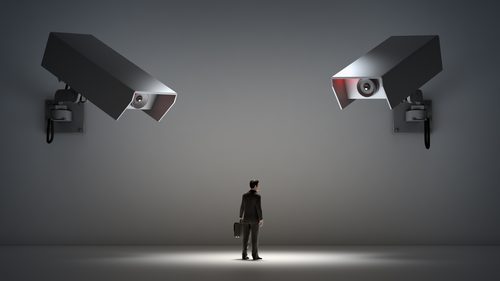 This week, the NSW government is set to open up access to all NSW citizens' driver licence photos and associated personal information, so that it can be utilised by law enforcement agencies across the country and matched with images from CCTV footage in real time.
Expected to be passed with bipartisan support, the Road Transport Amendment (National Facial Biometric Matching Capability) Bill 2018 will link the NSW licence database with a hub that will connect all federal, state and territory identification image databases.
The National Facial Biometric Matching Capability – now known as the Capability – will allow federal and state police, along with security agencies, to match images sourced from CCTV cameras across the country with the ID photos of the majority of citizens so as to track down a person of interest.
The Berejiklian government is handing over the reins to the general population's personal information to Peter Dutton's Home Affairs super-ministry without so much as consulting the NSW citizenry about it.  And it's also removing certain privacy safeguards to make access easier.
The federal government has been utilising this technology since November 2016, using its own databases, which contain all Australian passport, immigration and citizenship photos. The current system is manually run and it can take up to a week to identify an individual.
But, the new system will be automated and instantaneous, turning every CCTV camera on every Australian street into an undercover police officer.
Privacy's a thing of the past
"This is a deeply troubling Big Brother development," said NSW Greens MLC David Shoebridge. "The fact that it will effectively be a live facial verification service and will enable the authorities to live track people on CCTV once their identity is established."
Shoebridge pointed out that the state government is passing its legislation enabling the Capability to access all its citizens' licence data, prior to the federal legislation having even been passed. Introduced last February, the federal bill is still under the review of a parliamentary committee.
"In handing it over, it also expressly turns off at least two protections under state privacy laws," Mr Shoebridge told Sydney Criminal Lawyers®. "The most important is the right to know if your private information has been accessed."
The Capability Bill inserts section 271A(3) into the Road Transport Act 2013, which means certain sections of the Privacy And Personal Information Protection Act 1998 don't apply when it comes to government authorities accessing information via the Capability.
Section 9 of the Privacy Protection Act requires that an agency source information directly from its owner or inform them that it's being sourced. Section 10 requires the agency state what data is being collected, why it is and how it will be used. These protections won't apply to the Capability.
Sealing our fate
At a Coalition of Australian Governments (COAG) meeting on October 5 last year, the heads of all states and territories signed off on the Intergovernmental Agreement on Identity Matching Services, which established that the data sharing surveillance system will be rolled out nationally.
Initially, the Capability was spruiked as a counterterrorism measure. However, the COAG agreement revealed that it will be utilised in a number of other ways, including in the prosecution of offences that carry a maximum penalty of at least three years and in promoting community safety.
Mr Shoebridge stressed that the term community safety is so broad that could be applied in many ways. It's thought that this application of the Capability could actually allow for its use on protesters, which is something the technology has been used for in the United Kingdom.
The Capability will also allow private sector organisations to access the data to verify a known or claimed identity. And the home affairs minister will be provided with the power to expand the types of identification information in the system, as well as adding new services.
Hollow assurances
At the time the agreement was established, then prime minister Malcolm Turnbull said the Capability "doesn't involve surveillance or indeed mass surveillance". And he made assurances that it wouldn't be used directly on live CCTV footage.
But, despite the former PM's doublespeak, the hoarding of most citizens identification photos and associated information into a system that links with CCTV cameras around the country certainly sounds like mass surveillance.
And even if it doesn't involve direct matching with live footage initially, Mr Dutton certainly has the power to make some changes a little down the track to allow for it.
Racial bias in the system
Mr Shoebridge pointed out that in countries – such as the UK and India – where similar biometric databases are being utilised, some of the outcomes have been quite distressing.
"In India, it's reported that private entities can access people's data for as little as 500 rupees, which is $10 Australian," he said, adding that the experience in the UK is perhaps worse, where it's been shown that the error rate is ridiculously high.
A report recently released by UK civil liberties group Big Brother Watch revealed that UK police use of biometric facial recognition technology has resulted in the misidentification of innocent people on average 95 percent of the time.
And not only this, the data obtained by Big Brother Watch via freedom of information laws shows that these systems disproportionately misidentify ethnic minority groups and women.
The US Full House Committee on Oversight and Government Reform last year reported that a biometric facial recognition system being utilised in the US – similar to what we'll have in Australia soon – misidentified African Americans and women at much higher rates than white males.
Dutton will be watching soon
"The Commonwealth wants it to go live pretty much as soon as the federal legislation passes," Mr Shoebridge stated. So, if the state law passes this week and the Commonwealth bill gets the thumbs up in the near future, the Capability could be "live as early as next year".
But, the bizarre aspect to the Capability debate is that there isn't a huge public outcry about it. Back in the late 1980s, the Hawke government's proposal to establish a national identity card – known as the Australia Card – received such widespread condemnation that it never got off the ground.
"How this has happened with so little scrutiny I can't understand," Mr Shoebridge concluded. "It's like the Australia card on digital steroids."
Receive all of our articles weekly
Author
Paul Gregoire
Paul Gregoire is a Sydney-based journalist and writer. He has a focus on social justice issues and encroachments upon civil liberties. Prior to Sydney Criminal Lawyers®, he wrote for VICE and was the news editor at Sydney's City Hub.