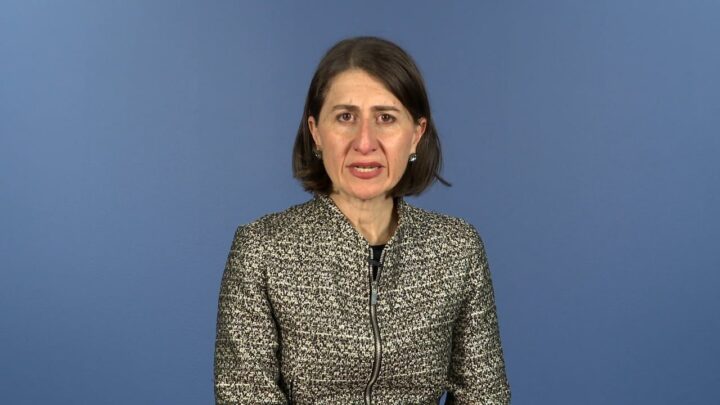 'I stuffed up'.
These are the words of Premier Gladys Berejiklian to the people of New South Wales, after evidence given to the Independent Commission Against Corruption (ICAC) revealed she has been in a "close personal relationship" with former Liberal MP Daryl Maguire, who is accused of corruption.
Many would agree the words lack both the gravitas and authenticity required, given the serious nature of the revelations about her long term, secret personal relationship with a man whose business dealings during his time in public office are now under scrutiny by ICAC for a second time.
But of far greater concern are the numerous telephone conversations intercepted between the pair during which Mr Maguire discusses at length his financial situation and business endeavours, which many believe indicate the Premier was aware of – or at least wilfully blind to – her partner and party colleague at the time's potential misuse of public office, but did nothing about it.
Telephone intercepts
An intercepted telephone conversation from September 2017, which was played before the ICAC, proceeds as follows:
Mr Maguire: "It looks like we finally got the Badgerys Creek stuff done… [one of the dealings under investigation] I'll be glad when that's done 'cause I'll make enough money to pay off my debts, which would be good. Can you believe it, in one sale."
Ms Berejiklian: "I can believe it."
The barrister assisting the ICAC then asks Ms Berejiklian if it was her understanding that Mr Maguire thought, if the deal was successful, he could have made enough money to pay off his debt, to which the Premier responds:
"All I can confirm is that's what he said to me, I can't confirm what my understanding was because I can't recollect the conversation".
In another conversation several days later, Mr Maguire informs Ms Berejiklian that the deal he was speaking of is done, to which the Premier replies, "I don't need to know about that bit."
The brazen candidness of Mr Maguire's statements to the Premier over the phone regarding dealings under investigation have many speculating about what may have been discussed behind closed doors.
Secret relationship
In giving evidence before the ICAC, Ms Berejiklian admitted that her relationship with Mr McGuire commenced in 2015, continuing through Maguire's resignation from Parliament in 2018. She said the relationship ended earlier this year.
Mr Maguire was asked to resign from parliament after an admission to a separate ICAC Inquiry that he sought payment over a property deal with a Chinese developer.
It has been reported that although she was Premier at the time, Ms Berejiklian asked former Premier Barry O'Farrell to convince Mr Maguire to quit politics, rather than doing this herself.
Mr O'Farrell, of course, resigned after lying about receiving a $3,000 bottle of wine for his birthday from the former chief of Australian Water Holdings.
The allegations against Mr Maguire
Mr Maguire had been the Government Whip during Barry O'Farrell's tenure as Premier 2011 to 2014, but it was his role as the Chairman of the NSW Parliament Asia Pacific Friendship Group that has come under the most scrutiny during the current ICAC inquiry.
The inquiry has heard that he took multiple trips to China and the South Pacific, often taking his staff and friends with him.
While witnesses have said they paid for their own flights, they admitted other expenses were covered and they went because they wanted to engage in potential business relationships.
ICAC has also heard that the trips to the South Pacific trips involved connecting a Chinese business group with governments, for which Mr Maguire was paid a cash fee for organising.
The inquiry has also heard how Mr Maguire played a key role in convincing several businessmen to take part in a 'cash for visa' scheme, which involved hiring Chinese citizens who never turned up for work.
According to witness testimony, Chinese citizen's families would pay a large sum of money to migration agent Maggie Wang, who would arrange a visa and pay off Mr Maguire and the businessman for taking part.
Integrity and judgment in question
Ms Berejiklian told ICAC she had been "shocked" to discover Mr Maguire was involved in the immigration scheme.
She was also questioned over her knowledge of a deal Mr Maguire was attempting to do in Western Sydney, but has maintained that her relationship with Mr Maguire did not influence any decisions she has made as Premier.
But the fact of the matter is that she has misled the New South Wales public for five years, admitting herself that she only ended her relationship with Mr Maguire in August 2020 when it became clear she would be called by the ICAC to give evidence. Her reason for not disclosing the relationship earlier is that she is a very 'private person'.
But many believe politicians can't afford to be 'very private people' and all aspects of their lives will come under scrutiny whether they like it or not, simply because when you hold an elected office of significance, then you are accountable to the people you represent.
No one would argue that defiance has been one of Ms Berejiklian's leadership trademarks, and she certainly shows no signs of backing down now, even in the face of this scandal which will only serve to exacerbate the growing discontent that many New South Wales residents feel about her government.
There have been no direct allegations of wrongdoing on the part of the Premier, many believe that at the very least, her judgment and integrity are in question.
The inquiry is continuing.
Receive all of our articles weekly