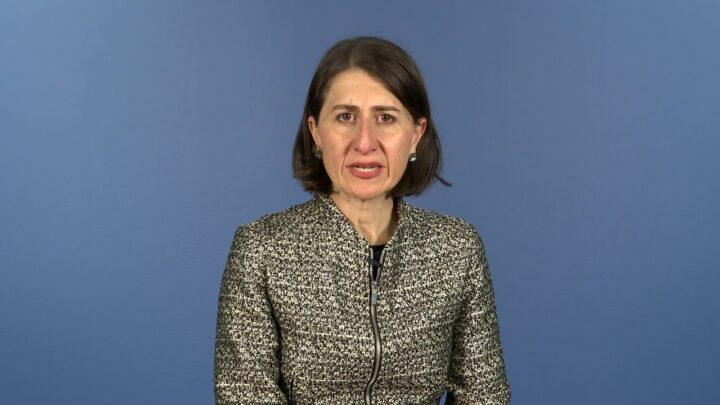 The Berejiklian government has indicated that there's no limit to how low it will stoop in order to keep the Coalition's agenda of profiteering from harmful energy sources: whether that be its usual capitalising on fossil fuels, or, as of last Monday night, the possibility of lifting the ban on uranium.
At a cabinet meeting on 24 August, Coalition ministers decided that they would not be throwing support behind One Nation legislation that would lift a ban on both uranium extraction and nuclear power generation, but they would be considering their own bill to mine the radioactive substance.
One Nation MLC Mark Latham introduced his nuclear power bill into parliament in June 2019, where it sat floundering until NSW Nationals leader John Barilaro asserted in March that his party would be supporting its intention of lifting the 34-year-old state ban on uranium mining.
Monday night's decision reveals that while some Coalition ministers are uneasy with the prospect of getting into bed with One Nation, the mining of a toxic substance that's renowned for the harms it causes, doesn't faze them all that much.
A seasoned supporter of nuclear power, deputy state premier Barilaro has now been tasked with producing a report as to why uranium mining is beneficial.
While prior to the meeting, premier Gladys Berejiklian washed her hands of the issue, simply stating that her personal view on this deadly idea isn't "relevant".
Maralinga no more
"What we are seeing is this ongoing culture war from the right in politics," NSW MLC David Shoebridge explained. "It's looking for any solution apart from renewable energy, regardless of whether it makes economic or environmental sense."
The NSW Greens energy spokesperson stated that many of those out in the community struggling during the pandemic and post-bushfires are asking when politics is going to change, as uranium mining and nuclear energy make no sense for this state.
"The people who will be first impacted by uranium extraction in NSW – as has happened across the world – will be First Nations people," he told Sydney Criminal Lawyers. "Their land will be poisoned. It will be their water that gets poisoned by the radioactive waste."
Nuclear is often spruiked as a clean alternative. However, the extraction of uranium from First Nations land is both environmentally and culturally destructive, while nuclear power produces radioactive waste, which corporates like to dump on Aboriginal land.
And further uranium is used to make nuclear bombs. The British used atomic weapons to completely destroy the land of the Maralinga Tjarutja people. In the 1950s and 1960s, the UK dropped seven major and over six hundred minor bombs in SA, which were produced using this country's uranium.
"If for no other reason, standing in solidarity with First Nations people means you stand opposed to uranium mining," Shoebridge said, adding that even if local uranium is exported under the proviso that it won't be used in weaponry, it will free up other sources of the metal for arms building.
Backing climate collapse
Esteemed US political dissident MIT Institute Professor Noam Chomsky warned in an April 2019 speech that the future of the human race is now in question due to two existential threats, uranium-driven nuclear war, as well as fossil fuel-driven climate change.
And Berejiklian's already got the latter base covered. In February, as the last flames of the unprecedented bushfire season were still alight, the premier cut a deal with PM Scott Morrison that entails a huge expansion of NSW gas production in exchange for cash – some of it loans.
The methane involved in gas extraction is 80 times more potent than carbon in terms of global heating. And as Stop CSG Sydney spokesperson Pip Hinman has pointed out, the deal just happens to involve the same amount Santos is promising in its controversial Narrabri gas project.
"We've seen the NSW Coalition government driven by the right in the Liberal Party and the Nationals continue to pour public money and support behind coal seam gas," Shoebridge made clear. "This is especially frustrating, because we know that gas is no longer a viable transition fuel."
A just transition
"We know what needs to be done," Shoebridge continued. "There's been detailed studies as far back as 15 years ago by the University of Newcastle that describe how we could get to 100 percent renewable energy in NSW."
The Greens energy spokesperson explained that his party's policy consists of establishing renewable energy zones across NSW, with investment in solar and wind infrastructure, and pumped hydro energy storage.
Shoebridge asserts that the optimal way for this state to move ahead would be massive investment in the public energy sector, ensuring infrastructure to both produce clean renewable energy and deliver it to households. This would not only benefit the planet, but it's also the cheapest option.
Not only toxic
As leader of the state, Berejiklian considers her opinion as to whether NSW should lift its uranium mining prohibition irrelevant. And, obviously, disasters such as Hiroshima, Nagasaki, Maralinga, Chernobyl and Fukushima all fall under the same category when potential profits are at stake.
However, according to Shoebridge, nuclear being part of the NSW power mix "is genuine fairyland material", as global investment in nuclear power plants over the last half century, has resulted in energy costs that are at least six times that of renewables.
"Not only does it make no environmental or cultural sense, it would also be disastrous for ordinary household budgets if we were forced to pay for nuclear power to be delivered to our homes," the Greens member concluded.
Receive all of our articles weekly