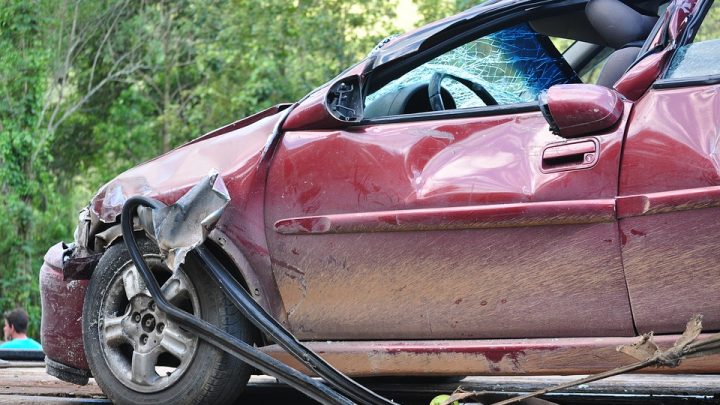 We all have that one friend or family member who possesses questionable driving skills.
And if you're someone who drives on a regular basis, you might often find yourself wondering how certain drivers on our roads managed to get their licences.
Car accidents are often caused by inexperienced drivers, or drivers who simply do not follow the road rules.
So should there be tougher licensing requirements?
At present, New South Wales residents aged 16 or older who wish to obtain a learner permit must pass the Driver Knowledge Test (DKT); a computer-based test comprising 45 multiple choice questions about our road rules.
The test is relatively straightforward and consists of 15 general knowledge questions, followed by 30 road safety questions.
Aspiring drivers must obtain a score of at least 12 in the general knowledge section, and 29 in the road safety section in order to pass the test.
Once a person passes, they are issued with their learner licence and are required to complete 120 hours of supervised driving within 5 years, with a minimum of 20 hours of night driving.
This effectively means that learner drivers can be out on the roads with their parents – or another supervising driver – without any prior practical driving experience.
Though supervising drivers play a crucial role in assisting learner drivers to gain experience on the roads, they may lack formal driver training – which means that they may pass-on engrained bad driving habits, or fail to properly teach them to mitigate risks on the road.
Many drivers from older generations obtained their licence in an era where licensing requirements were not as strict and did not require an extensive knowledge of the road rules.
While the RMS does provide 'benefits' to encourage learner drivers to take formal lessons with a qualified driving instructor – allowing them to record three hours in their learner log book for every one hour lesson with an instructor – they are not compulsory and are often costly.
In contrast, those seeking to obtain a learner permit to ride a motorcycle are required to complete a two day training course with a qualified instructor.
Each training day runs for 3.5 hours and aims to teach riders about how to minimise risks on the road through the promotion of defensive driving skills, as well as practical skills such as co-ordination and speed control on a private road or facility away from other road users.
Riders are only able to obtain their licence if they pass the two-day course.
So if motorcyclists have to undergo practical training before they hit the roads, why are learner drivers not required to do the same?
Of course, motorcyclists arguably face greater risks on the roads as they simply lack the protection that a car provides, and it would arguably be impractical to have a fully licensed rider as a passenger.
However, if the risks of being involved in a car accident can be reduced by further educating drivers about road risks, it seems like a logical approach to take.
Many other countries require prospective drivers to undergo some form of practical training before they are released out on to the roads.
For example, in Germany, learner drivers are required to attend a driving school and pass a two-stage test consisting of theory and practical components before obtaining a licence.
They are also required to undertake a first aid course.
In contrast to Australia, the German government requires drivers to attend lessons at a driving school, taught by legally authorised driving instructors.
Lessons may be tailored to the type of licence that the person wishes to obtain.
The practical component comprises lessons with a qualified instructor in a car specially fitted with extra pedals, mirrors and other safety mechanisms enabling the instructor to take control of the car in the event of an emergency.
Holders of European licences are also required to replace their licence every 10 years – and may be required to undergo further testing before they are issued with a replacement.
But while this approach arguably invests prospective drivers with greater road skills than the Australian method, it is not without criticism.
There are high failure rates associated with the German licensing scheme, which some attribute to the fact that much of the required driver training is provided by private driving schools, who may capitalise on the chance to make bigger profits by failing students.
Even if you do pass the first time around, it's likely to cost an arm and a leg – the costs associated with obtaining a German licence are estimated at around €1400.
The road fatality rate per 100,000 inhabitants is 4.3 in Germany, compared to 5.6 in Australia.
However, this does not necessarily suggest that extra driver training is beneficial in reducing the fatality rate – the difference in figures could be attributed to various other factors, such as road conditions and safety laws.
Another suggestion is that Australian learners be required to participate in a driver education program similar to the current 'traffic offender program' before they are given their provisional licences.
Traffic offender programs (TOPs) are run by PCYCs throughout NSW and are relatively inexpensive – around $150 for the total course.
They can last for 6 to 8 weeks, and participants must attend one night per week.
Alternatively, there are a number of 'intensive programs' which last one or two weekends.
TOPs provide drivers with invaluable knowledge about the dangers of certain types of driving behaviour, including speeding, drink driving and driving while fatigued.
Our clients regularly rave about the benefits of the program and how the images, lectures and statistics shocked them into reassessing their driving habits.
They often state that such programs should be compulsory for all aspiring drivers.
But whether or not such additional requirements will be incorporated into the licensing scheme in NSW is yet to be seen.
Receive all of our articles weekly