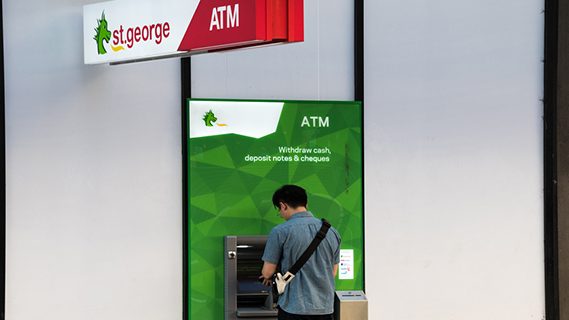 It might sound like a dream come true – withdrawing millions of dollars from your empty bank account. But a fantasy can quickly become a nightmare if you knowingly take money that you know does not belong to you.
This is something 27-year- old Luke Brett Moore learnt the hard way, when he was charged with 'obtaining a financial advantage by deception', and 'knowingly dealing with the proceeds of crime' after taking what was not his.
Mr Moore withdrew $2.189 million over three years from his St George 'Complete Freedom' account, despite being on Centrelink and having no savings.
He made the most of the bank's slip-up, buying a Maserati, an Aston Martin and a new speedboat. He even bought a top signed by legendary basket-baller Michael Jordan and a photo signed by Top Gear's Jeremy Clarkson. And what collection would be complete without a signed Kylie Minogue picture as well?
'Complete Freedom' was a fitting description for Mr Moore's bank affairs – until the long arm of the law caught up with him.
On 12 December 2012, police raided Moore's home and seized hundreds of thousands of dollars worth of goods. More than two years later, he was found guilty of fraud and dealing with proceeds of crime, and sentenced to a full term of four and a half years in prison, with a two-year non-parole period – which usually would mean he will have to spend at least two years behind bars.
However he is currently on bail and awaiting an appeal.
Fraud Charges in NSW
Section 192E of the NSW Crimes Act 1900 makes it a crime to dishonestly, by any deception, obtain:
Property belonging to another, or
A financial advantage from, or cause a financial disadvantage to, another.
The maximum penalty is 10 years imprisonment.
'Deception' is defined by section 192B as 'any deception, by words or conduct, as to fact or as to law', and must be intentional or reckless.
Generous Banks
This is not the first time that people gaining from banking mistakes have come before the courts.
In the case of Kennison v Daire (1986) 160 CLR 129 a man withdrew money after his account had been closed.
Daire made an interesting argument – that the bank had programmed the machine in a way that made the withdrawal possible. That counted as consent for the fraud.
However, the court was unconvinced and found against Mr Daire. In his judgement, the Presiding Judge stated that:
"The machine could not give the Bank's consent in fact and there is no principle of law that requires it to be treated as though it were a person with authority to decide and consent … It would be quite unreal to infer that the Bank consented to the withdrawal by a card-holder whose account had been closed."
So while a generous bank error may seem like a gift from the heavens, it is usually something from the other direction.
Receive all of our articles weekly