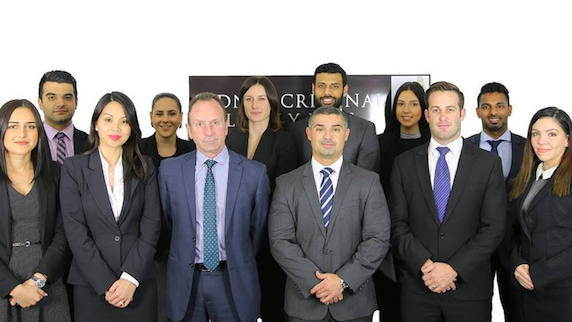 Sydney Criminal Lawyers® commenced operation in 2001.
Since then, we have introduced a range of innovations to the criminal law profession, including:
'Fixed Fees' that are published on our website,
A 'Senior Lawyer Guarantee', meaning that clients will be represented in court by a criminal defence lawyer with at least 5 years of specialist criminal defence experience,
Daily Criminal Law Articles,
Regular YouTube videos, and
A handy IPhone App containing hundreds of those blogs and videos.
Our firm is made-up of 18 exceptional team members – 8 experienced specialist criminal defence lawyers and 10 administrative and support staff.
Every member of our team cares greatly about our clients and is passionate about continually excelling in the provision of the highest quality legal services.
We were recently honoured to receive the award of
"2015 Criminal Defence Firm of the Year in Australia
" in the Corporate INTL Legal Awards.
We believe that there are several goals that all criminal defence firms should consistently strive for.
And here are three of them:
1. RESULTS
We believe that great results are achieved through a combination of factors, including:
Specialisation in a particular field of law,
Vast relevant experience by outstanding lawyers,
Teamwork by the legal team to carefully devise and implement defence strategies, including strategies designed to get cases dropped or thrown out of court,
Dedication and commitment to clients and their cases,
Passion, determination and persistence to achieve the desired outcome,
Thorough preparation, and
Exceptional courtroom skills.
Our team regularly holds lawyer meetings where we discuss best strategy for particular cases, drawing on one another's vast experience in criminal defence.
We are a results-driven firm who believe that focusing on money is counter-productive to achieving great results.
Money should never come into the equation.
This is why our firm has NEVER imposed monthly financial budgets that our lawyers must meet.
This is very different to many other criminal law firms out there, where employed lawyers and partners of the firm are required to bill at-least a specific amount of money to clients each month.
One of our lawyers previously worked at one such firm, and wrote an interesting article some time ago which you can read by 'clicking here'.
We believe that requiring lawyers to make a certain amount of money each month takes the emphasis away from delivering high quality legal work.
Budgets mean that lawyers are also less-likely to consult one another and act as a team to produce the best outcomes on cases, because they will be more-likely to want to bill all fees themselves, and to keep cases to themselves when another lawyer within the firm might be able to provide invaluable assistance, or be better suited to that particular type of case.
Budgets also place unnecessary pressures on lawyers, and can lead to overcharging – a common complaint against many firms.
They can even lead to lawyers 'stretching out' cases rather than fighting to have them dropped or finished as soon as possible.
Our firm prides itself on regularly getting even the most difficult and complex criminal cases dropped early, enabling our clients to get on with their lives with the least amount of stress, disruption and cost.
We believe that budgets should play no part in any criminal law practice.
The focus should never be about making money.
This is also one of the reasons why our firm offers 'fixed fees' for many of our services.
In fact, Sydney Criminal Lawyers® was the first law firm to publish fixed fees in criminal and traffic cases, more than a decade ago.
You can view our fixed fees by 'clicking here'.
We also believe that a reputable criminal defence firm should always be spearheaded by 'Accredited Criminal Law Specialists'.
An "Accredited Specialist" is an experienced lawyer that has undergone examination and courtroom testing by peers – including Magistrates or Judges – and been Certified by the Law Society of NSW as an expert in the field.
Accredited Specialists are required to upgrade their knowledge and skills every year to maintain their Accreditation.
Our lawyers Ugur Nedim and Mitchell Cavanagh have both been certified as Accredited Criminal Law Specialists for a full decade.
To check whether a particular lawyer is an Accredited Specialist, you can 'click here' and insert their name.
If they are Accredited in Criminal Law, there will be an entry under their name that reads: "Specialist Accreditation: Criminal Law". If this does not appear, then they are not accredited.
Our firm's passion, experience, specialisation, teamwork and emphasis on high quality legal work leads to great results, and you can read through some of our recent results by 'clicking here' and choosing from 'Recent Criminal Cases' or 'Recent Traffic Cases'.
2. CLIENT SERVICE
Criminal lawyers must be available to their clients around the clock. They must explain all aspects of the client's case to them in simple terms from the start – including the nature of the charges, the options, the best way forward and the likely outcome.
They must listen to their clients, taking full instructions and giving realistic advice.
They must contact clients regularly, update them on all aspects of their cases and respond to phone calls and emails as quickly as possible.
Our clients have access to their lawyer's mobile telephone numbers, and can also call our 24 hour number (02) 9261 8881 which will be answered every time.
3. CLIENT SATISFACTION
A client must know that they are important to their lawyer, that their case is important and that their lawyer is doing everything possible to achieve the best outcome.
They must see that their lawyer is passionately fighting for them, that their lawyer not only does what they promise but goes above-and-beyond what is expected.
This leads to client satisfaction and mutual respect, which is crucial to the long-term success of any reputable criminal law firm.
You can 'click here' to see some of the testimonials left by our valued clients.
————————————————————-
These are three things that we believe criminal law firms should aim to achieve, and this is what we strive for at Sydney Criminal Lawyers®.
If you would like to consider having our team behind you, don't hesitate to pick up the phone and call us anytime on (02) 9261 8881 to book a FREE appointment.
We look forward to helping you.
Receive all of our articles weekly