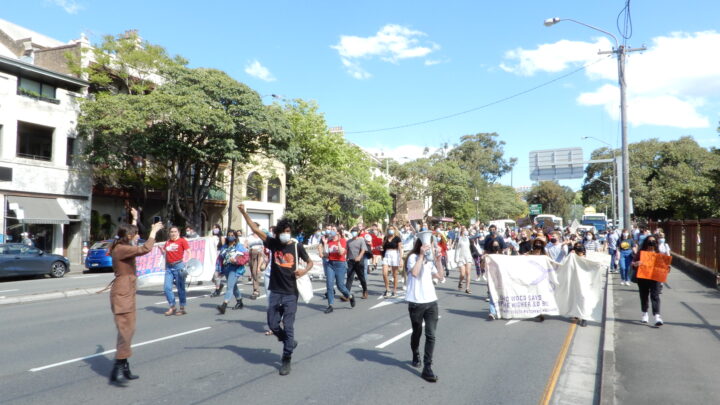 After NSW police closed down three recent COVID safe Sydney University demonstrations, students and staff held another rally against staff cuts and fee hikes on 23 September 2020, in which they successfully overrode the unofficial protest ban to the point where they shut down a major road.
In a similar manner to what they did a week prior, students organised about a dozen separate demonstrations of less than 20 agitators around campus to avoid breaching the public health order limit on the number of people currently allowed to assemble together in public.
But unlike the previous campus rallies, NSW police officers were initially a little thin on the ground, and the separate protest groups were able to converge out the front of the Law School Building, where a university-sanctioned outdoor seminar titled Perspectives on Dissent was being held.
From there, a couple of hundred students made their way down into Victoria Park, where they picked up pace as officers began tailing them. The demonstrators then made their way onto City Road, blocking lanes of traffic as they marched along, causing held up motorists to honk horns.
Bucketloads of police then descended: riot squad, mounted officers, general duties and sergeants. A sea of blue bodies literally chased students back through the park to begin picking them off one by one, until they had at least 13 young adults pulled aside issuing them with $1,000 COVID fines.
The authoritarian creep
"We're facing an unofficial ban on the right to protest, not just at Sydney uni, but across NSW," said Chloe Rafferty, just before Wednesday's action. "Police are cynically exploiting the COVID health orders to repress or disband Black Lives Matter protests and three student and staff protests so far."
"They've also broken up refugee rights protests," the Sydney University student continued. "We're living in an extremely authoritarian time, and we have to defend our education, but in doing that, we also have to fight for civil liberties."
Rafferty explained that the protests are against "a tsunami of attacks on higher education" being carried out by the Morrison government and Sydney University vice chancellor Michael Spence. This includes an up to 30 percent cut to uni jobs, as well as a planned doubling of fees for humanities.
In response to the current prohibition on protesting, a number of progressive social movements have launched the Democracy is Essential campaign, which, as Chloe put it, is all about restoring the right to protest and maintaining freedom of speech.
"The only way to restore our right to protest, ironically, is protesting," Rafferty told Sydney Criminal Lawyers. "Democracy dies when people don't come out. We need to fight. We need mass action, with students, staff and progressive people on the streets to win back the right to protest."
A Kafkaesque prohibition
Following the blocking of City Road, a senior looking police officer told students gathered in Victoria Park that they had to leave the area because they were breaching "public health order number four".
The officer used a loudspeaker that had just been confiscated from a demonstrator to do so.
Section 18 of the Public Health (COVID-19 Restrictions on Gathering and Movement) Order (No 4) 2020 prohibits outdoor meetings or assemblies of more than 20 people "for a common purpose".
This measure is ostensibly to prevent the spread of the virus, despite much larger numbers being permitted indoors and at events. Since late July, NSW police has been enforcing this as a ban on public demonstrations, regardless of whether COVID transmission is a possibility.
Prior to 16 September rallies, NSW police sent an official communication to Sydney University specifying that two separate groups with less than 20 in each with similar protests signs are deemed as gathering for a common purpose and therefore breach the public health order, even if distanced.
But in contrast to that, "if there are two groups with less than 20, a distance apart, with different signs and issues this is not a common purpose and may not be a breach, if they are adhering to social distancing".
Around 18 separate protests were spread out around the university campus on 16 September. Each purposefully had less than 19 people in attendance, and each had a different stated issue it was demonstrating against. However, police moved in and shut them down anyway.
"This unambiguously constitutes political censorship," over 100 Sydney University academics asserted in an open letter following those rallies. They added that at the same time contact sports, shopping malls and public transport are all up and running with no social distancing taking place.
Language into action
After the throng of police fined at least 13 students and arrested four on Wednesday, a large number of officers made their way to the forecourt outside the Law School Building where the officially-sanctioned outdoor seminar continued, with its gathered audience of more than 20.
This location saw police warning students a week prior that those in groups eating lunch on the grass were permitted to stay, but those protesting could be arrested if failing to move on.
Sydney uni student Harry Mouhtaris related that he'd been fined $1,000 on that day for simply observing the activists prior to going to class, despite making clear to officers that he wasn't involved.
"It's ridiculous," he added. "We're living in a totalitarian state at the moment."
The pamphlet setting out the schedule of the National Tertiary Education Union (NTEU) organised Perspectives on Dissent seminar noted that recently "students and staff have been outraged and shaken by the police response to campus protests against" austerity measures.
As linguistics academic Dr Nicholas Riemer picked up the microphone to give a speech, he first called out the intimidating nature of the police presence that had just seen around thirty heavily armed police officers standing to the side monitoring seminar attendees.
"Language becomes political when it stops expressing opinions and starts articulating positions: when it's collective, and when it's embedded in material practices," Dr Riemer told those gathered.
The academic then stressed the importance of the ongoing protests in the face of the ban by concluding that unless political speech is given "collective traction by inserting it into concrete social practices" and made "part of the play of actual social forces" then it will simply remain rhetoric.
If you would like to donate to help cover the costs of the fines imposed upon demonstrators you can do so here.
Receive all of our articles weekly