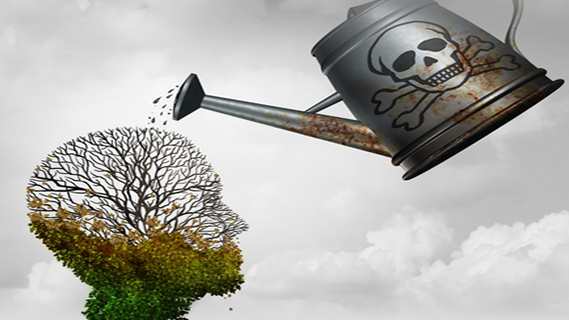 New research is attempting to piece together the complex relationship between environmentally induced chemical changes in the brain as a child and anti-social conduct as an adult, especially impulsive, violent crime.
Adding to previous research, a recent peer-reviewed study published in the journal Environmental Health has found a strong link between childhood exposure to lead in the air and violent criminal conduct later in life.
'Lead-crime hypothesis'
The "lead-crime hypothesis" posits that:
(1) lead exposure at young ages causes chemical changes in the brain, leaving children with problems such as learning disabilities, ADHD, and lack of impulse control; and
(2) those problems make it more likely they will engage in anti social behaviour as adults, including crime.
The Environmental Health study sought to determine whether the hypothesis is supported by evidence.
The study
The study identified significant variations in exposure "to environmental lead from paint, petrol, and mining and smelting operations" between the areas of "Boolaroo, Earlwood, Lane Cove, Port Kembla, Rozelle and Rydalmere."
It then closely examined crime data over the past thirty years for those regions, breaking it down by age, offence-type and so on. The researchers took pains to exclude or make allowance for factors which might adversely affect the accuracy of their findings, including socio-economic variables.
The findings
The study ultimately concluded that, "[a]fter controlling for major socio-demographic correlates of crime there is a strong positive relationship between lead in air levels and subsequent crime rates."
Mark Taylor, a professor of environmental science at Macquarie University and the research team's leader, noted the study builds on findings by previous and contemporaneous studies that childhood exposure to neurotoxins can have lifelong, adverse effects, including anti social conduct.
A significant correlation was found between lead exposure and aggressive, impulsive crimes such as street assaults. However, no link was found between lead exposure and premeditated crimes – whether those of violence or against property.
Among other things, the research team concluded that the concentration of lead particles in the air explained 30% of the variance in assault rates in persons 21 years old and over.
Previous research
A 2016 study by James Feigenbaum and Christopher Muller looked at exposure to lead via drinking water pumped through lead pipes.
The authors were able to conduct a true control study because not all cities had lead pipes and further, lead only seeps into the water when it is acidic.
The study found that exposure to lead in drinking water was linked to higher homicide rates 20 years later, relative to similar places where children avoided such exposure.
Other studies have compared children who live in the same community but who were distinguishable through proximity to high-lead areas. A paper by Anna Aizer and Janet Currie, for example, found a link between data on pre-school blood-lead levels on the one hand, and school suspensions and incarceration on the other.
Systemic changes
For many years, the major source of lead in the environment was leaded petrol.
The contamination occurred when exhaust fumes from motor vehicles left lead to settle into dust on roads and nearby land. After governments implemented rules for the removal of lead from petrol, lead levels in the environment fell dramatically.
Blood lead levels in the Australian population has also fallen significantly since the final removal of lead from petrol in 2002.
According to the lead-crime hypothesis, a drop in lead exposure will lead to a predictable drop in crime around 20 years later.
A 2007 report published by the Journal of Economic Analysis & Policy, found that between 1992 and 2002, the phase-out of lead from gasoline in the US, "was responsible for approximately a 56% decline in violent crime".
The study foreshadowed that by "2020, all adults in their 20s and 30s will have grown up without any direct exposure to gasoline lead during childhood, and their crime rates could be correspondingly lower."
Continuing risk
Despite the removal of lead from petrol, atmospheric lead remains elevated in several Australian communities.
For example, populations near sites of ongoing industrial lead ore mining and processing such as Mount Isa, Broken Hill, Port Pirie and Roseberry remain at risk from exposure to air born lead.
Effective intervention
A 2017 study by Stephen Billings and Kevin Schnepel looked at the extent, if any, to which government programs aimed at reducing the effects of lead exposure could reduce associated problems.
In that study, children who tested above a certain level of lead twice in a row were provided intensive services — including lead abatement in their home and nutritional counselling to mitigate the effects of lead exposure.
Children who received the intervention exhibited significantly less anti social behaviour over time than those who were not, including less suspensions, absences, school crimes, and violent crime arrests. The authors estimated that for every $1 invested into intervention, society yielded a return of nearly $1.80.
Studies over many years suggest that ongoing lead exposure can have long-term economic and social costs to society. However, the research also suggests that initiatives aimed at reducing lead in the environment and addressing existing lead exposure can effectively alleviate the problem.
Receive all of our articles weekly