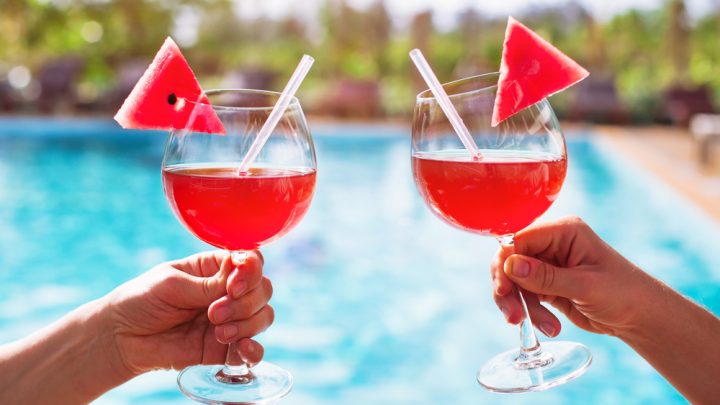 Potato Head Beach Bar, Sky Garden Nightclub, Kuta beach. Sun, friendly locals, great food, party atmosphere. Bali is everything anyone could want in a holiday, and just 6 hours away.
Millions of Australians can relate to Redgum's legendary song 'I've been to Bali too'.
We love Bali. We love alcohol. But a new law which proposes to ban the production, distribution and consumption of alcohol across the whole of Indonesia, including its star destination Bali, could see Aussies heading elsewhere, and devastate the local economy.
The Bill has been introduced to Indonesian Parliament by two Islamist parties, the United Development Party and the Prosperous Justice Party, and is currently being debated in Indonesia's House of Representatives.
If passed, the law would be the first of its kind in Muslim-majority Indonesia.
The Bill proposes to ban drinks which contain more than one per cent of alcohol, although there may be some exceptions for customary activities, religious rituals and possibly some tourist venues.
The Bill has caused uproar within Indonesia's tourism and hospitality industries, which warn that the local economy will be crippled if it is passed. Alcohol traders say that aside from damaging the tourism industry, a ban could also fuel sly-grogging, or bootlegging which is a problem that can have deadly consequences, already claiming the lives of several tourists and locals in Bali.
Dangers of prohibition
Over the past few years, Bali has seen a rise in the sale of home-brewed drinks laced with methanol, which have been linked to the deaths and serious illnesses of tourists, including Australians, on the party island.
Last month, a young Perth woman was rushed to intensive care in a Bali hospital with suspected methanol poisoning after a night of drinking. She survived, but faced $50,000 in medical bills because her travel insurance had run out.
And on New Year's Eve in 2013, Perth teenager Liam Davies tragically lost his life after drinking alcohol cut with methanol in a Lombok bar.
Since then, at least two other Australians have been hospitalised with temporary blindness as a result of drinking cheap booze. Temporary blindness is just one of the many symptoms of methanol poisoning, which can cause vomiting, headaches and gastric pain, and more serious conditions such as coma, liver failure and, in extreme cases, death.
These cases have prompted both the Australian Government and the Australian Medical Association to warn tourists to "consider the risks" of alcoholic drinks in Bali, and to avoid homemade brews.
The nation's beer sellers have argued that their products should not be included in the proposed ban, as beer has not been linked with poisoning.
Support for the ban
It is reported that the proposed ban is generally supported across Indonesia, and that support keeps growing. As one expert put it:
"There's a lot of people in Indonesia right now taking the view — and they might not be wrong — that if you look at the Western world, and what alcohol is doing to young people, we don't want that in Indonesia and we want to ban alcohol.
"There's a lot of discussion in Indonesian society about the damage [alcohol] does to the wider community. The problem, of course, is if you ban it, you then create this enormous black market and it causes a whole lot of other problems."
But for Bali, those repercussions include serious and potentially irreversible damage to the tourism industry. So the Government is now faced with the task of assessing the Bill and considering any amendments, with a view to striking a balance.
Restrictions on alcohol
Last April, the two parties who are behind the current Bill successfully introduced a law that stopped alcohol from being sold in mini-marts throughout Indonesia, despite numerous protests and pleas from the tourism, hospitality and alcohol industries.
The liquor industry is hoping to seek a compromise on the latest Bill – asking the Indonesian Government to consider tougher regulations, monitoring and control of the sale of alcohol, or the possibility of bans with some exclusion zones, rather than full-blown prohibition.
The Bill is currently before the Indonesian House of Representatives and the outcome is expected to be known in coming weeks.
Receive all of our articles weekly