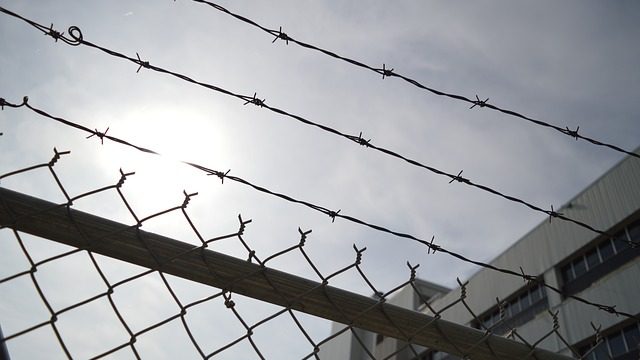 If you've ever seen the hit TV series Underbelly or followed Melbourne's notorious gangland killings, the name 'Carl Williams' might ring a bell.
Williams was an underworld drug trafficker who was known to have a long-running feud with fellow drug dealer Jason Moran and his extended family.
Following a series of shootings between Williams and rival gangland figures, he was convicted of the murders of Lewis Moran, Jason Moran and Mark Mallia.
He was also convicted of conspiracy to murder rival Mario Condello.
Williams was sentenced to life imprisonment in 2007, and was serving his term in a high-security unit at Melbourne's Barwon Prison when he was killed by a fellow inmate, Matthew Johnson, in 2010.
Johnson reportedly bashed Williams in the head numerous times using part of an exercise bike. He was sentenced to a further 32 years in prison for the murder.
But while Johnson was the only person convicted of Williams' murder, new details have surfaced suggesting that an outsider may have arranged the brutal killing.
If verified, the information could shed further light on the handling of Williams' imprisonment by authorities, and the events leading to his death.
It may also raise serious questions about deficiencies in the protection of inmates, witnesses and informants.
Are the Authorities to Blame for Williams' Death?
Carl Williams' family has long blamed prison authorities and police for failing to adequately protect him in the lead up to his death.
At the time of his murder, Williams was acting as an informant; assisting police in their investigation of Rocco Arico, a man who was alleged to have killed Willliams' bodyguard, Richard Mladenich.
Although the information that Williams provided was supposed to be strictly confidential, there have been reports that Arico found out about Williams' involvement and sought to have him killed by an associate within the prison.
Despite the obvious risk that Arico posed to Williams, Arico was allowed to phone and speak to inmates at the prison.
It is reported that Arico spoke at length to an inmate within the Barwon prison, who may then have been able to convince Williams' cellmate, Matthew Johnson, to carry out the deadly attack.
Neither police nor prison authorities managed to identify the serious risk of keeping Williams in the same cell as one of Arico's closest associates.
Arico was also allegedly the first person outside the prison to hear about Williams' death – when an inmate phoned him immediately after the incident.
Information has also emerged suggesting that the killing may have been arranged and financed by persons outside the prison.
Those reports suggest that William's associates received large cash payments in exchange for their assistance in arranging the murder.
Yet despite all of this, it appears that little was done to protect Williams in prison.
Whether or not these reports are factually correct is yet to be determined.
In any event, the circumstances surrounding Williams' murder raise questions about prison security and the protection of inmates.
According to allegations made by Williams' father and ex-wife, it took prison officers 30 minutes to locate his body following the bashing, which was not visible on CCTV footage.
In 2013, Williams' family made a request to the Coroner's Court to open an inquest into the murder.
However, their requests were ultimately refused, with the Coroner and prison authorities stating that it was unnecessary in light of four separate investigations into Williams' death.
Is There a Need for Better Witness Protection?
When witnesses give information to police which may be used to commence or further an investigation, there is always an inherent risk that they may suffer harm at the hands of alleged offender.
As a result, they may be placed in 'witness protection,' which may involve anything from the provision of personal security measures in and outside of court, to the complete relocation of a person and their family.
If a person is placed in imminent danger, they may even be provided with a completely new identity.
Witness protection programs are run by state and territory police forces, as well as the Australian Federal Police.
If information is received from current inmates – as in the case of Carl Williams – they may be placed into protective custody.
Protective custody is intended to shield an inmate from others within the facility.
This generally involves them being placed in an isolated cell so that they have limited to no contact with other inmates.
An inmate may be placed into protective custody at their own request (if they are deemed eligible) or under a protective custody direction, which may be made by corrections staff.
However, despite these avenues being available to Williams, he was not placed in protective custody.
A similar fate was met by fellow gangland member Terry Hodson, who was murdered alongside his wife in 2004 after providing information to police in relation to a corrupt ex-policeman.
Ironically, it is alleged that Hodson was murdered by Carl Williams himself.
Hodson had reportedly refused offers to place him in witness protection as he feared being cut off from his family – a decision that may have cost him his life.
The untimely deaths of both police informants have raised questions about whether existing witness protection measures are sufficient.
Following a lengthy investigation by the Independent Broad-Based Anti-Corruption Commission, Victorian Police conceded that they could do more to protect police informants.
Calls for reform have been backed by Senior Detective Sergeant Ron Iddles, who claims that police witnesses have effectively been abandoned in the past after evidence was adduced from them.
These claims have also been supported by Phil Kowalick, the former director of the National Witness Protection Program.
According to Kowalick, the various state and territory witness protection programs differ in their methods of operation and accountability measures, and are often ineffective where a witness refuses to enter into protection.
He says that major reform is needed to prevent further tragedy, and suggests that this could be achieved by integrating the state and territory witness protection regimes into a single, national program.
Receive all of our articles weekly