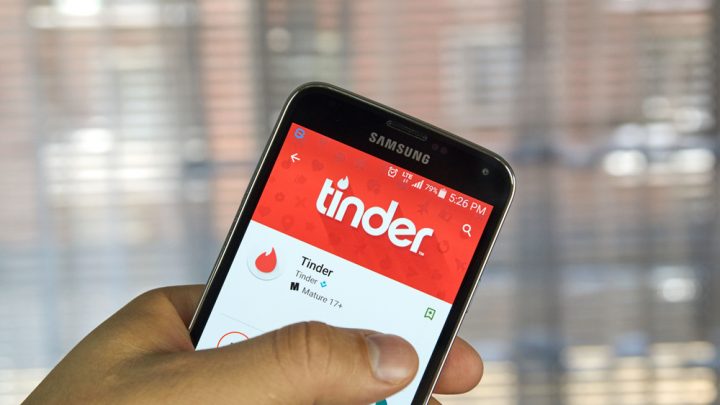 Tinder, the world's most popular mobile dating app amongst young people right now, describes itself like this:
"The people we meet change our lives. A friend, a date, a romance, or even a chance encounter can change someone's life forever. Tinder empowers users around the world to create new connections that otherwise might never have been possible. We build products that bring people together."
The Press Association has obtained information via Freedom of Information laws that would have young romantics worried that the people Tinder is bringing them into contact with may change their lives in the very worst way.
Information collected from 30 law enforcement agencies in England shows their reports of crimes where dating apps are mentioned has increased more than seven times over the last two years.
Tinder was mentioned in 277 reports of crimes in 2015, which was significantly more than the 21 reports in 2013.
Grindr, a dating app for gay men, was mentioned in 135 crime reports last year, which was also an increase from the 34 reports mentioning Grindr in 2013.
And the crimes are disturbing. Violent and sexual crimes like rape, grooming, and attempted murder were included in the 412 reports.
Deputy Chief Constable Andy Cooke from Merseyside Police said: "The rising popularity of online dating apps and websites has contributed to an increase in the number of recorded crimes.
"I would urge those who use online dating apps to be as security conscious as possible and not to share personal data with anyone until they are sure about those they are communicating with."
Deputy Chief Constable Cooke also reminded people about the dangers of sharing personal information with strangers. He said, "Individuals should stop all communication with anyone who attempts to pressurise them into something they are not comfortable with."
Users who believe in finding mobile love can take some comfort in the fact that the number of crimes where dating apps are a factor is relatively low when compared to the overall crime figures from the Office for National Statistics, which show that in 2015, there were 29,265 rapes and 58,954 other sexual offences reported in England and Wales.
There are also a lot of people using mobile dating apps. Tinder reports receiving 1.4 billion swipes per day.
A spokesperson for Tinder told the BBC's Newsbeat: "People with bad intentions exist in coffee shops, bookstores, on social media and social apps.
"Tinder has become one of the largest social platforms in the world, responsible for 10 billion connections in just the last few years, and therefore we are not immune to this, despite the fact that it represents a miniscule percentage of our experiences."
Apps to encourage safe online dating
Elena Zuban, who moved to Australia from Russia, founded CharmSafe.com, which provides information and services to encourage internet safety, after she experienced uncomfortable and unsafe social situations as a single female living in a new city. One man she met, initially online and then in person a few times, followed her home and broke into her apartment.
CharmSafe is an SMS service where users enter details about the date they are going on and "check in" as the date progresses. If the date becomes uncomfortable, they can trigger an alert which is sent to a nominated friend's phone. When you fail to check in, an alert is sent after a certain period of time lapses.
NSW Police have acknowledged the difficulty of peer to peer social apps, that are not as public as other platforms like Facebook and Twitter and remind anyone who thinks they are in danger to call triple zero (000).
NSW Police tips for staying safe on dating apps and websites
Here are tips released by NSW Police for those who use dating websites:
– Do not send a picture of yourself to someone you don't know and never place a full profile and picture anywhere on the internet;
– Never give out personal information including your name, home address, phone number, private email address, details of where you work or recreational activities;
– Do not activate your webcam to anyone you don't know personally;
– Use dating, chat room or other meeting sites that have established vetting protocols to verify its members;
– Never arrange a face-to-face meeting with someone you have only chatted with on the internet. If you do decide to meet a person, always take a friend and ensure the meeting is in a public place;
– Consider disabling the GPS function on application settings as this lets people know where you are located;
– Never give out your passwords or financial details; and,
– If you feel uncomfortable, unsafe or in danger then discontinue the meeting, contact police or in an emergency situation call Triple Zero (000).
Concerns not just about crime, but STIs too
Dr Peter Greenhouse, of the British Association for Sexual Health and HIV, is also worried about dating apps. He's worried they could trigger an HIV 'explosion' and he's not alone in his fears that mobile dating apps are likely to increase the prevalence of sexually transmitted infections.
Whitney Engeran-Cordova, senior director, Public Health Division for AHF: said: 'Mobile dating apps are rapidly altering the sexual landscape by making casual sex as easily available as ordering a pizza.'
Marie Cosnard is a spokesperson for Happn, another popular dating app. She echoes Tinder's view that the apps themselves are not the problem, people need to take responsibility for their sexual health.
She told the Daily Mail: "Dating apps are following wider social trends and changing behaviours that have been unfolding for decades – there's a liberalisation of attitudes towards the number of partners, the status of relationships, towards marriage, divorce, etc.
"So the rise of any STD is not really connected to dating apps themselves.
"The problem is much wider. People need to be more educated in terms of sexual health and to take their responsibilities, no matter how and where they've met their partner."
Receive all of our articles weekly