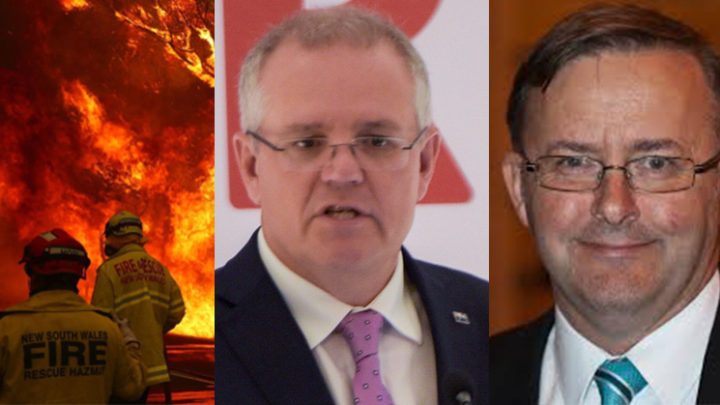 The cooler, wetter weather over recent days has brought some respite from the months of sweeping bushfires, which have destroyed 10 million hectares nationwide and taken the lives of over two dozen people, along with those of an estimated billion animals.
On Monday, there were 69 bushfires in NSW, with around 20 uncontained. Yet, as the temperature is set to rise on Tuesday, there are concerns the fires will pick up once more.
But, despite this pause in the dry heat, the out of the ordinary climate occurrences continued. In the north of this state, hundreds of thousands of fish died as rain washed ash into rivers, while huge dust storms swept through western NSW, and Canberra was hit by a blanket of golf ball sized hail stones.
And in response, Australians have been expressing their outrage at a political elite that's not only inactive on climate, but has also been giving the nod to the fossil fuel industry. Indeed, 50,000 Sydneysiders brought the city's CBD to a standstill on 10 January, as they called for action.
So, how has the prime minister reacted to the public's growing indignation? Well, Scott Morrison has just announced a tourism recovery package with a focus on marketing.
I love a crisp burnt country
No joke. Over the weekend, the former managing director of Tourism Australia earmarked $76 million for a new push to get Australia's tourism sector back on track. This accounts for a sizeable amount the $2 billion bushfire recovery fund that's been set aside to help rebuild fire-ravaged communities.
Obviously, after having put together one of Australia's most successful tourism campaigns back in 2006, Scotty from Marketing doesn't have to address the underlying causes of the bushfires, as all he has to do is come up with a catchy slogan to sell the place.
The PM's plan involves $20 million for a nationwide domestic marketing plan and $25 million for a global campaign to get foreigners back over here.
Now, with one in 13 Australians employed in tourism and hospitality, the threat to the industry is no laughing matter. However, to put together a marketing strategy to attract tourists if we're just going to continue increasing emissions and watch it all go back up in smoke seems to be missing the point.
Where the bloody hell are the leaders?
Meanwhile, Labor's Anthony Albanese made some noise on Sunday. Seemingly, still in shock following last May's loss, the opposition leader said his party had been too ambitious with its emissions reduction targets last time round, so it will be pulling back on them.
Although, for the moment, Albanese can't say what the new targets will be. And on whether they'll be more ambitious than the Coalition's targets, he said he couldn't commit to outbidding them, as he hopes they take some action first, which is his usual stance these days.
Then he quoted some figures that seemed to suggest that because we'll be further down the track by the time the next election comes around, instead of aiming for a 45 percent reduction on 2005 levels by 2030 like last time, the target will be lower because we'll have less time up our sleeves.
So, as far as the guy at the helm is concerned, in the midst of the apocalyptic fires, it's simply business as usual, and all we need is a good advertising campaign to kick things off, while as for the other guy, he's simply going to drag his feet and wait and see what the first one does.
And as the flames grow higher and the rivers run dry, Australians on the ground better get used to it.
Receive all of our articles weekly