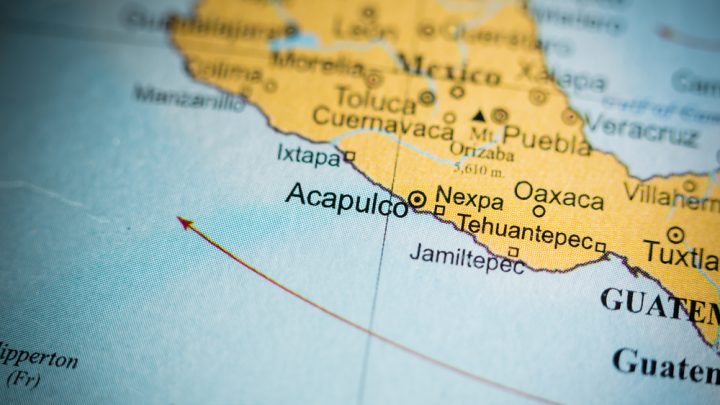 For the most part, travelling the world is an exciting, educational and enlightening experience.
But beneath all the warmth, hospitality and culture, there can be a very dark side to many cities which goes unnoticed by most wide-eyed travellers.
Counting down are the top ten murder capitals of the world, based upon the number of homicides per 100,000 people.
10. São Luís, Brazil
São Luís is the largest city in the state of Maranhão, Brazil. It is a world heritage listed area, with its famous tiled buildings, and impressive museums and art galleries which entice tourists from all over the world.
But the city also has the tenth highest murder rate in the world, with 64.71 homicides per 100,000 residents. In March this year, the city was rocked by a deadly spate of shootings which saw 10 people killed in the space of just five hours.
The city is also known for high rates of other violent crimes, including assaults, rapes and muggings. The violence is said to be primarily attributable to gang warfare which dominates the region. But locals say that the city's military police are also to blame – having killed 6,697 people in the city over the past decade.
9. Cali, Columbia
It's the capital of salsa music, and even played host to the World Games in 2013, but Cali's appalling homicide rate of 62.25 people per 100,000 has left tourists thinking twice about exploring its lively streets.
But credit should be given where it is due – crime in Cali has been falling since the early 2000s, when the homicide rate reached as high as 90 per 100,000 people.
High crime has been attributed to a lack of investment in security, as well as mafia and drug wars, with over 1,700 assassins estimated to be working in the Cali to this day.
8. Fortaleza, Brazil
Beautiful Fortaleza is the fifth largest city in Brazil and home to incredible beaches and parks, but the drug trade and organised crime has seen the homicide rate skyrocket to 66.55 per 100,000 people.
The rise in violent crime has been accompanied by a similar increase in petty crimes such as theft.
Tourists are frequently warned to exercise caution when travelling to Fortaleza due to the high rate of kidnappings in the city.
7. Valencia, Venezuela
Valencia is said to be home to some of the most attractive people on earth, including several beauty pageant winners.
But it's also one of the most dangerous places in the world, with 71.08 homicides per 100,000 people.
In fact, former Miss Venezuela Monica Spear and her husband were brutally murdered by the roadside just last year.
The reason for high crime rates includes easy access to weapons, corrupt officials and police, lax law enforcement and a prison system marked by violence.
90% of murders in Valencia go unpunished – meaning that there is little to deter criminals from taking the law into their own hands.
6. Maceió, Brazil
A quick Google search for Maceió yields postcard-worthy photos of a coastal paradise, but besides its pretty beaches, the city is known for being one of the most violent cities in Brazil, with a homicide rate of 72.91 per 100,000 residents.
The area is marked by poverty and an huge disparity between the rich and the poor, which has underpinned violence and crime.
In recent years, Maceió has tried to reinvent itself as a tourist hotspot, with the government recently forking out millions for new police resources, and 'peace lessons' being rolled out in classrooms to teach children to be less violent. However, many holidaymakers remain perturbed by the high murder rates.
5. Distrito Central, Honduras
Widely considered to be the most dangerous municipality in Honduras, Distrito Central is largely controlled by street gangs, who are blamed for the high homicide rate of 77.65 per 100,000 residents.
These gangs are involved in the distribution of drugs such as cocaine, morphine and heroin throughout Central America.
The city is underpinned by extreme poverty; with almost 70% living below poverty line, and by corruption in the army, police and judicial system.
4. João Pessoa, Brazil
The easternmost city in the Americas is home to large areas of parkland as well as beautiful beaches fringed by palm trees – but the streets on the outskirts of the city are not so nice.
With a homicide rate of 79.41 per 100,000 residents, João Pessoa is one of the most dangerous cities in Brazil. Tourists are frequently robbed at gunpoint, with statistics reporting that 135.8 people are robbed per 100,000.
3. Acapulco, Mexico
Yet another beach-fringed resort city, Acapulco is popular amongst tourists wishing to work on their tan and enjoy the nightlife – but it is also known for having the highest murder rates in Mexico, with a whopping 104.16 homicides per 100,000 residents.
Like many other cities on this list, Acapulco is plagued by drug-related warfare and violence, with rival cartels fighting for control of turf following the death of a major cartel leader in 2009.
2. Caracas, Venezuela
Caracas is the capital of Venezuela – but it is also one of the world's crime capitals, with 115.98 murders per 100,000 people.
High rates of kidnappings, gun crime, drug-related violence and human trafficking make it a dangerous place to live and visit.
These problems are compounded by the fact that police and other authorities are plagued by corruption and rarely investigate crime.
1. San Pedro Sula, Honduras
With an incredible 171.2 people killed per 100,000 residents – or 3 murders per day – San Pedro Sula takes the top spot on our list of murder capitals around the world.
The country has faced extreme poverty after Hurricane Mitch destroyed major fruit plantations and factories – leaving many residents with no option but to turn to criminal means to support themselves and their families.
The city is now known as a major distribution point for illegal firearms and drugs, as well as a hub for cocaine trafficking – and there are frequently deadly fallouts between gangs, police and army personnel.
Receive all of our articles weekly