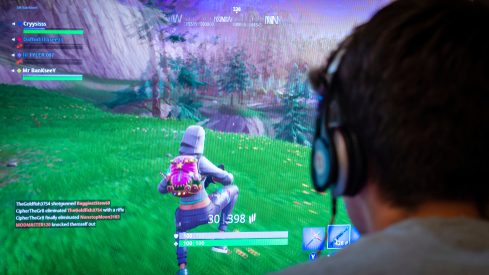 24-year old Manly Sea Eagles Rugby League star Dylan Walker is facing Manly Local Court today charged with assault occasioning actual bodily harm and common assault against his fiancée of the same age, Alexandra Ivkovic, last Thursday evening.
Emergency services were called to the couple's Dee Why home after Walker allegedly yanked the mother of his five-month old son's hair in front of neighbours when she ran out of their apartment.
Police papers allege that an argument broke out over a PlayStation game which escalated into a physical altercation, during which the former Ms Australia sustained "minor cuts to her shoulder, leg and feet".
Police have also applied for an Apprehended Domestic Violence Order (ADVO) for Ms Ivkovic's protection.
Meanwhile, a 26-year old gamer from Western Sydney has been charged with common assault after an altercation with his 21-year old pregnant wife on Sunday went viral on social media.
The man known as 'MrDeadMoth' is seen playing the video game 'Fortnite' when the pair start arguing.
He is heard saying, 'Can you not? I said he'll be out soon', to which a female responds, 'No computer, I'm sick of this shit'.
A cardboard box and other items appear to be thrown at the gamer.
He then steps out of view of the webcam before a 'slapping sound' can be heard. A female is then heard crying, and the male says 'How many times do I have to tell you? I said I'd be out soon'.
The female then asks, 'You hear that, all those people there? I cooked him dinner an hour ago and he refuses to eat it'.
The male then says, 'I will come out and say sorry'.
The incidents have renewed debate about Australia's epidemic of domestic violence, and how quickly and easily verbal arguments can turn into physical altercations.
Assault occasioning actual bodily harm (AOABH)
AOABH is an offence under section 59 of the Crimes Act 1900 (NSW) which carries a maximum penalty of five years' imprisonment, or seven years if committed in the company of another person.
'Actual bodily harm' (ABH) is that which is more than 'transient or trifling'; in other words, more than slight harm – such as minor redness or passing scratches – which quickly subside; Donovan [1934] 2 KB 498.
Examples of ABH may include bruises or lasting scratches or swelling; McIntyre v Regina (2009) 198 A Crim R 549 at para [44].
Transient emotions, feelings or states of mind do not amount to ABH unless there is evidence of very serious psychological harm, or psychiatric injury; Li v R [2005] NSWCCA 442 at [45]; Chan Fook (1994) 1 WLR 689.
Common assault
'Common assault' is an offence under section 61 of the Act.
A common assault can occur without any touching at all; just causing another person to 'apprehend immediate and unlawful violence' is enough. Examples can include raising a fist at another in anger, or threatening to hurt or kill them when you are in their immediate presence.
A common assault can also take place through unauthorised touching, even if the other person is not fearful for their immediate personal safety. This is called 'battery', and can happen even if no injuries are inflicted, or the injuries are very minor.
The maximum penalty for common assault is two years' imprisonment and/or a fine of $5,500.
Back to the gamers…
It appears the common assault charge against Mr Walker is a 'backup' to the primary charge of AOABH.
This means, for example, the defendant could be found guilty of common assault if the injuries allegedly inflicted upon his fiancée are found to be no more than 'transient or trifling'.
He may also be able to rely upon the legal defence of self-defence, depending on the evidence presented.
Similarly, it appears MrDeadMoth's wife was the first to engage in physical violence by throwing objects at him.
It is important to bear in mind that both defendants are presumed to be innocent until and unless they are proven guilty in a court of law.
Charged with assault?
If you are going to court for an assault charge, call us anytime on 9261 8881 to arrange a free first conference with an experienced criminal defence lawyer.
We offer fixed fees for most assault cases.
Receive all of our articles weekly
Author
Sydney Criminal Lawyers
Sydney Criminal Lawyers®
is Australia's Leading Criminal Defence firm, Delivering Outstanding Results in all Criminal and Driving cases. Going to Court? Call (02) 9261 8881 for a Free Consultation.